India
Jharkhand(Ranchi)
In honor of Children's Day, Jharkhand CM Hemant Soren speaks his heart out to child reporters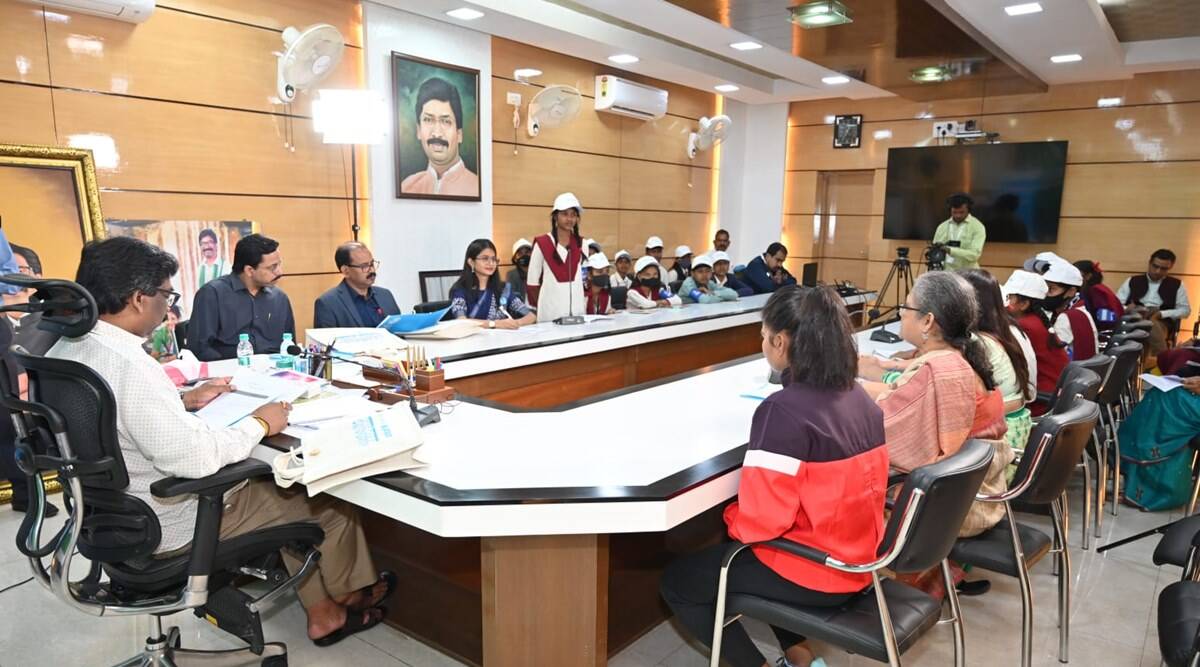 It was the Chief Minister of Jharkhand who addressed a wide range of questions during a press conference on Monday, including calling hard politics work, discussing the transition from being the son of a revolutionary to becoming a politician, encouraging parents to encourage girls to participate in sports, and nearly breaking his nose while playing.
On Children's Day at his official residence in Ranchi, however, these questions were not asked by regular journalists but by 'child reporters'.
Children who were trained by UNICEF to report on their rights were referred to as 'child reporters' as they joined forces and addressed social issues in their schools and communities. It has been UNICEF's responsibility to address this issue for the past 12 years and for the last few years in Jharkhand. Children from Ranchi's seven blocks came to question the Chief Minister.
As part of UNICEF's initiative to promote participation, empowerment, and leadership among children, the press conference was organized to provide a platform for children, according to a press release.
A child reporter, Karan Kumar Ojha, asked Soren to describe the people who played a significant role in his success. To this question, Soren responded, "My parents and especially my wife have been supportive throughout. The majority of my time is spent working for the government. Additionally, I cannot spend time with my family, especially my children: when I leave for the office, they are already in school, and when I return, they are already awake."
"Most people believe that politics is glamorous and good, but in reality, it is just the opposite. This makes me very concerned about my people and the government work that needs to be done, which is a very challenging task. It is imperative that one has the support of one's family."
Soren discussed a variety of topics, including his father's lessons and his feelings when meeting children. As a result of his father's sacrifice and company, Soren gained a great deal of knowledge. Additionally, he emphasized that his government is committed to providing financial assistance to girl children of up to Rs 40,000 until they reach 18.
Being a CM:
As a child, I had never given it much thought. It is important to note that my father was a revolutionary, which is different from being a politician. I had several family issues from which politics emerged. My decision to become a politician was a result of chance."
Parents who don't allow their girl child to participate in sports shatter her confidence:
If the parents of such girl children are interested in letting their children play, I will ask them to do so. In comparison to studies, sports play an equal role. They will make the country proud and perhaps even become leaders in the world in the future."
Providing girls and boys with equal opportunities in sports:
Astam Oraon, the captain of the Indian under-17 football team, provides an excellent example. Despite several obstacles, women are excelling in various sports such as hockey, archery, and football, among others. In addition to bringing in a sports policy, our government is focused on encouraging every player."
When he was a child, he liked the following sports:
I find this question to be very challenging. Except for corporate sports, I have played all kinds of sports and have also sustained injuries: I broke my tooth, injured my nose, and received bruises on my legs and hands. Swimming, badminton, and cricket were some of the sports I used to participate in. We organize cricket matches for our MLAs, where I am also a player."
Related Posts