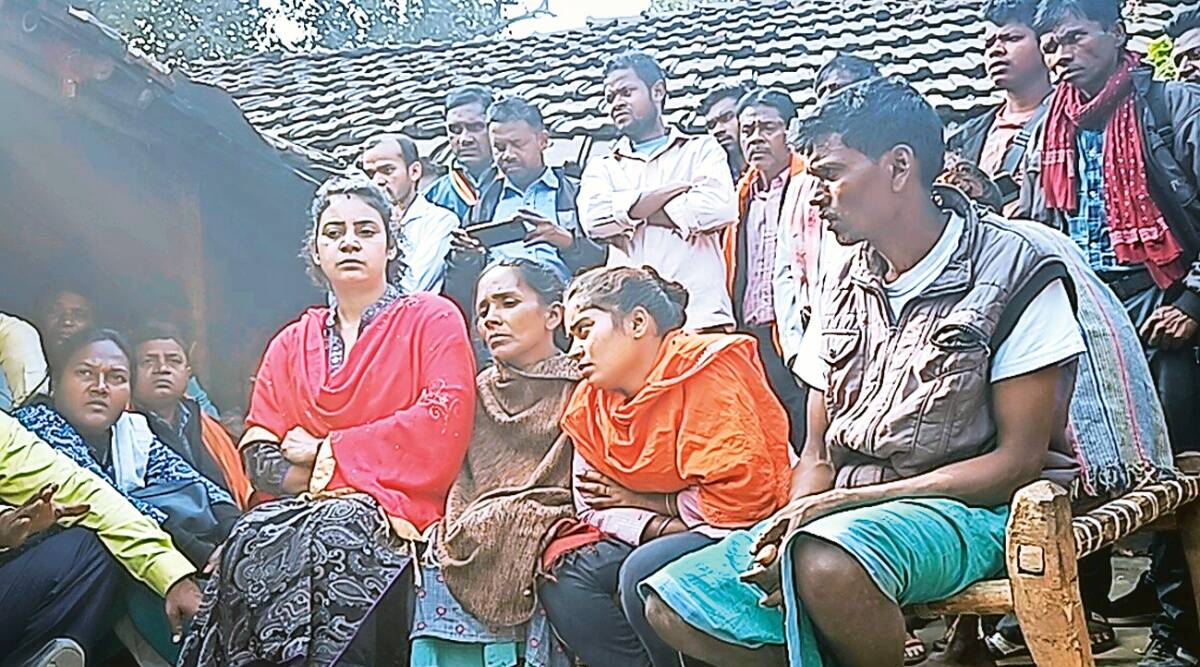 The nail polish on a severed limb led to the victim's identification. Reveka Paharin, age 22, had been missing for around 24 hours when, on December 17, the police were informed off about a limb recovered under an anganwadi in Bel Tola village, Sahibganj district, Jharkhand.
"We summoned her husband Dildaar Ansari, whose family had filed a missing persons report on December 16, and he positively identified the limb as belonging to his wife. We began examining surrounding regions and discovered additional components crammed inside various polythene bags. Reveka's relatives recognised a ring on one of the fingers as hers," said Borio Police Station in-charge Jagannath Pan, adding that suspicion subsequently fell on the Ansaris because to tensions in the family since Reveka moved in with Dildaar.
On the day police allege Reveka was murdered, December 16, Dildaar's mother Mariam Nisha and two of her relatives reported the woman missing.
Police have registered a case under various IPC Sections, including for murder, and under the SC/ST Prevention of Atrocities Act against 11 family members, including Dildaar, his mother Nisha, and nine other family members, including two of his uncles who are believed to have dismembered Reveka's body. Moinul Ansari, Nisha's brother, has not been arrested, according to police.
The murder of the 22-year-old, who belonged to the Paharia group, a Particularly Vulnerable Tribal Group in Jharkhand, sent shockwaves well beyond Goda Pahad, a tribal village of 30 Christian houses, including Reveka's, located two kilometres uphill from the last motorised road. Dildaar Ansari stayed in the Beltola neighbourhood next to the Borio block, 10 kilometres from Goda Pahad.
Since the details of the murder came to light, the BJP has been attempting to put the administration on the defensive by staging rallies and drawing parallels between Reveka's murder and that of Shraddha Walkar, the Mumbai girl who her boyfriend allegedly murdered.
Explaining the sequence of events, SHO Pan stated, "According to the confessions of all the suspects, Dildaar's mother Mariam Nisha did not approve of Reveka being a part of their family because she was a Christian tribal and they were Muslims, and because Reveka had a child from a previous relationship. When Dildaar insisted on remaining with Reveka, his mother, Nisha, requested her brothers to get rid of her. She also paid her brothers Rs 20,000 for the work. As far as we know, Dildaar was involved in the scheme but not the murder.
Police and Reveka's family believe she was in a live-in relationship with a fellow tribal member, which is normal in these parts. However, the couple broke up in 2017 after the birth of their child, and Reveka moved back in with her parents. After a few years, she met Dildaar.
Reveka's father Surja Pahariya, seated on a charpoy outside his thatched-roof home, explains that he tried to dissuade his daughter from dating Dildaar because he was from a different group. Additionally, Dildaar was already wed.
But in October of this year, Reveka departed with Dildaar when he arrived at her home in a tempo when no one else was there, according to the police.
According to Surja, he then addressed Dildaar over his daughter. "He informed me that he leased a room for her and kept her there. I advised Dildaar that if he loved my daughter, he should bring her home rather than keeping her in a rented apartment. Perhaps this was a mistake… She quickly moved in with him," added Surja, who has five further children.
Although the FIR indicates that Reveka and Dildaar were married, the girl's family denies any knowledge of the event.
Police claim that Nisha, who disapproved of his son bringing home a tribal girl, escorted Reveka to her brothers' residence to introduce her to the wider family. There, she was murdered, and her two brothers, Moinul Ansari and Moinul Haq, allegedly dismembered and discarded her body behind the Borio Santhali Anganwadi centre.
Police said that days after Dildaar brought Reveka home, his first wife reported about his new relationship at the Borio Police Station. "We invited Dildaar and Reveka along with their families. There, both Dildaar and Reveka expressed their love for one another, according to a police source.
Surja, Reveka's father, stated, "At the police station, Dildaar carried Reveka's child in his arms and declared his love for her and want to stay with her. I returned believing it was all for the best. On Friday, though, my daughter contacted and requested me to watch her toddler for a few days… She was crying continuously. I took my grandchild home… Reveka was murdered that day."
A 21-member Jharkhand BJP team led by state ST Morcha in-charge Ram Kumar Pahan visits Reveka's family on Wednesday afternoon. Pahan delivers a brief address to those gathered around the bereaved Surja, discussing "love jihad" and how "these individuals should not be permitted in the village without permission."
One of the BJP members asks Surja if his daughter was kidnapped without his will. "No, no. They were in a relationship and voluntarily stayed together," explains Surja.