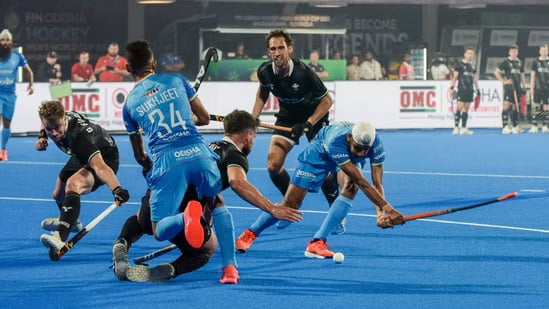 India was too quick and angry but also too clumsy and imperfect.
Their long, airborne balls nearly dropped into the stands as they floated over the advertisement boards. The hasty shots scattered everywhere. Their initial contacts abandoned them. And they were sprinting quicker than their minds could process.
All so hurried and forced.
Undoubtedly, India prevailed, as was anticipated. This was a match between hockey royalty and the sport's upstarts; a team ranked sixth in the world against a squad that was formerly ranked 38th before climbing to 14th; between one of the best-funded programmes and a group of semi-professionals who had to crowd-fund their way to Odisha because they did not expect to reach this far.
However, India, who are definitely stronger than this, were considerably more obsessed with their next opponent than with their final group stage opponent, Wales.
The intended scoreline was 8-0. 4-2 is their score.
Over aggressive
Prior to stepping onto the field, India knew exactly what they needed to accomplish to win their group and advance directly to the quarterfinals. England's 4-0 thrashing of Spain prior to India's match meant that the hosts needed to not only defeat Wales but do it by at least eight goals to surpass England's better goal differential.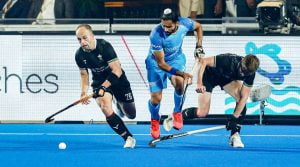 Prior to England establishing India's lofty target, the crowd's anticipation of a goal-fest had heightened after the Netherlands scored 14 goals against Chile, setting a World Cup record. While the Dutch accomplished this without having to move above the second gear, India played the entire sixty minutes in the highest gear without ever gaining momentum.
The host team began as if they wanted to score all those goals in the first quarter, playing to the crowd. When they first stormed the Welsh 'D,' they went from 0 to -100 in less than 10 seconds. In a crowded circle, though, they never appeared composed enough to score.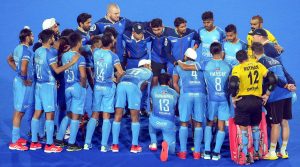 India placed second in Pool D, behind England but ahead of Spain and Wales, as a result of a close victory that required them to battle to the finish. Their journey to the quarterfinals is suddenly more difficult, as they will face New Zealand in a crossover encounter on Sunday. Only a victory there will guarantee a spot in the quarterfinals, where Belgium or Germany await, barring a major shock. On paper, New Zealand should not represent a significant concern. However, the team's difficulties in the offensive third make the playoffs more difficult than anticipated.
India's goal-scoring difficulties were once again highlighted on Thursday, with penalty corners posing the greatest concern.
Forlorn skipper
Harmanpreet Singh, India's captain, took five of India's seven penalty corners. However, he frequently cut a despondent figure on top of the 'D' since his drag flicks were either not cleanly connected or were blocked by the first rushers and goalie. Even when Harmanpreet was not starring in them, India's drag films lacked imagination and variety. Varun Kumar's low attempt and Amit Rohidas' knee-high shot both failed to penetrate the Welsh wall, which goalkeeper Toby Reynolds-Cotterill expertly defended.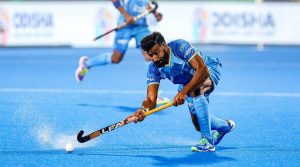 As he's known, the' Big Cat made a series of extraordinary saves, including a quick double save, which he celebrated with a leap and a fist pump as if he had just won the World Cup.
The unyielding presence of the goalie increased to India's growing displeasure in the attacking third as the game progressed. The forwards advanced and raided the Welsh 'D' after the team was unable to capitalise on the PCs it had cleverly acquired. Their buildup play was magnificent at times, but they lacked the finishing touch to complete the movements.
India committed an excessive number of men to the circle. With Wales employing a man-to-man defence, the 'D' became too congested for India to take a clean shot on goal.
The Indian strikers breached the Welsh defence through a combination of deft link-up play and deft off-ball movement. Akashdeep Singh, who not only scored a couple of spectacular goals but was also present everywhere on the field and attempting to force things, contributed significantly. He worked well with Mandeep Singh, who was a constant annoyance within the circle, pulling defenders out of position to create space for others. Mandeep and Akashdeep opened up the defence with excellent give-and-go passing to set up a spectacular goal, with Akashdeep finishing the play.
However, as India pushed forward in pursuit of the eight-goal target, they left their defence fully exposed and conceded two goals, making an already difficult assignment insurmountable.
"The outcome was satisfactory," stated Harmanpreet. This was hard, however, our best performance. "We are better than this," he added as he hurried out of the press conference room. As they appeared on the field.
Too hurried and careless.