India
International
In response to Pakistan's accusations against India, Jaishankar invokes Hillary Clinton's snake in the backyard comment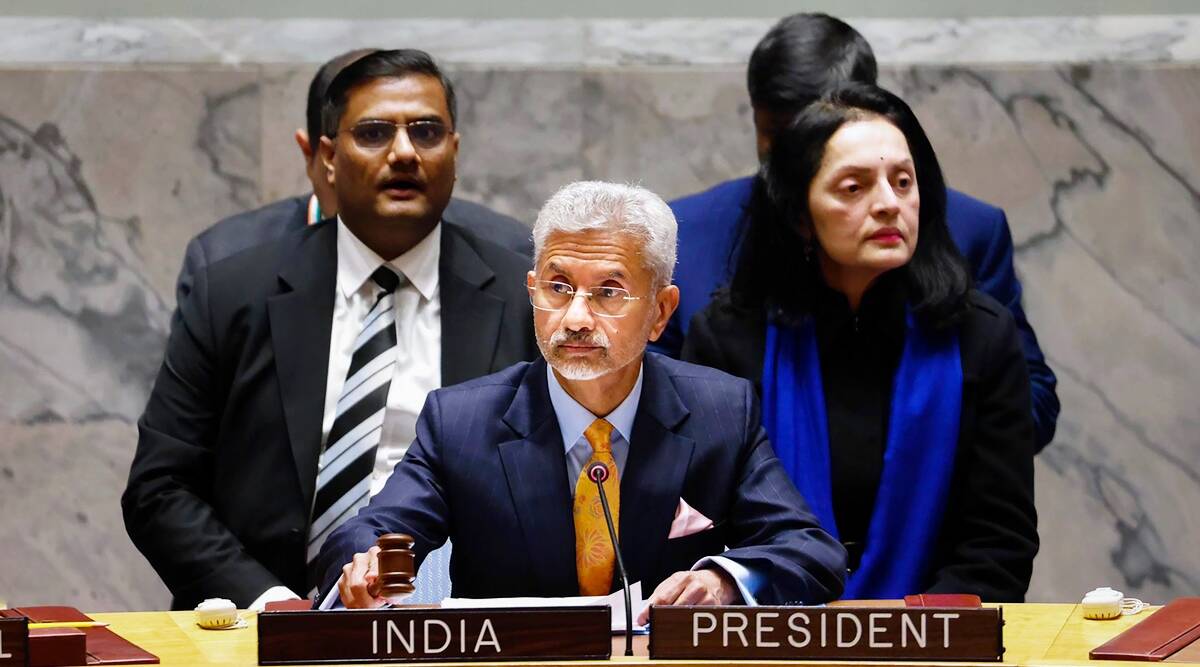 It's no secret Pakistan is the epicenter of terrorism, External Affairs Minister S Jaishankar told the UN on Thursday, saying that the international community isn't forgetting where the menace comes from despite Covid-19's brain fog for two years.
During the UN Security Council stakeout, he spoke about 'Global Counterterrorism Approach: Challenges and Way Forward', a signature event held during India's presidency of the Council.
As far as what they're saying is concerned, the truth is that the world sees them as the epicenter of terrorism. Having been through Covid for two and a half years, a lot of us have brain fog. However, the world doesn't forget who's fingerprints are all over a lot of activities in the region and beyond."
"So, I'd suggest they remind themselves before indulging in the kinds of fantasies they do," he said.
In response to a question about Hina Rabbani Khar's recent allegation that "no country had used terrorism better than India", Jaishankar said, "No country has used terrorism better than India".
#WATCH | The world today sees Pakistan as the epicentre of terrorism, says EAM Dr S Jaishankar at the UN in New York pic.twitter.com/Pfwk36N4CX

— ANI (@ANI) December 15, 2022
A joint news conference with then Pakistan Foreign Minister Khar in 2011 included Hillary Clinton saying: "You can't keep snakes in your backyard and expect them to bite your neighbors."
I read the reports about Hina Rabbani Khar. My memory serves me right, that was more than a decade ago. There was a Hillary Clinton visit to Pakistan. During that period, Hina Rabbani Khar was a minister," Jaishankar replied when asked about Khar's recent statements regarding an anti-Indian dossier.
"Hillary Clinton stated next to her that you cannot expect snakes to bite only your neighbours if you have snakes in your backyard. It is inevitable that they will bite those who keep them in their backyards. As you are aware, Pakistan does not tend to take good advice well. As you can see, there is a lot going on over there," he said.
It is imperative that Pakistan clean up its act and try to be a good neighbor, Jaishankar said, pointing out that the world is not "stupid" and increasingly criticizes terrorism-related countries, organizations, and individuals.
#WATCH via ANI Multimedia | EAM Dr S Jaishankar shuts down Pakistani 'reporter's' question, watch his reply
https://t.co/QMJvae7rRz

— ANI (@ANI) December 16, 2022
"You know, you're asking the wrong Minister when you ask how long this will take? Jaishankar stated that it is the ministers of Pakistan who will tell you how long Pakistan intends to practice terrorism.
According to him, South Asia will continue to witness terrorism spreading from New Delhi, Kabul, and Pakistan for a long period of time. He was responding to a question from a Pakistani journalist.
Ultimately, the world is not stupid, nor is it forgetful. A growing number of countries, organizations, and individuals are being called out by the international community for engaging in terrorism.
It is clear that you will not be able to hide that debate by taking it elsewhere. It is no longer necessary for you to confuse anyone. It has been figured out by the public. Therefore, my advice would be to clean up your act. I would appreciate your cooperation in being a good neighbor.
It would be appreciated if you would try and contribute to what the rest of the world is trying to accomplish today, which is economic growth, progress, and development.