India
India and Cyprus sign a defence cooperation pact during Jaishankar's visit to Nicosia.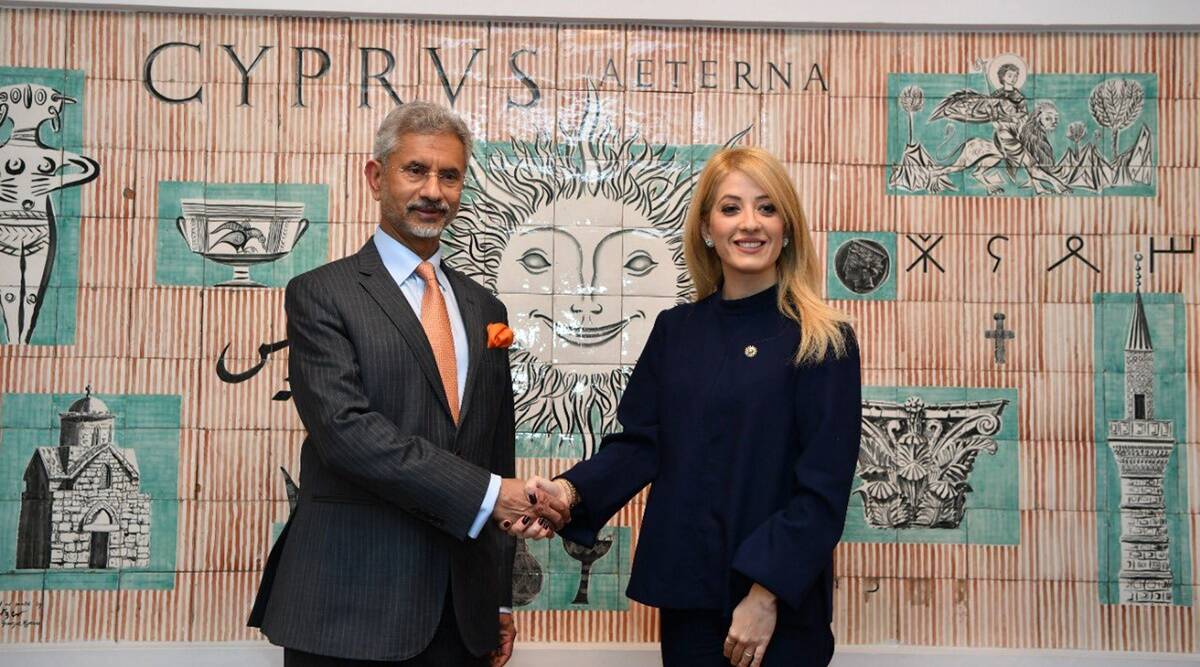 External Affairs Minister S Jaishankar met with his Cypriot counterpart Ioannis Kasoulides on Thursday in Nicosia and held fruitful discussions on the full spectrum of bilateral ties as well as issues of mutual and global interest, such as the Ukraine conflict. The two sides also signed three agreements, including a memorandum of understanding on defence and military cooperation.
As the two countries mark 60 years of diplomatic relations, Jaishankar arrived earlier in the day for his first official visit to Cyprus.
During his visit, Jaishankar met with his Cypriot counterpart, Kasoulides, and signed a defence and military cooperation pact, a letter of intent on immigration and mobility, and an agreement for Cyprus to join the International Solar Alliance (ISA).
The two leaders also discussed world peace, freedom, democracy, and the rule of law.
Kasoulides stated that India and Cyprus were motivated by their relationship to diversify and intensify people-to-people contact in order to forge a naturally robust and enduring friendship.
Jaishankar and Kasoulides used the opportunity to discuss the entirety of bilateral ties and various global topics, including the Ukraine conflict and the situation in Afghanistan.
It is a pleasure for me to be here on my first official visit as Minister of External Affairs, which coincides with the 60th anniversary of our diplomatic relations, as stated by Jaishankar. It is with great satisfaction and pleasure that I am able to attend this occasion.
The minister stated that his meeting with his Cypriot counterpart underlines India's commitment to strengthening bilateral ties. "The India-Cyprus alliance is of great significance," he remarked.
"It is founded on our shared principles of democracy, diversity, pluralism, and adherence to the rule of law. In recent years, the strategic components of our relationship have taken on a new significance, as reflected in our bilateral activities," he stated.
The exchange of perspectives on the several critical issues facing the world community today was especially beneficial. In developing our own relationships and collaborating with others, we are both guided by shared ideals and principles, he continued.
"We have had extremely fruitful discussions today regarding our bilateral relations, multilateral collaboration, and geopolitical and regional problems. Therefore, we discussed our respective neighbourhoods, including the Indo-Pacific, the Middle East or West Asia, Europe, and India-EU relations, Jaishankar told reporters.
According to Jaishankar, the two countries have signed a Memorandum of Understanding on Defense and Military Cooperation.
The second was the Letter of Intent on Migration and Mobility Partnership, which, according to him, will provide a common framework of arrangement and cooperation to facilitate the mobility of students, academics, businesspeople, and professionals, as well as aid in the fight against irregular migration.
On Cyprus's signature of the International Solar Alliance Framework Agreement, Jaishankar stated that he expects bilateral cooperation in the field of renewable energy will benefit.
On the occasion of the 75th anniversary of India's independence and the 60th anniversary of the establishment of diplomatic relations, the two countries have released commemorative stamps on Thursday.
"There is much about the bilateral relationship that we can be proud of today," Jaishankar told the audience. "The level of our comfort and the depth of our cooperation are extremely evident to all of you."
The minister of foreign affairs also stated that the Covid pandemic and ongoing conflicts around the world required the international community to confront new difficulties, such as food and energy security, which are urgent issues.
"As a responsible member of the world community, India has joined its other partners in their efforts to provide humanitarian assistance, medications, vaccinations, food grains, and other forms of help. We face these issues as really conscientious members of the global order, and it is essential that we collaborate to find common solutions," the minister stated.
Jaishankar also noted India's G-20 chairmanship and New Delhi's efforts to engage as many nations as possible and drive the group's conversation toward equitable and sustainable growth.
The Cypriot minister stated that India and Cyprus appreciated the strong momentum in their bilateral cooperation, but aimed to enhance connections in areas such as trade, commerce, investment, maritime affairs, tourism, and education.
"We intend to continue the uninterrupted political consultations that have been ongoing for the past three years," he said, noting that the foreign ministries of the two countries had a "strong consultation mechanism" that provided a solid platform for dialogue and mutual understanding, allowing the two sides to coordinate their efforts.
During his three-day trip to Cyprus, Jaishankar will meet with the President of the House of Representatives, Annita Demetriou.
In addition to his contact with the Indian Diaspora, he will address Cyprus's business and investment community.