India
India and France both show off the work of the artist Raza.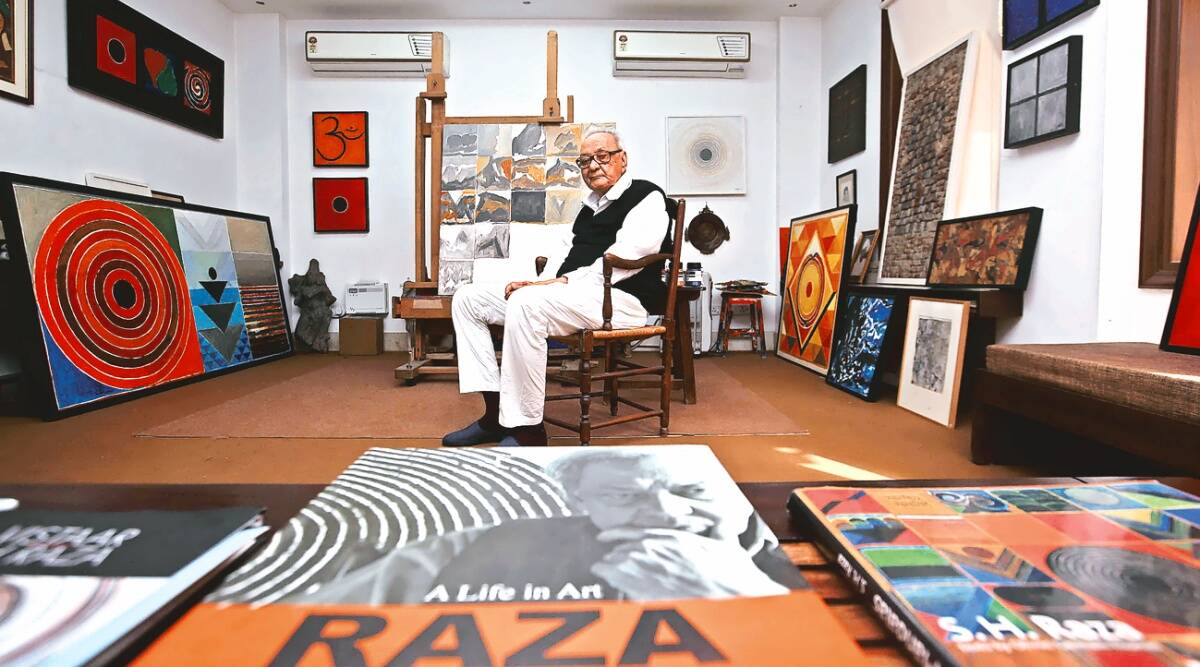 When the artist S H Raza left Mumbai, India, on an English boat bound for France in September 1950, he had no idea that France would become his home for the next 60 years.
On board, he and fellow artist Akbar Padamsee thought about books, learned how to tie a tie, and talked about their hopes for Indian art and themselves.
"Ram Kumar met me in Paris, and I wanted to see the city almost right away. I wanted to look at art in galleries, museums, and other places. Raza told The Indian Express in 2015, a year before he died in Delhi, where he had only returned in 2010, "There is so much I wanted to know."
Raza's largest show ever opened at The Centre Pompidou in Paris on February 14. It was a joint effort between the two countries he lived in. "We are very happy to honour an international artist who made a big impact on modern art and the friendship between our two countries," said Xavier Rey, the director of Centre Pompidou, at the opening of the show, which was attended by the ambassadors of India and France.
The Raza Foundation and French art historian Catherine David came up with the idea for the show, which will be held in 2022 to mark the 100th anniversary of the artist's birth. It will include more than 90 works from collections around the world.
Raza was born in the village of Babaria, Madhya Pradesh, in 1922. His father was a forest ranger in India, which was then ruled by the British. Raza's journey from the forest village to Mumbai and then to Paris was driven by his desire to learn. During the Partition, when most of his family moved to Pakistan, Raza stayed in India.
Artistically trained at the Nagpur School of Art, his early expressionist landscapes were influenced by the urban environment of Mumbai. In 1947, he and his close friends, including FN Souza, MF Husain, KH Ara, SK Bakre, and HA Gade, formed the powerful Progressive Artists' Group in order to create an avant-garde language for Indian art.
Raza's career changed when he met French photographer Henri Cartier-Bresson by chance in Kashmir in 1948. Cartier-Bresson told Raza to study the paintings of French post-impressionist Paul Cezanne to learn how to build or structure his paintings better. Even though he was only 27 when he went to Paris to study at the École Nationale Supérieure des Beaux-arts on a French government scholarship, he was already a well-known artist in India, having won travel grants, awards at exhibitions, and many commissions.
"If you want to use the idiom of scapes, Raza goes from landscapes to cityscapes to in-scapes, which means he looks into his own mind… Ashok Vajpeyi, the managing director of The Raza Foundation, says, "He used to say that he learned how to paint in France and what to paint in India."
The Paris show puts this story arc in its proper place in time. The exhibition looks at the many different things that shaped Raza's large body of work. These include Indian philosophy and tradition, music and poetry, French modernism and its lush landscapes.
Some of his early works are watercolours from the 1940s and life study experiments he did at the Sir JJ School of Art in Mumbai. When he moved to Paris, the French cityscapes became more important. Raza responded to the cities and churches he saw on his travels in Europe by using tonal changes from Indian art styles like Rajasthani and Pahari miniatures. These changes can be seen in works like Haut de Cagnes (1951) and Sans titre (1952).
When he switched to oil painting with a palette knife in the middle of the 1950s, he changed the landscapes even more. Even though he was praised by critics and was the first non-French artist to win the prestigious Prix de la Critique in France in 1956, Raza would often go back to India, where his art style was born.
In the 1957 oil Sans titre (D'après une miniature indienne), he directly responds to Rajput miniatures. In the 1964 oil Udho, Heart is not Ten or Twenty, he uses a line from the poet Surdas, who lived in the 16th century.
Several documents about his life and times are also on display. These include Raza's earliest interviews, diary entries, catalogues, and letters to his wife Janine Mongillat and other people. In these letters, they talk about everything from money problems to personal struggles and artistic concerns.
The show ends with Raza's trademark bindus, which have been a part of his art since the 1980s. They may also represent the start of his work, since his primary school teacher in Mandla made him stare at a dot on the blackboard when he was a restless child. Raza didn't forget what he had learned. He said that the bindu would become "the force that woke up a dormant energy inside."