India
International
India and the United States are constructing a solid, tranquil global community: Nirmala Sitharaman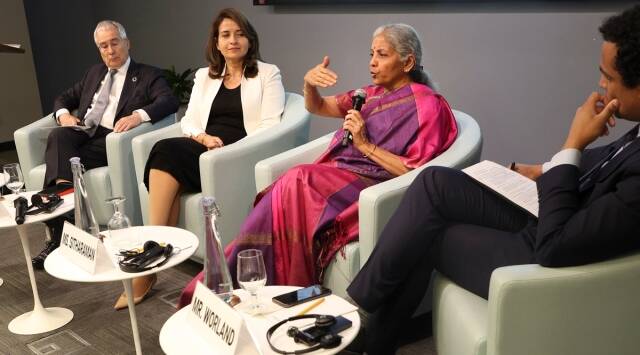 India and the United States are laying the groundwork for a robust, peaceful, and harmonious global community, according to Union Finance Minister Nirmala Sitharaman.
The finance minister stated, "When we celebrate diversity and inclusiveness, we also share a great deal of positive thoughts."
Today, when "we celebrate togetherness, it is this spirit that governs the relationship between India and the United States: a positive-thinking relationship between two democracies that have their share of challenges and internal problems, but do not allow them to overwhelm us," she said.
The minister addressed Indian Americans at a celebration of the country's diversity organised by the Indian Embassy.
"Together, we are laying the groundwork for a robust, tranquil, and harmonious global community. In this regard, I believe the contribution of the Indian diaspora, or persons of Indian descent, to the United States is crucial," she said.
"You're a part of the United States today and you're building a very dynamic and robust economy," said Sitharaman.
"This is the identical situation in India. There are differences between regions, individuals, and languages, she stated.
When people discuss the digital achievements of India, the accomplishments are solely due to the platforms' support for languages, "at least 15 of which are recognised by the Constitution of India, and there are more," she said.
The minister also noted that there are dialects that can be spoken but not written because they lack a script.
"However, the Indian Constitution recognises fifteen. The majority of our platforms are currently available in regional languages. Therefore, when you pay small sums to your milkman or wish to vendor, you do so in their respective languages. These are the tools for success, said the minister.
Sitharaman stated that every diversity-related issue has been utilised to construct a modern India.
"I hope this relationship between the United States and India flourishes," said the finance minister at an event attended by, among others, US Commerce Secretary Gina Raimondo, Kurt Campbell, the Indo-Pacific Coordinator of the US National Security Council, General Atomics Chief Executive Vivel Lall, and White House official Dr. Rahul Gupta.