India
India suspends visa services to Canada in response to a travel advisory, as a diplomatic dispute escalates.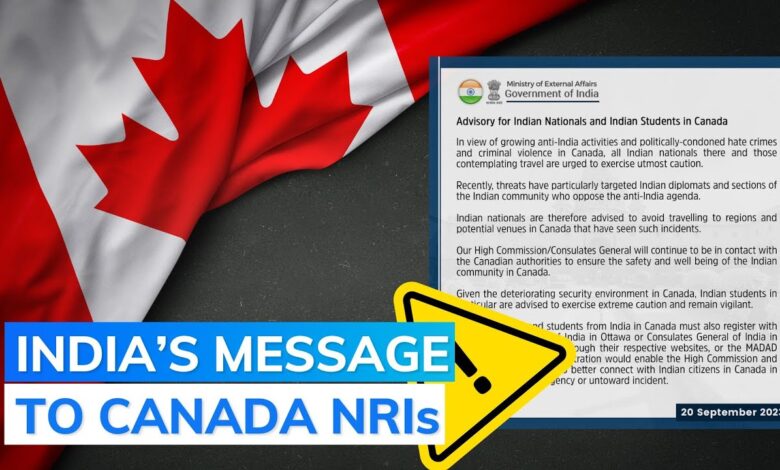 New Delhi halted visa services in Canada on Thursday, a day after issuing a strongly worded advisory to Indian nationals in Canada warning against "anti-India activities" and "politically sanctioned hate crimes."
On the visa facility website of the Indian High Commission in Canada, the announcement was made.
This also follows Canadian Prime Minister Justin Trudeau's allegation of a "potential link" between "agents of the Government of India" and the murder of a Khalistan separatist, Hardeep Singh Nijjar, in Canada earlier this year. India retaliated on Tuesday by expelling a senior Canadian diplomat in response to Canada's expulsion of a senior Indian diplomat.
Wednesday, the Ministry of External Affairs (MEA) issued a travel advisory stating that all Indian nationals in Canada and those wishing to travel there must "exercise extreme caution and remain vigilant" due to the rise of anti-Indian activities, politically sanctioned hate crimes, and criminal violence in that country.
"Recently, Indian diplomats and sections of the Indian community who oppose the anti-India agenda have been notably targeted by threats… It is advised that Indian nationals avoid travelling to regions and potential venues in Canada where such incidents have occurred.
The MEA stated that the Indian High Commission and Consulates General would maintain contact with Canadian authorities in order to safeguard the safety and well-being of the Indian community in Canada.
The ministry also requested that Indian nationals and students in Canada register with the High Commission of India in Ottawa, the Consulates General of India in Toronto and Vancouver, or the MADAD portal, madad.gov.in, via their respective websites.
Related Posts