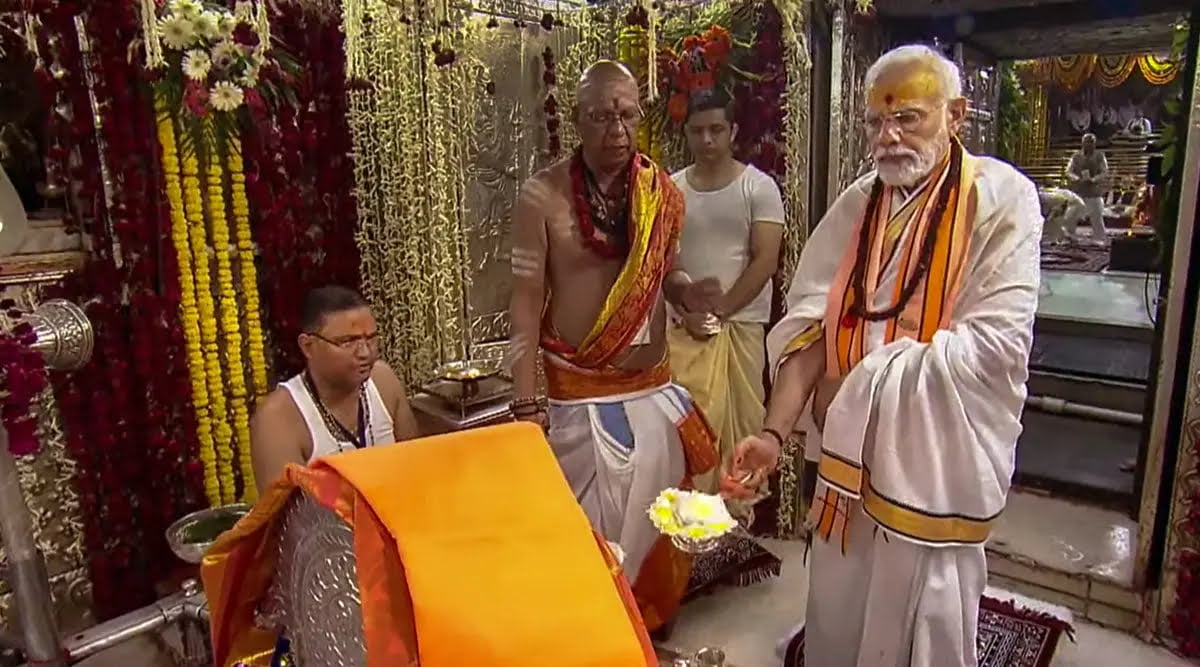 The Prime Minister said Tuesday that he would dedicate Phase I of the Mahakaal Lok project to the nation, which includes a 900-meter corridor at the Mahakaaleshwar temple site in Ujjain, stressing that "where there is innovation, there will be renovation", and that "India's divinity will make the world a better place."
In a public gathering later, the Prime Minister said: "India is regaining its glory and ridding itself of the mentality of its colonial past." There's work at the Ram temple in Ayodhya, the Vishwanath Dham in Kashi, and Baba Kedarnath's shrine."
'All four dhams are being connected with all-weather roads for the first time since Independence,' he said.
A corridor connecting Kartarpur Sahib to Hemkund Sahib has opened for the first time since Independence. Swadesh darshan and prasad yojana are strengthening several devotional centers.
Among the 12 most revered jyotirlingas, the Mahakaal Lok is part of the urban transformation of the Mahakaaleshwar temple.
A tour of the temple complex was conducted by the Chief Minister of Madhya Pradesh, Shivraj Singh Chouhan, and the Governor of Madhya Pradesh, Mangubhai Patel. Then they went to a Jan sabha where Union Ministers Jyotiraditya Sincida and Narendra Singh Tomar, Chhattisgarh Governor Anusuiya Uikey, and Jharkhand Governor Ramesh Bais were present. There was a performance by singer Kailash Kher on Lord Shiva to start off the sabha.
In a speech praising and praising the Madhya Pradesh government for its efforts to restore the temple's grounds, Modi said, "It is only that Lord Mahakaal is satisfied by our efforts that an undertaking is finished. I want to thank Shivraj Singh Chouhan as well as his government for their commitment and effort to finish the project."
"For many thousands of years, Ujjain was the center of India's wealth as well as prosperity, wealth, knowledge, the highest standards of culture and. Kalidas's Meghadootam offers a glimpse of the city's history. Iltutmish and his comrades tried to destroy the spirit of Ujjain. However, our seers have stated that even death is unable to be defeated at the hands of Mahakaal. India is, with the power of its temples sacred to God, stood up and with the blessings of Mahakaal, changed the course of its history." he added.
"Ujjain is a renowned center for the field of astronomical studies. This modern India and in the field of astronomy, we are standing against the major powerhouses of the world. India is also sending satellites from other nations into space. Through two missions, Chandrayaan as well as Gaganyaan, India is leaping into the skies," he said.
"India is advancing towards becoming self-sufficient in defence. New startups are celebrating India's progress. We must remember that there will also be an improvement in the areas of innovation. Things we've lost in our colonial times is being renovated right now, with our 'Gaurav' and 'Vaibhav as well as it will benefit all of the human race and the entire world." He said.