India
Inside Entrapment Inc. uses text, sext, and sextort.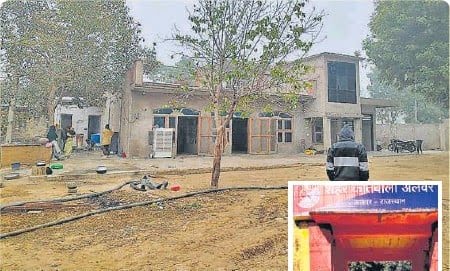 The voice on the landline seems at first cautious and urbane. The man, let's call him Bombay Boy, was a member of one of the top matrimony websites in India when a sextortionist decided to target him.
"On my profile, I got what's called a 'interest' message. She was stunning when I checked to see who had reached out! I glanced through the remainder of her profile, and it appeared to be real. Being a premium member of this website had many benefits, one of which was the ability to view the woman's phone number, which I used to send her a WhatsApp message. Nothing more than a simple "hello, thank you for your attention" message, with no idea where it would go.
His story is gaining Bombay Boy's interest. He accidently blurted out his real name, said that he was divorced, that he was a father of one, and what industry he works in. The confessions are made in part to demonstrate that he is a prosperous, upstanding member of society and in part because he is a talkative type of person.
The perfect prey.
What happened after he got the "interest" notification is now standard unsavoury behaviour. He sent the woman a few WhatsApp texts before his interlocutor requested a video session. I was shocked, but she persisted, stating that it would be like a face-to-face encounter, the better to get to know me. She was being very bold, I thought at this point. None of the women I had communicated with on the matrimonial website had ever moved so quickly. After a little chit-chat, compatibility checks, and most importantly, horoscope matches, I also like to move forward. She was already video calling me, though. When I answered the phone, I observed a woman stroking herself while nude, but I couldn't see her face. I was at a loss. She murmured, "Aapko achcha nahi lag raha." She instantly called me back after I disconnected. It was a different woman this time, similarly uncovered. I yelled, "Who are you and what are you doing?" and then I hung up. Soon after, he got two WhatsApp messages. The first message was a screenshot of the video call, and the second was a morphed video clip of the woman and a male who was enjoying himself while wearing Bombay Boy's face over them. Aisa lag raha hai? The Romanized text that accompanied the image said, "Yeh poora video viral kar doongi, sabko pataa lag jayega.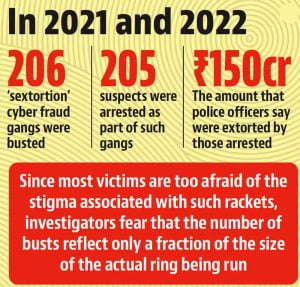 It took him less than 30 minutes from the moment he saw the statement of interest on the marriage website until he received the modified video, he claims. He received a call from a man identifying himself as senior inspector Vikram Rathod from the Delhi Police the following morning while he was driving to work. The inspector stated that there was a FIR filed against him for seducing trusting women, filming them, and spreading the films online. I pulled the car over to the side of the road because I was numb and my blood was draining. All of his denials of guilt were ineffective. He was informed by the "policeman," who was severe and commanding, that they had tracked his whereabouts and that, if he did not cooperate, the local police would soon arrive at his area to conduct additional inquiry. "I checked the number on TrueCaller as soon as I disconnected, and it indeed identify him as "Senior PI Vikram Rathod"."
A network behind the racket
That same week in Pune, a real police inspector—not "Senior PI Vikram Rathod"—was looking into a 19-year-old student's death after he jumped from the 10th-floor apartment he shared with his brother. There were no overt indications of depression and no message suggesting suicide. As the young man's phone was taken by police inspector Vijay Khomane, the sad circumstances spilled out. The BCom student had fallen victim to Prita Yadav's Instagram trap. A few hot texts, a movie that has been altered, and the inescapable request for payment. He gave 4,500 in two installments before running out of funds. He was pushed by the extortionist repeatedly till he jumped to his death.
Bombay Boy and thousands of other males, it is estimated, never even make it to the police station, let alone register a FIR, leaving the authorities with no choice but to allow such crimes to go unpunished. But, in this case, the college student's brother reported extortion and aiding in suicide. A similar suicide involving a 23-year-old male and sextortion had been reported in Sahakarnagar, the police station next to PI Khomane's Dattawadi police station, four days before to this one. The Pune police now had two FIRs at their disposal.
Their forensic inquiry led them 1,400 kilometres north, to Mewat, which is located in the centre of India's golden triangle, which is composed of Delhi, Agra, and Jaipur. Modern-day Mewat includes Alwar, Bharatpur, Laxmangarh, Deegh in Rajasthan, Nuh, Firozpur in Haryana, and portions of Mathura district in Uttar Pradesh. Mewat was once a renowned Rajput kingdom. The dialect spoken here is on the harsh side, despite the beautiful melody of the Mewati gharana of Hindustani classical music. The politics of the two dominant communities, the Meo Muslims and the Meo Rajputs, are much worse. One of India's least developed regions is one where majority of the males live in the villages and drive trucks, according to reports.
Following a live social media stream, the Pune Police squad found itself in the unremarkable village of Gothri Guru in Laxmangarh. Late November of the previous year was involved. It is one of the several villages in Mewat that has become the hub of the sextortion industry in India. Mewat is where groups of extortionists, most of them school dropouts, are ensnaring men across the nation using just a cell phone, a few pornographic videos, and deepfake tech — apps that use machine learning to superimpose faces on fake videos in minutes, as opposed to the dozens of hours it would otherwise take. Jamtara in Jharkhand is notorious for its phishing attacks.
Throughout 2021 and 2022 alone, the local police dismantled 206 such cyber fraud organisations and detained 205 suspects. Tejashwini Gautam, the superintendent of police in Alwar, estimates that they made between Rs. 150 crore and Rs. 200 crore via sextortion. "In around 20 of Alwar's villages, half the people are either directly or indirectly involved in online fraud. In some areas, two to four people from every household are involved in this business. She asserts that there are even more cybercriminals in the nearby regions of Nuh and Bharatpur. The imposing-looking and bespectacled Gautam is completing a nine-month specialised training programme in dealing with cybercrimes and digital forensics. She urgently has to acquire these skills due to the sextortion industry's exponential growth. According to Gautam, "We arrested an Alwar resident in December 2021 based on a report from a resident of Texas who had used a single phone to defraud 6,000 individuals, including 1,200 from Telangana alone. Three males were caught using an ATM in January of this year by the station house officer (SHO) of the Govindgarh police station. According to SHO Tarachand Sharma, "They eventually admitted to having made over 11 crore via sextortion in the last two years."
Yet, these confessions are uncommon. According to SP Gautam, there is a strong sense of brotherhood among the con artists. They don't turn on one another, and when we do, it's only after we've spent a lot of time cultivating good relationships with the village elders. The con artists are aware that everyone else is at risk if one of them falls.
On the ground: How the extortion racket is run
It does appear to require a community for the sextortion business to thrive: Person C engages in sex conversations, Person D plays the cop and extorts, Person E withdraws money from ATMs, Person A gives the SIM cards, Person B provides the false bank accounts into which the money is gathered, Person A provides the SIM cards. According to a villager in Gothri Guru who declined to give his name, "Everyone receives a cut, but the guy withdrawing the actual cash gets a disproportionately large 20% part because he is most at danger of identification." He claims that most of the time, the individual collecting the money is unaware of the original schemer. Because of this, it is challenging for the police to identify a complete chain of the crime.
The police's issues begin with the SIM cards that are frequently purchased from as far away as Assam, West Bengal, and Odisha and obtained by presenting false identification documents. According to SP Tejashwini Gautam, the enormous population of truck drivers in Mewat purchases the majority of these SIM cards. The SIMs, which cost around 3,000 each, are thrown away a few days after the procedure. We gathered the tower dumps of active phone numbers in the area last year and had 25,000 SIM cards disabled. All of them had remote state registrations, yet they were being utilised to perform cybercrimes locally.
Yet the issues don't stop there. The con artists run many bank accounts that were opened using false identities. Five villages in the Bharatpur district are where well-organized gangs are based. When the Bombay Police busted an 18-person interstate employment ring in November of last year, they discovered that at least four of the defendants were bank employees. The villages of Bheradi, Ghaghor, Bhimalka, Gaawadi, and Gambadi are where bogus bank accounts are generated virtually on a cottage industrial scale.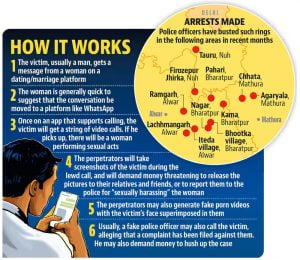 According to Mumbai's DCP (cyber) Balsing Rajput, these gangs primarily concentrate on registering accounts using phoney documents that they subsequently sell to other cybercriminals. Passbooks, chequebooks, pre-activated pin numbers, active net-banking login information, and even an activated SIM card—whose number may be connected to the account as part of the deal—are all items they sell. Because the gangs have a correct rate chart for the bank accounts that is based on the daily transaction limit of the relevant bank, it is clear that the scheme is organised. An Axis Bank account opened with fictitious paperwork is sold for $10,000 but an HDFC bank account sells for 40,000 because the HDFC bank's daily transaction limit is 4 lakh. A similar account at Yes Bank with a daily transaction limit of 2.5 lakh is sold for 25,000 whereas a similar account at Federal Bank with a daily transaction limit of 1 lakh is sold for 20,00.
SP Alwar According to Tejashwini Gautam, during her own investigations, she discovered that both active and retired bank personnel were working together with the extortionists. Money can also frequently be deposited into direct benefit accounts. These are simple accounts with minimal KYC requirements. After 10–12 transactions, these accounts are deleted, she explains. The accounts are circulated among gangs that engage in cybercrime after being sold to them. Cybercrime Investigator with Mumbai Police: "There have been occasions where the leader of a sextortion gang rings up a part-time jobs racketeer urgently requesting him for ten bank accounts, which are subsequently delivered."
When the Pune police started their forensic investigation into the 19-year-suicide, old's they discovered that he had transferred the money into accounts in branches in Punjab and Haryana, even though the phone from which the calls to demand money were made was registered in the name of a certain Dipu Bindani in Odisha and the Instagram account used to entice him was run out of Mewat.
Several AI-based apps are used to create the modified videos that Bombay Boy was targeted with. An officer with the Mumbai cyber police claims that the version of deep nudes (named that since they are made using deep fake) that we see nowadays is a very sophisticated one where the target can be depicted performing certain acts. Aditya Ravindra, a 19-year-old from Gujarat who had been blackmailing women by selecting their images from their social media feed and using deep fake to morph them, was detained by Mumbai's Antop Hill police in July.
"Jilted lovers are using these deep nudes for sextortion or corporate espionage. Most targets would rather suffer in silence than file a complaint, he continues. According to DSP Balsing Rajput of the Mumbai cyber unit, 90% of the men who rush to us whenever they are the victim of sextortion leave without filing a FIR.
The fact that these men are now reducing the crime to the bare minimum has law enforcement officials particularly concerned. Riteish Bhatia, a private cybercrime investigator in Bombay, claims that the most recent kind of sextortion is not even dependent on video calls. The extortionists look through the social media accounts of men, spot their female relatives in their buddy lists, select the images of these people, and morph them over pornographic images. Bhatia, who ultimately assisted Bombay Boy in dealing with the sextortion, claims that these photographs are then used to threaten the guys into making restitution.
Nirali Bhatia, a psychologist who specialises in helping cybercrime victims, claims that their suffering can be severe and protracted. Guilt, humiliation, and terror are the three feelings that strike the victims the most frequently. Even if the conversation starts off on a presumably consensual tone, in India the idea of sex is still forbidden. According to her, the first worry that arises after receiving a sextortion call can eventually develop into a breakdown of trust and paranoia.
"In one instance, the victim called me exactly one year after the incident and claimed that the date itself was making him feel suicidal. He and I spoke on the phone for more than three hours. The other three victims who came up to me haven't left their homes in months. At least two of them had the choice to work from home. The third went to work but left after having a panic episode. He spent two days by himself in his room before quitting his job.
Protection and prosperity
Anwar Subhan Khan, 29, was found teaching two other villagers the finer points of sextortion when the Pune police squad at Gothri Guru visited the home of their suspect. The Class 4 dropout who was discovered in possession of five phones apparently trained a large number of accomplices. According to ACP Sunil Pawar of the Sinhagad Road Division in Pune, Khan admitted to instructing others in cybercrime for a charge of 40,000 rupees per pupil.
The older generation of villagers considerably reduce the severity of sextortion since they have plenty of money to spend and very little resistance from law enforcement. As local and out-of-town police arrive to conduct an investigation, they are met with hostility and stone-pelted. When the police went to the area for recoveries in the Govindgarh case, where three individuals were captured from an ATM, they had to be accompanied by armed commandos in specially covered Boleros. The Alwar SP claims that most of the resistance is coming from women who don't think a crime has been committed. She continues by saying that the ladies believe that labelling the victims "ullus," or fools, justifies sextortion. Several of the villages place a man on the edge of their communities to sound the alarm if they see an approaching police party.
In every village, there is a strong denial of the criminality. Banne Khan, a village elder of Gothri Guru, states admiringly, "It is [only] a fool who gives his money to someone more intelligent than him." Around a bonfire, the others who have joined him nod in accord. "If the caller makes a mistake, he goes to jail, but the person who has been phoned only loses some money," If anything, there is remorse about the suicides in Pune because the authorities are now paying more attention to the lucrative sextortion industry and are conducting more raids. "These con artists have become too greedy for money. Hiralal Verma, a retired school principal and the father of the community's sarpanch, Babli Verma, strikes a rare note of disagreement when he says, "They are schooled in cheating, but don't know when to break off the blackmail.
Anwar Subhan Khan's extended family and other locals allegedly threatened the Pune team that detained him. The Laxmangarh police had to send in two teams for backup when the residents started throwing stones. Constable Jagdish Khedkar was hurt during the altercation, and Khan and the two other men accompanying him escaped in the direction of the hills that surround Gothri Guru. A villager on a motorcycle helped one of these individuals escape, while another was too quick for the police. After a vigorous pursuit, Anwar Khan was apprehended. He is currently free on bail.
Although Gothri Guru's former sarpanch Tahir expresses sympathy to the families of the deceased in Pune, he disputes police assertions that villages were making millions of dollars via sextortion. "Who villager is keeping these millions of rupees hidden? It ought to have been evident in the way of living around here, but is it really?
In this 2,000-person village, Gothri Guru's enormous unfinished mansions are the only indications of upward progress. The parcels are enclosed by substantial boundary walls and gates. The family of Anwar Subhan Khan is also constructing a farmhouse with many bedrooms and French windows. The family produces their GST registration as evidence of the legitimacy of their business in order to defend the costly edifice. Subhan Khan, Anwar's father, claims that the family possesses 20 bighas of ancestral land and has been in the marble-cutting industry for many years.
The emotion of schadenfreude, or the enjoyment one takes in another's suffering, is at work at Gothri Guru in this tale that is all about covert pleasures, guilt, rage, and greed. The phone that was retrieved from Anwar, according to the Khan family, "isn't even registered in his name," a villager slyly points to an air-conditioned room on top of the Khans' house as they defend Anwar. "He makes those calls from that office, I believe. No peasant can build such a large mansion with just a small stone-cutting company and crops from a few bighas of land, he claims, declining to be identified. Hiralal Verma describes the wealth created by sextortion gangs in Mewat as "what you don't see are their houses and lands in Alwar town, their transport enterprises prospering away from the gaze of individuals known to them."
Avoiding such calls
Bombay Boy, meanwhile, is unable to believe his good fortune. His 76-year-old father was the target of similar extortion just a little more than three weeks after his encounter with the sextortionists. It was actually his mother's phone that received the video call, which his dad had answered. She was furious. When the "policeman's" call ultimately came, she yelled at my poor dad, "What have you done," and complained to me about him. Fortunately, I was aware of what to do in such circumstances.
The first piece of advice, according to DCP Balsing Rajput, is to never pay if you're the victim of extortion. "A cybercriminal sitting in a remote area of Rajasthan has no justification to discredit you by posting your pornographic movies or images online. He just benefits financially from your worry. His sole motive will be lost if you don't pay. The extortionist won't post pornographic videos on social media because doing so could result in a FIR or the police taking cognizance on their own following a verbal complaint. Also, these crooks are skilled at spotting easy prey, especially the elderly. They stop wasting their time and go on to the next victim once they realise the victim in question is not going to pay. Rajput exhorts those who have been the victims of sextortion to come forward and report it by filing FIRs. The more accurately crimes are reported, the better we are able to map trends, find the places where the rackets are based, and smash them.
And if you ever doubt that the attractiveness on the other end of the phone call is unreal: Boo!