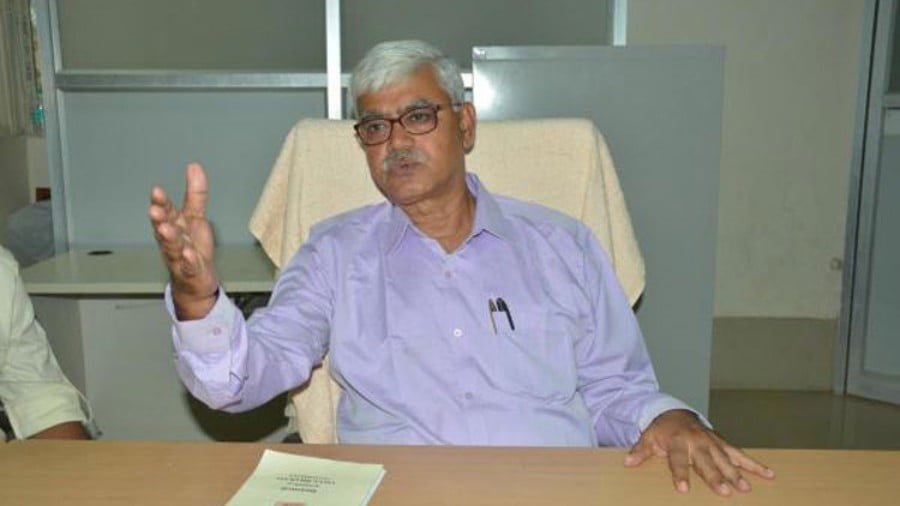 Visva Bharati vice-chancellor Bidyut Chakrabarty was accused of insulting Nobel laureate Amartya Sen during the recent dispute over the university's claim on part of the land covered by Sen's ancestral home on the campus at Santiniketan in Birbhum district. Some of West Bengal's intellectuals want Chakrabarty to be fired.
Some of the people who have spoken out against Chakrabarty are the economist Abhirup Sarkar, the painter Shuvaprasanna, the actor Manoj Mitra, the singer Pratul Mukherjee, and the poet Joy Goswami. On Sunday, they signed an open letter.
Visva Bharati is the only central university in the state, and Prime Minister Narendra Modi is in charge of it. Rabindranath Tagore set it up in 1921 at Bolpur in the district of Birbhum.
"What's going on at Visva Bharati is part of a larger plan to make Bengal look bad by hurting the reputation of a famous person like Amartya Sen. "This is an insult to our state, and all Bengalis must stand up against it," Mukherjee said.
Shuvaprasanna said, "If we have to, we will all go to Visva Bharati and start a protest."
Mitra talked about recent times when teachers and students at Visva Bharati had to go to court to fight against punishments. Almost all of the court decisions went against the university.
Since Chakrabarty took over as vice-chancellor in 2018, Visva Bharati has been in the news. After teachers and students were sent home, there were a lot of fights on campus. Leaders of the Bharatiya Janata Party (BJP) in the state have always spoken up for Chakrabarty.
In a recent order, the Calcutta high court said that "stigmatic aspersions" were the reason why an economics professor, Sudipta Bhattacharya, was fired without notice in December of last year. He was also the leader of the group of teachers.
261 academics from all over India and the well-known philosopher and linguist Noam Chomsky from the US spoke out in support of Bhattacharya and asked President Droupadi Murmu to help.
On Monday, a division bench of the Calcutta high court upheld a single bench's December decision to fine Visva Bharati 1 lakh for taking disciplinary action against another professor, Debotosh Sinha, who had suggested that a teacher be given time off to care for a child in 2021.
In 2022, the vice-chancellor started another fight by saying that Amartya Sen's father, Ashutosh Sen, who was a professor at Visva Bharati, only bought 1.25 decimals of land and that the remaining 0.13 decimals should be given back to the university. Amartya Sen received three letters.
On January 30, chief minister Mamata Banerjee met with Sen, who was 89 years old, and gave him a record from the state land and revenue department showing that all 1.38 decimal of the land belonged to him through a 2006 mutation.
Sen has always spoken out against the central government, and he told the media that he is being attacked because some people in Delhi don't like him.
No one from Visva Bharati responded to what the intellectuals asked for.