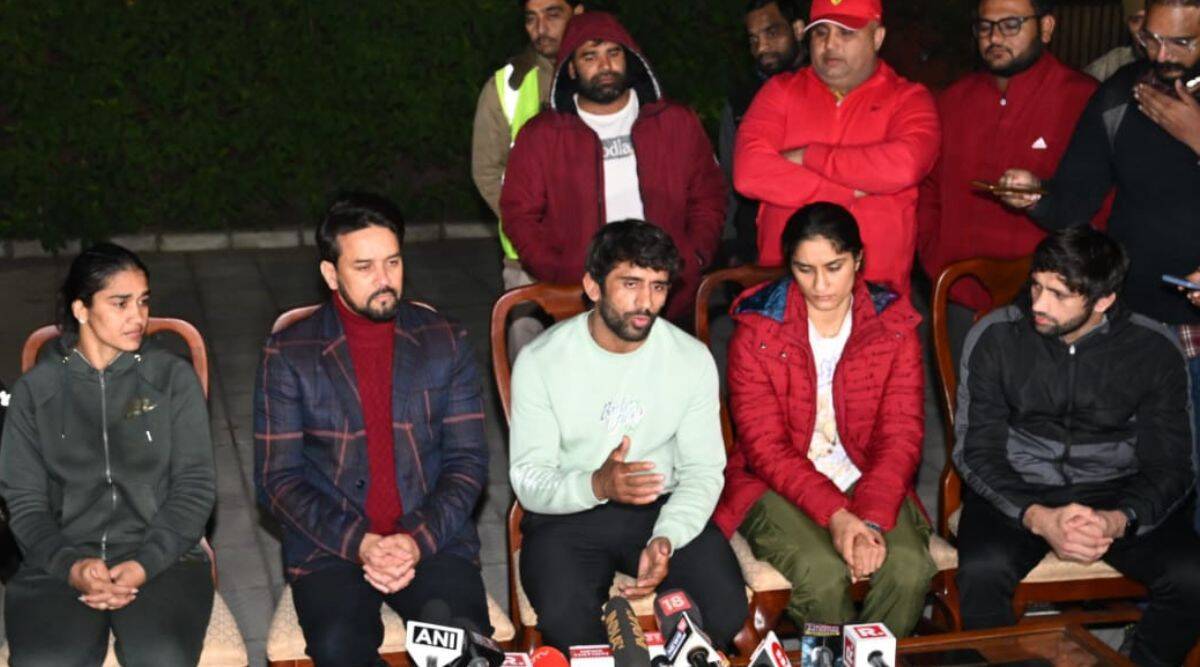 Friday, the Indian Olympic Association (IOA) announced the formation of a seven-member committee to investigate the allegations of sexual harassment against Wrestling Federation of India president Brij Bhushan Sharan Singh. This was one of the key demands of the wrestlers who have been protesting since Wednesday afternoon.
This occurred hours after the core group protesters, World Championship medallists Vinesh Phogat and Deepak Punia and Olympic podium finishers Ravi Dahiya, Bajrang Punia, and Sakshi Malik, requested action against Singh and the federation in a letter to IOA president PT Usha.
The IOA stated in a statement that following a meeting of its executive committee, it was resolved to form a committee "in accordance with the 2013 Act for the Prevention of Sexual Harassment of Women" that would hear both sides and present a report as soon as possible. The investigation team includes Olympians such as boxer Mary Kom, archer Dola Banerjee, and wrestler Yogeshwar Dutt.
But the IOA, like the Sports Ministry, remained silent regarding the other demands: Singh's resignation and the dissolution of the WFI.
The wrestlers engaged in meetings with Sports Minister Anurag Thakur for the second day in a row. Until late at night, neither party had issued a statement regarding the negotiations.
Given that the IOA serves as the umbrella organisation for all national federations of Olympic sports, its declaration is significant. The Sports Ministry finances and recognises the operations of federations. Therefore, the IOA and Sports Ministry collaborate to enhance Indian athletes' participation in multi-discipline athletic competitions.
While Singh was given 72 hours, until Saturday evening, to answer, he stayed firm. In an interview with The Deccan Era, he alleged a wider scheme. He stated that he had responded to the notice he received from the Union Ministry on Friday.
"I have clarified all of their questions. "I deny every accusation made by demonstrators," he declared. He stated that a General Body meeting of the federation had been scheduled for January 22 in Ayodhya.
Meanwhile, even as protesting wrestlers upped the ante, officials said their desire for "instant justice" had to be weighed with the Ministry's imperatives of due process.
The two famous faces of the protest, wrestlers Vinesh Phogat and Sakshi Malik, dug in their heels and threatened to begin practising on mats at Jantar Mantar on Saturday if sports minister Anurag Thakur does not meet their demands.
United World Wrestling, a global organisation, has also responded to the protest. In an email to The Indian Express, Gordon Templeman, director of communications for UWW, stated:
"UWW has learned about these grave claims through the media with great worry. We will closely monitor the instances and take any actions deemed necessary by the outcome of the investigations. We have contacted the federation and attempted to contact the athletes personally to gain a deeper understanding of the situation."
In their letter to the IOA, the wrestlers allege that the WFI president "mentally harassed" and "tortured" Vinesh when she returned from the Tokyo Olympics without a medal, causing her to "contemplate death."
In addition to the sexual harassment lawsuit, the wrestlers also said that WFI had misappropriated cash and that the coaches and sports science personnel at the National camp were "completely incompetent."
The sportsmen added in their letter, "It took a lot of bravery for us wrestlers to get together and protest the WFI President. We are terrified for our life. If he is not fired, the careers of every young person who joined the dharna would end." They concluded the letter by stating, "We will not budge until the WFI President is removed from office."