India
International
Israeli envoy says that Adani Group has paid for the Haifa port in full and is looking at other projects.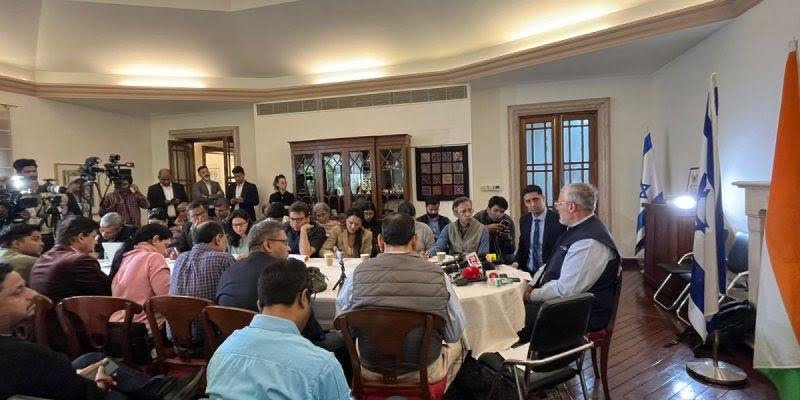 The handover of Haifa port to Adani Group shows Israel's "deep trust" in giving its strategic assets to Indian companies, said Israeli ambassador Naor Gilon on Wednesday, as the conglomerate's fortunes have been going down.
Gilon told the media at a briefing on 30 years of diplomatic relations between Israel and India that Adani Group has "paid the full cost of Haifa port" and there are enough funds to continue developing the facility. He said that Adani Group wants to do more projects in the country and that Israel hopes the company will be able to do so.
Gilon called the sale of Haifa, which was part of Israel's plan to sell off state-owned ports, a "landmark" deal and said that running ports is Adani Group's "bread and butter."
Press conference with amb @NaorGilon summing the first 30 years of brotherhood between #India & #Israel. We held many events & signed many deals this year. Trade is skyrocketing & we are already looking at the horizon together (AI, Quantum, Space) not even the sky is the limit. pic.twitter.com/1TEhd6v6gs

— Ohad Nakash Kaynar (@KaynarOhad) February 22, 2023
"The fact that we are giving it to an Indian company is a very symbolic sign of deep trust," he said.
Last month, a group of companies led by Adani Group paid $1.15 billion to buy Haifa port, which is a major trade and tourism hub on the Mediterranean. At a ceremony to mark the end of the deal, Adani Group chairman Gautam Adani stood next to Israeli Prime Minister Benjamin Netanyahu and talked about how more investments in Israel would "transform the entire port landscape." But after a bad report by a US short seller, the market value of Adani Group's 10 companies as a whole has dropped below $100 billion.
Gilon shot down rumours that the conglomerate might not be able to move forward with the development of the port. He said, "They have the potential…to make the Haifa port the port it needs to be and to use it to increase trade in the region, trade between India and Israel…
This makes us very happy."
He also said, "It's Adani's main business and what he knows how to do. It's in the best interest of the Adani Group, Israel, India, and everyone who wants the world to work well for this port to be built."
The Adani Group is trying to get more projects in Israel, and I hope they are successful.
Gilon said, "I don't see the problem here. There are more than 80 joint ventures between Indian and Israeli companies in areas like defence, renewable energy, and water management." He was referring to the fact that Indian and Israeli companies had joined forces in these areas.
Such joint ventures "are not signed or pushed by Israel," and Israeli companies are teaming up with strong and stable manufacturing partners in India to be competitive on the Indian market. Gilon said that finishing a free trade agreement is a top priority for both countries because trade in goods, excluding defence deals, will be worth about $10 billion in 2022 and trade in services will reach $1 billion.
Gilon said that close cooperation on even the most sensitive defence technologies is possible because of the trust and closeness that India and Israel have built up over the past 30 years. Even though most countries don't want to share their cutting-edge military technologies, the Make in India initiative is a challenge for Israel. However, Israel sees it as an opportunity, especially since the Ukraine crisis and "fear of China" are making more countries want to buy more weapons.
"Because India and Israel are close and have worked together on defence for a long time, I think Israel has an advantage when it comes to Make in India and being able to work with India on very sensitive issues," Gilon said.
In response to a question about the controversy over Israeli filmmaker Nadav Lapid's criticism of "The Kashmir Files," Gilon said that this was a "internal" matter for Indian society and that Lapid shouldn't have gotten involved. The envoy also dodged a question about the misuse of Pegasus spyware, which was made by the Israeli company NSO Group. He said that the software was made to fight terrorism and organised crime, and it is only sold to certain state actors under strict export controls.