India
JD(U) MP: Constitutional bodies are being abused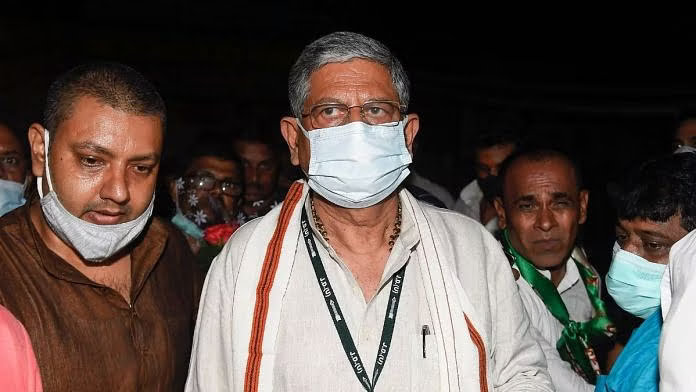 Chhapra hooch fatalities reverberated in the Lok Sabha on Tuesday, with the BJP calling for a high-level investigation into the event and the JD(U) accusing the constitutional bodies of being "misused."
JD(U) member Rajiv Ranjan Singh 'Lalan' brought up the subject during Zero Hour, claiming that the National Human Rights Commission (NHRC) has told the Bihar government that it will look into the case of deaths caused by phoney alcohol in Chhapra. "How did the NHRC become involved in this matter? Misuse of the constitutional bodies is occurring. This shouldn't occur, he declared.
He questioned why the NHRC was not looking into the 124 fatal Morbi bridge collapse tragedy.
The Chhapra hooch tragedy was then brought up, and senior BJP leader Ravi Shankar Prasad, who represents the Patna Sahib Lok Sabha constituency, urged that the NHRC send a team to probe the situation. According to Prasad, more than a hundred individuals in Bihar have perished after ingesting fake alcohol. "Neither a post-mortem nor the viscera of the deceased was preserved. Human rights are being seriously violated in this situation. Because the victims were youngsters and members of underdeveloped communities, this matter should be brought before the human rights commission and the child commission. This situation is quite serious. I ask that a team from the NHRC go there," Prasad added.
Janardan Singh Sigriwal, a different BJP member, urged that an in-depth investigation be carried out. Hundreds of people have perished in Saran as a result of the Bihar government's incorrect alcohol policy, he claimed. Sigriwal claimed that the state government is making fun of and attempting to conceal data rather than providing compensation. Authorities are attempting to remove the evidence there, he claimed.
Sigriwal argued that the relatives of those slain in the hooch catastrophe should receive compensation. Additionally, he demanded that a team from the NHRC, National Commission for the Protection of Child Rights, National Women Commission, and National Labour Welfare Commission look into the situation.
Chirag Paswan of the Lok Janshakti Party urged President Rule in Bihar. The Chief Minister, the state government, and the entire administrative apparatus are attempting to cover up the incident, according to Paswan, who said that a string of deaths caused by fake alcohol has started in his state.