India
Jharkhand: Six police officers suspended a day after a newborn was "crushed to death" during a raid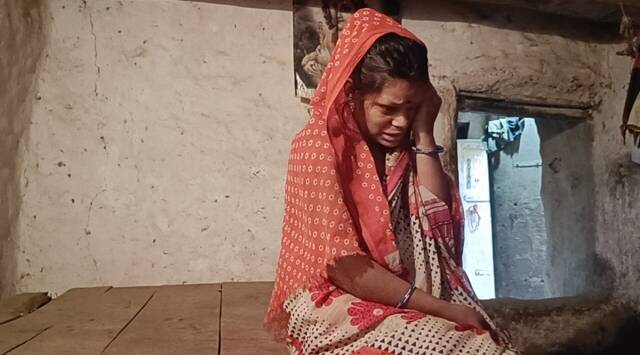 Thursday, following an initial investigation, the Jharkhand Police suspended the six officers who were part of the team that stormed a home in Kosogondodigih village, Giridih district, early on Wednesday morning. The raid resulted in the death of a baby whose family said a police officer's boots killed him.
Based on the family's complaint, an FIR has been filed against the police squad. The authorities have not identified the officer who reportedly trod on the infant.
According to police and the baby's family, the raid was conducted to apprehend the baby's grandfather, Bhushan Pandey, for an earlier assault case.
At the family's mud house, Pandey, a 50-year-old farmer and part-time priest, stated, "About 3 a.m., police began pounding on the front door. Considering I am facing an assault charge and have previously served time in prison, I was terrified. I have seven children, the youngest of which is five years old, and I feared that if I were to be detained again, they would go hungry. That is why I fled… An hour later, I received a phone call informing me that my grandson had passed away.
Neha Devi, the daughter-in-law of Pandey, said she was lying on the cot with her infant, while her mother-in-law and husband slept on the floor, when the cops allegedly barged in. Neha Devi gave birth to her child just last week at a hospital in Deori, about 4 kilometres away.
The entrance to the family's kuccha dwelling, a single blue wooden door, is held in place by a wooden rod at night. Pandey and his other children slept in an incomplete pucca house adjacent to this residence.
"The police kicked in the front door and began yelling at us while searching everywhere for my father-in-law. We stated that he was not at home, but they began to threaten us. Neha sobbed hysterically, "When we all hurried in a panic to the courtyard, I witnessed a police officer leap into the cot where my kid slept."
The thatched roof contains horizontal wooden slats, and the officer probably stood on the cot to investigate whether Pandey was hiding in the attic.
Neha claimed that while they were speaking with the cops, she realised she had not checked on the infant. "I observed that he was not sobbing despite the hubbub. I assumed he was napping since I had barely fed him two hours prior. Nevertheless, upon inspection, I saw that his body had turned cold, and he was no longer breathing… In addition, his neck was crimson, and I observed a boot mark. I then realised what must have occurred. I observed the police officer jumping onto the cot. My son was fatally crushed. We had named him Shravan, but he has since disappeared. Whoever murdered my son should be punished."
Dhaneswar Mahato, the mukhiya of the village of Kosogondodigih, stated that he visited the child's body after Pandey notified him. "There were distinct shoe prints on the torso," stated Mahato.
District SP Amit Renu informed The Indian Express, "We have launched a FIR under IPC Section 304 (causing death by negligence) against police personnel based on Pandey's accusation."
As a video showing Pandey discussing the event appeared on social media, CM Hemant Soren ordered the police to conduct an investigation.
Wednesday, Health Minister Banna Gupta announced that disciplinary action would be taken against the erring police officers.