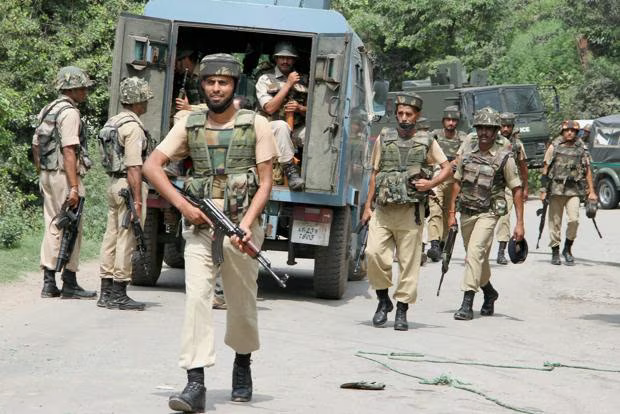 The Jammu and Kashmir Police have established a 20-member promotion cell for promoting and implementing Hindi language in its offices throughout the Jammu division of the Union Territory.
According to an order dated 21 September issued by Additional Director General of Police, Jammu zone, Mukesh Singh, the Hindi promotion cell will have a Staff Officer to ADGP, Jammu zone, serve as the nodal officer to ensure conformance with the earlier police headquarters circular.
The other members are Rakesh Kumar and Shakti Koul (both inspectors), sub-inspectors Bharat Rattan and Pavinder Kumar, besides Ganesh Gutt, Daleep Singh, Bunty Kumar and Dilabgh Singh (all ASIs), Krishan Lal, Arun Singh, Ram Kumar, Rajinder Kumar (all head constables), Ajay Kumar, Runkman Vaid and Nitan Sharma (selection grade constables), Narinder Sukha, Rajan Sharma and Abhishek Bassan (all constables) and follower Rajesh Vaid.
Prior to August 5, 2019, when Article 370 was repealed, all official documents in Jammu and Kashmir were written in Urdu and English, the two official languages.
Dogri, Kashmiri, and Hindi were added to the list of official languages by a 2020 law. The J&K Official Languages Bill, 2020, which sought to make Kashmiri, Dogri, and Hindi official languages of the UT of Jammu and Kashmir, was introduced and enacted by the Lok Sabha on September 22, 2020.
This decision was the subject of debate, with Hasnain Masoodi of the National Conference arguing that five official languages would cause bureaucratic confusion. Urdu, the official language of Jammu and Kashmir, is spoken by only 0.16 percent of its population, whereas Kashmiri is spoken by more than 50 percent of J&K's population but is not its official language.
He referred to this as a historical error and emphasised the need to rectify it by including Kashmiri among J&K's official languages.