India
Karnataka Hijab ban: 'Can you take right to practice religion to school with the uniform?,' says SC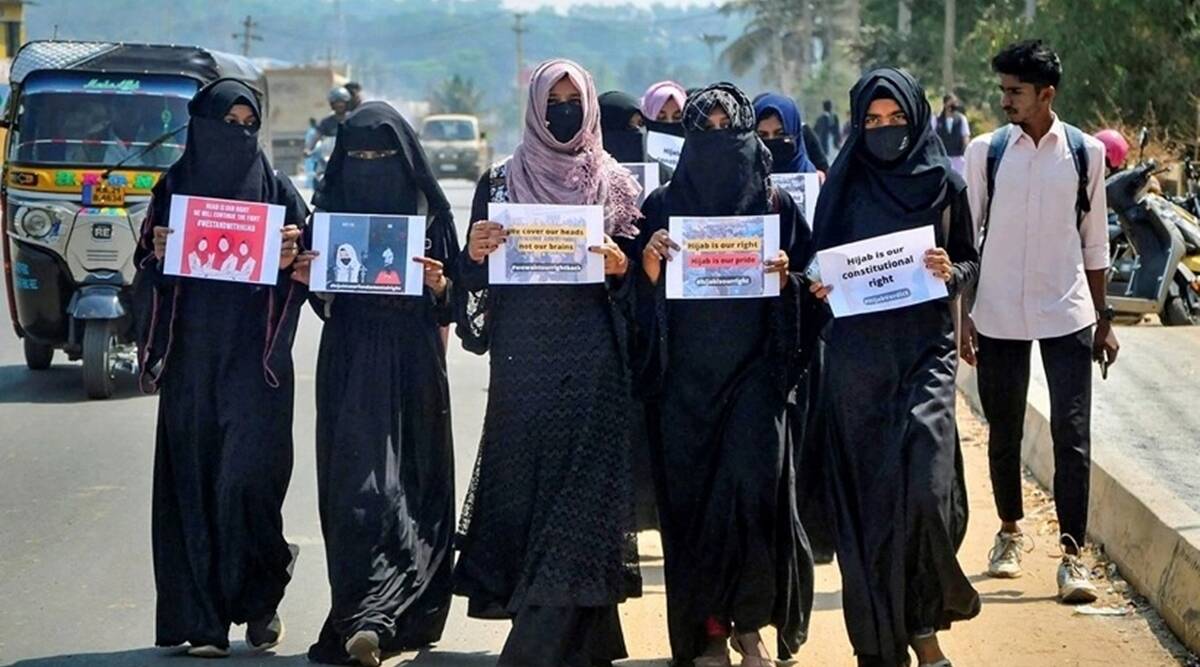 Hearing petitions challenging the Karnataka High Court's decision to uphold the ban on wearing hijab in educational institutions, the Supreme Court on Monday said: But can you take that right to a school that has a uniform?
"We will concede for a moment that you have a right to wear a scarf or hijab wherever you feel like, but can you carry that hijab to a school where uniform is prescribed," Justice Hemant Gupta asked Senior Advocate Sanjay Hegde, who appeared for one of the petitioners.
On the contention that the Karnataka Education Act, 1983, was being invoked to deprive certain sections of education, the bench, also comprising Justice Sudhanshu Dhulia, observed: "They are not saying that they are entitled to any rights. are denying. What the state is saying is that you bring the uniform which is prescribed for the students."
The senior counsel tried to draw parallels between a "chuni" (dupatta) and a "hijab", saying the former was already part of the uniform, but the court said the two could not be compared.
Justice Dhulia said, "There is a huge difference". "If you are portraying a sardine as a hijab, you are probably not right. Chunni is used to cover the shoulders."
As Hedge submitted that a chunni is also used by women to cover their heads in the presence of elders, Justice Gupta observed: "No, Punjab does not have this culture. Sikh women use it to cover their heads when they bow their heads in the Gurdwara. Nothing more than that."
Senior Advocate Rajeev Dhavan. Those who also appeared for the appellants said that the matter involved constitutional issues such as whether wearing a hijab is a necessary religious practice, a Constitution Bench needs to look into it.
Justice Gupta said the question can be amended differently. "It may or may not be a necessary practice. But can you insist on religious practices in a government institution? The preamble of our constitution says secular country," he said.
Dhavan said that he has seen judges applying tilak in the court. The senior counsel said that in Court 2 there is a painting of a judge wearing a turban.
The bench replied that "wearing it (turban) was a custom in the royal states". Justice Gupta said that his grandfather used to wear a turban while practicing law. "Don't equate it with religious insignia," he said.
Pointing out that France follows a strict form of secularism, Dhavan said the issue before the SC concerns "a large number, millions, who follow the dress code but also want to wear the hijab. It is a constitutional issue".
He said that the world will keep an eye on the Supreme Court's decision. "The hijab is something that affects a vast number of countries and civilizations," she said, adding that the Supreme Court's decision would be "important."
Recalling the developments caused by the Government Order (GO) on February 5 this year, Karnataka Advocate General PK Navadgi said there was unrest, and some educational institutions and district authorities had written to the government for guidance.
He said that the GO only says that the students will wear the uniform prescribed by their governing body. "The state was very conscious that we would not write uniforms to every institution. We only say in Rule 11 of the Karnataka Education Prescription of Curricular Rules that it is for each recognized educational institution to prescribe a uniform to its students. Therefore, since you are asking us for instructions, we direct all educational institutions to prescribe a uniform for their students.
"Accordingly, educational institutions in the state prescribed uniforms to their students. Some of them forbade wearing the hijab. Those proposals or decisions of government or private schools have not been questioned. The challenge came before the HC of this GO. My argument before the HC, which was accepted, is this: The GO does not interfere with any rights of the petitioners. We don't say to wear or not to wear a hijab… what we say is to follow Rule 11."
He said that when the students came to know that the institutions had invoked Rule 11 to prohibit the wearing of the hijab, they extended their argument to say that it is part of religious practices and a violation of rights under Article 25.
He said that in government colleges, the College Development Council was empowered which included representatives of students, parents, teachers, local MLA, two members of Scheduled Castes, and two members of Scheduled Tribes, etc., to prescribe uniforms. Were. In the case of private educational institutions, they have a governing body that determines the dress.
Responding to a question by the bench, he said there may be some recognized private educational institutions that have allowed hijab. And said that they are free to make decisions. He said that there may be educational institutions run by Islamic management which have allowed this.
Earlier in the hearing, Hegde questioned the scope of the Karnataka Education Act and rules and asked: "Can you (student) be denied class if you wear a particular outfit? Can you educate women based on their dress? Can you kick someone out of college just because you think they're wearing a uniform that doesn't subscribe to the dress code? Can you tell an adult woman that she won't have control over her own view of modesty?"
He argued that the College Development Council consists of local legislators and politicians, and has no legal validity under the Act.
Justice Gupta said that golf courses also have a dress code. "Can we say we will not follow it," he said. Hegde replied that the golf course is private property. The bench said that it is a public place.
After this, the bench referred to those restaurants which have a dress code. Hegde replied that everything comes down to context.
To Hegde's argument about the kind of education that the 1983 Act envisages, the court asked "whether it prohibits any fixation of dress culture? That the students can come in minis, midis, whatever they want?"
Hegde replied that there is no such recipe. The bench replied that in that case, "the executive power of the state would come".
The arguments remained inconclusive and will continue on Wednesday.
On March 15, a full bench of the Karnataka High Court dismissed a batch of petitions by Muslim girls studying in pre-university colleges in Udupi seeking the right to wear hijab in classes. The HC had held that wearing a hijab is not a necessary religious practice in Islam and freedom of religion is subject to reasonable restrictions under Article 25 of the Constitution.
The HC had also upheld the government order issued on February 5, which had suggested that wearing a hijab may be banned in government colleges where the uniform is prescribed and ruled that the norms of college uniform require such The restrictions are "constitutionally permissible".
Challenging this, a slew of petitions and appeals were filed in the Supreme Court.
Related Posts