India
Kedarnath helicopter crash: Seven people on board killed; Search operation in the grip of rain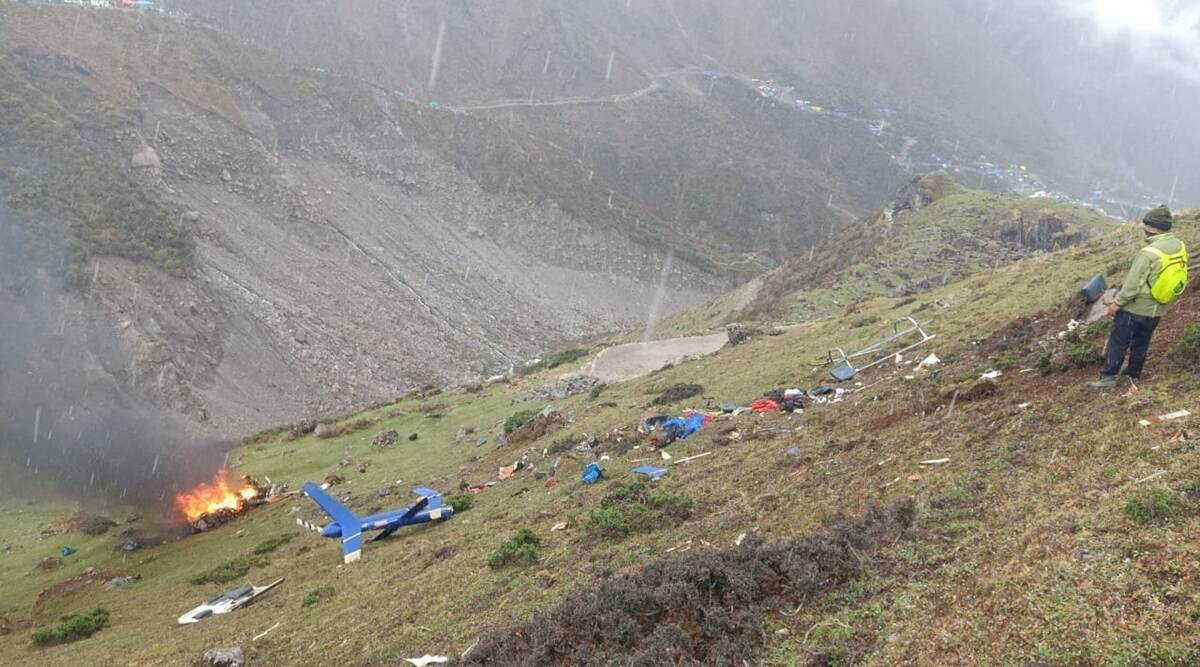 Seven people, including a pilot, were killed when a helicopter carrying Kedarnath pilgrims crashed after hitting a hill in low visibility in Uttarakhand's Rudraprayag district on Tuesday morning.
According to preliminary reports, the helicopter owned by Delhi-based Aryan Aviation Pvt Ltd was travelling back from Kedarnath when it crashed near Garuda Chatti minutes later.
Search and rescue operation is underway with State Disaster Response Force (SDRF) and district police teams on the spot. However, the process has been disrupted due to rain in the area.
The SDRF said in a statement that the incident occurred between Lincholi and Garuda Chatti, and rescue teams from Kedarnath and Lincholi have reached the spot. "Search, and rescue operation is on. The helicopter belonged to the Aryan Company and had seven people on it. The fog's visibility was poor, and the helicopter crashed after hitting a hill.
The helicopter occupants have been identified as Purva Ramanuj, Kriti, Urvi, Sujata, Prem Kumar, Kala and pilot Anil Singh.
Prime Minister Narendra Modi, Chief Minister Pushkar Singh Dhami and Civil Aviation Minister Jyotiraditya M Scindia tweeted about the accident.
"Saddened by the helicopter crash in Uttarakhand. In this sad hour, my condolences to the bereaved families: PM @narendramodi," said the Prime Minister's Office on Twitter.
Anguished by the helicopter crash in Uttarakhand. In this tragic hour, my thoughts are with the bereaved families: PM @narendramodi

— PMO India (@PMOIndia) October 18, 2022
"Received the sad news of the death of some people in an unfortunate helicopter crash at Garuda Chatti near Kedarnath. SDRF and district administration teams have reached the spot for relief and rescue work. An order has been issued for a detailed inquiry into the incident," Dhami said in a tweet.
केदारनाथ के समीप गरुड़ चट्टी में दुर्भाग्यपूर्ण हेलीकॉप्टर क्रैश में कुछ लोगों के हताहत होने का अत्यंत दु:खद समाचार प्राप्त हुआ है। राहत और बचाव कार्य हेतु SDRF और जिला प्रशासन की टीम घटनास्थल पर पहुंच चुकी है। इस दु:खद घटना के विस्तृत जांच के आदेश दे दिए गए है।

— Pushkar Singh Dhami (@pushkardhami) October 18, 2022
Describing the incident as unfortunate, Scindia said he is in constant touch with the Uttarakhand state government. "The helicopter crash in Kedarnath is miserable. We are in contact with the state government to ascertain the magnitude of the damage and are continuously monitoring the situation.
Related Posts