India
Kumar Vishwas explains his "RSS illiterate" comment after he was criticised for it.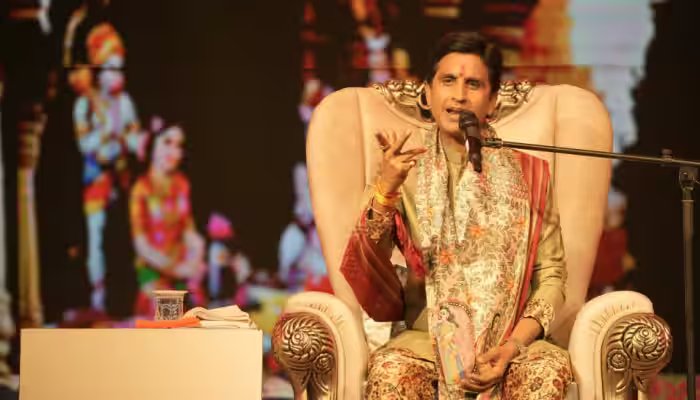 The BJP and Rashtriya Swayamsevak Sangh, the group that gives the BJP its ideas, are upset with the famous poet Kumar Vishwas because he called RSS members "illiterate." During an event in Ujjain, Madhya Pradesh, Vishwas talked about a time when an RSS worker asked him what the Budget was about.
"A boy who works for the RSS asked me what should be in the budget. I said that you had made a Ram Rajya (Lord Ram's rule) government, so the Budget would be the same," Vishwas said.
"There was no budget in Ram Rajya," the boy said. "That's your problem," I told him. While the leftists are uninformed, you are well-informed (illiterate). In this country, there are only two types of people who fight with each other. One group is uninformed leftists. He told the crowd, "They have studied everything, but they have studied it all wrong. The other one is [RSS], they haven't studied at all."
आपको बुद्धि का अजीर्ण हो गया है….
यह अहंकार ही आपके पतन का कारण बनेगा।
किसी को अपमानित करना दुनिया का सबसे हल्का काम है, जिसे आप कर रहे हैं @DrKumarVishwas pic.twitter.com/ZQQ4Oml9rx

— लोकेन्द्र पाराशर Lokendra parashar (@LokendraParasar) February 22, 2023
Lokendra Parashar, a leader of the BJP, reacted strongly to what he said by saying, "Your arrogance will be the reason you fail."
Kumar Vishwas later said that his words had been taken out of context. Vishwas said in a video that he was talking about a boy who works in his office and also works for the RSS.
"He doesn't study as much and talks more. I told him he should do his homework. I said, "Leftists don't know much, and you can't read or write.""
"I'm sorry if this event has made you think about things in a different way."
#WATCH |"…I commented about a youth in my office. Coincidentally,he works in RSS.He studies less.I told him to study, "Vaampanthi kupadh hain,tum anpadh ho." Apologies if it was taken in any other manner…," says poet Kumar Vishwas on his remark at an event in Ujjain on Feb 21 pic.twitter.com/iwKKRfp8HW

— ANI (@ANI) February 22, 2023
Vishwas also told the people who said they were going to stop Kumar Vishwas's upcoming shows to "remember what kind of people stop Ram Katha."