Staring at the mighty Bay of Bengal outside her one-storey house, Chandragiri Paindi remembers how Podampeta village was bustling with activity until 2007.
"We used to celebrate all our festivals together. Once the children returned from school, they would play, fight and laugh… there was never a dull moment."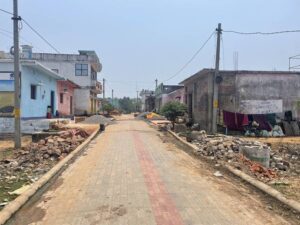 That started altering in 2007 when the marauding sea started swiftly advancing to reclaim the land. Over 500 families deserted the village, condemning the once-thriving enclave to a deserted shadow of its former self. Once home to over 1,500 fisherfolk, it is inhabited by just 11 persons belonging to the two remaining families, one of them Paindi's.
Podampeta lays quiescent on the shores of the Bay of Bengal, near the mouth of Rushikulya River. Around 10 km from National Highway 16, Huma in the Ganjam district is the closest settlement. A haunting emptiness strikes home as one walks through Podampeta's deserted sandy paths. Though most houses are under lock and key, these serve little or no purpose since determined surges have successfully torn down the walls and foundations of many homes. Overrun by trees and shrubs, colours fading from the dilapidated fences as they await their inevitable end, the houses spend their final days in service of their new inhabitants — stray dogs, abandoned livestock and pigeons.
In a written reply in the state Assembly last month, Odisha Forest and Environment Minister Pradip Kumar Amat said that families from erosion-hit Podampeta village and Ramayapatna in Ganjam district have already been shifted to safer locations. He added that rising sea levels and coastal erosion due to climate change had already submerged 16 villages in the Kendrapara district.
Paindi, 40, a mother of five, told The Deccan Era, "We will not leave the village till the sea enters our home. We poured all our savings into constructing this house. Government officers are pressuring us to relocate to the rehabilitation colony. We are emotionally attached to this home. We will not abandon it."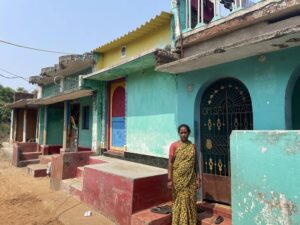 Paindi and the other residents claim the village rose nearly 40 years ago after fisherfolk from a nearby village shifted to Podampeta. Its location meant it was ideal for fisherfolk to venture into the sea, with ample space to dock vessels and store their nets and other equipment.
Paindi, a homemaker, recalls, "When my family shifted here, the sea was around 1 km away from the village. Now, it lies a few metres distant. Since erosion began in 2007, the sea has gobbled up over 100 homes."
'How will we all squeeze in?'
Keeping in mind the impact of this surge in sea levels, the state government has since 2015 shifted most inhabitants of the village to a colony around 5 km distant. The 300 sq ft house granted to the residents, rehabilitated under the Odisha Disaster Recovery Project (ODRP), has a drawing-cum-bedroom, a kitchen and a toilet.
Chandragiri Potodu, Paindi's spouse, complains, "The government is giving us a one-room unit in the resettlement colony. My family has seven members, including four females. How will we all fit in a one-room house? And if we want to expand the house, we will have to purchase land and invest in construction. We don't have the resources to do that now."
Besides their family, the village's only household is that of 68-year-old Jami Nacheya, his wife and their two daughters.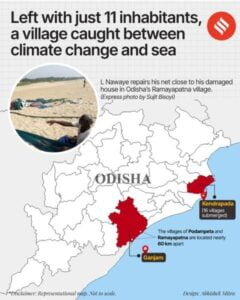 "Two of my sons got a house each in the ODRP colony. They reside there with their families. I go to their residences at times. But staying here in Podampeta makes it simpler for me to venture into the sea early in the morning," said Nacheya.
Five km away, a huge crowd has gathered at the ODRP Colony's common service centre (CSC), with people seeking assistance with their Aadhaar cards, caste certificates, vehicle insurance and gas connections, among other requests.
Among those waiting at the CSC for assistance to process his daughter's documents is B Eriga. "I shifted to this colony in 2016 with my wife and daughter. Though the colony has all facilities, we don't get enough employment. At the age of 71, it is not simple for me to wake up at 3 am to step into the sea and fish," said the wizened Eriga.
Back in Podampeta's makeshift fish landing centre, which is close to the sea, 39-year-old B Mohana said he was not ready to abandon the house constructed by his father. Four months ago, he was among the last residents to depart for the ODRP colony.
"There was no other way out. We had to flee the village. The sea would penetrate the house during high tide in peak monsoon. The primary school too was no longer operational in Podampeta. All of that made it impossible for us to remain there," says Mohana.
Ganjam tahsildar Arun Kumar Nayak said the state government had sanctioned a Rs 73-lakh plan to construct a sea wall using a geotextile tube to check coastal erosion. Geotextile tubes, which are used to form sea walls, generally absorb the impact of waves when they strike the shore. This helps minimize erosion. "We will start work soon," Nayak said.
A comparable story at Ramayapatna village
Even as Podampeta fades into calm oblivion, another seaside village in Ganjam district, located about 60 km away, is also at the receiving end of the wrath of the Bay of Bengal.
In Chikiti block's Ramayapatna, the majority of residents are fisherfolk. They claimed that over 30 dwellings and over 30 acres of agricultural land had been swallowed by the sea over the past few years. Of the 300 families that resided in this village, 40-50 have already left.
Repairing his net on Ramayapatna's coastline on a sunny morning, 70-year-old L Nawaye says, "My three sons got three houses in the nearest ODRP colony and shifted there. Fisherfolk always seeks houses close to the sea. If we move to that colony, who will look after our boats and nets?"
In Ramayapatna, the state government has also sanctioned a plan of Rs 23 crore to develop a geosynthetic sea wall of around 1,200 metres to safeguard the village from sea erosion.
Nawaye believes the sea wall will come up before it is too late.
Nawaye's neighbour R Trinath is unhappy that he is yet to get a house in the ODRP colony. "I have already lost two of my five rooms to coastal erosion. I approached several individuals, but I am yet to get a house in the resettlement colony. In protest against the administration's apathy, I did not go to the cyclone shelters when the government relocated all the villagers there during the recent cyclones," claimed Trinath.
Speaking in the state Assembly last month, minister Amat had said there was high possibility of coastal erosion in areas from Satabhaya to Pentha in Kendrapara district; Talasahi, Udayapur and the northern side of the Budhabalanga river mouth in Balasore district; Paradip port area in Jagatsinghpur district; the banks of the Jamuna and the beach area of Puri and northern part of Gopalpur port and Ramayapatna in the north part of the Bahuda river mouth.
According to Odisha's climate change action plan, made by its Forest and Environment Department, of the coast length of 480 km, nearly 187 km is exposed to erosion and considered stable; 39.3 km falls in the high-erosion zone; while 51.96 km has been designated as falling in the medium-erosion zone.
The action plan emphasized Odisha's particular vulnerability to the impact of climate change in the form of a rise in sea levels and increased intensity of cyclones. Loss of land to sea has become a more recurrent and frequent phenomenon.
According to a study on 'Shoreline Change Along Odisha Coast', published in the Journal of Earth System Science in 2021, coastal structures such as sea walls, breakwaters and jetties result in modification of the shoreline and beach morphology. Construction of hard structures along the coast, either for the development of harbours and harbours, significantly modifies the shoreline. Besides, natural hazards such as tsunami and cyclone storms along the Indian coast have significantly altered the shoreline. It said that along the east coast of India, Odisha is most prone to cyclones. Cyclones along the Odisha coast cause severe devastation to coastal life and coastal structures.
Odisha has encountered 10 cyclones in the last 12 years, said official sources.
Prabin Kumar Kar, the first author of the study and project scientist at Berhampur University, said that unlike the Arabian sea, most rivers are inclined towards Bay of Bengal. "The river flow acts as a barrier to ocean current at the river mouth area and causes erosion in areas located in the northern part of the river channel. Both Podampeta and Ramayapatna are located in northern sides of rivers Rushikulya and Bahuda respectively," Kar told The Deccan Era.
Kar said sea level rise because of global warming has also another significant role for changing in shoreline.
The action plan highlighted the connection between ocean dynamics and coastal processes and climate change. They also have strong connections to various disasters that are likely to confront the state frequently.
J Sukanti, who left Podampeta village nearly six months ago, stated that she had waited in vain for the government to safeguard the village from sea erosion.
She added, "It's too late now. The village will shortly disappear from the map of Odisha."
Related Posts