India
International
Major Beena Tiwari, whose picture of her hugging a Turkish woman went viral, talks about her time in the country after the earthquake.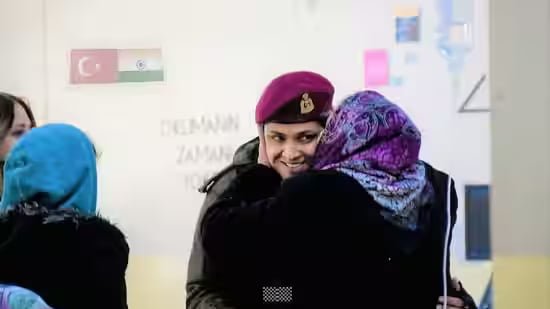 The medical team from the Indian Army that was sent to Turkey as part of Operation Dost arrived back in India on Monday at Ghaziabad's Hindon Airport. They had been there for 12 days and helped more than 3,500 earthquake victims.
Major Beena Tiwari, who was a Medical Officer in the 60 Parachute Field Hospital and was seen hugging a Turkish woman in a photo that went viral, talked to ANI about her experience.
Major Beena Tiwari told ANI that when they got to Turkey, they saw a huge amount of loss of life and resources. Between all the chaos, it was hard to find a place to set up the hospital.
#WATCH | We've completed #OperationDost & returned back to India… Within 1-2 hours of setting up the hospital in Turkey, we started treating patients. We want to thank the Turkey govt and locals for helping us there: Major Beena Tiwari, Medical Officer, 60 Para Field hospital pic.twitter.com/dxXziZwO7l

— ANI (@ANI) February 20, 2023
Major Tiwari said that when the army got to Turkey, they set up their hospital in a building near an existing hospital in Iskenderun within hours.
The 99-person team was self-sufficient and ran a 30-bed Field Hospital in Iskenderun, Hatay, that was fully equipped and cared for nearly 4,000 patients around the clock.
The Major also said that the people in the area and the Turkish government helped them a lot.
"The locals were very friendly and made us feel at home. As soon as we set up the hospital, people began to come in, and we couldn't stop them. We saw more than 3,600 people there over the course of 11 to 12 days "Major Beena Tiwari said.
The 60 parachute field hospital team was ready to leave Agra Air Force Station on February 7 within 8 to 10 hours of getting the order to get ready.
Lieutenant Colonel Adarsh Sharma, who is in charge of the 60 Para Field Hospital, thanked the Indian government for sending them quickly to help with the disaster.
"The goal was to win over the people's minds and hearts by giving them care when they needed it. I think that's what we've done, "When talking to ANI, the Lt. Colonel said.
Lt. Colonel Adarsh Sharma said that time was one of the most important parts of this mission.
He said that they left Agra on the evening of February 7 and arrived at the Adana airport in Turkey the next morning.
The Indian medical team went to Iskendrun from the airport in Adana. There, they set up their field hospital. Within a few hours, the hospital was up and running, and people who had been hurt could start getting care as early as the afternoon of February 8.
The Lt. Colonel said that they had to deal with a huge number of casualties.
"We were lucky to be able to give them the best medical care we could in that situation. Our goal was to win over the people's minds and hearts by giving them medical care quickly. I think that's what we've done, "The Lieutenant Colonel said.
"During the whole time we were open, we saw more than 3,600 patients and did both big and small surgeries on them. During the first two or three days, a lot of neglected trauma patients came to the hospital. After that, the patients started to look different. Trauma cases went down and long-term patients started to show up, "Lt. Colonel Adarsh Sharma told ANI when they asked him about it.
Lt. Colonel Sharma said that the patients were very grateful because their health care system was not working to the fullest. They were very thankful to India and its team.
"I'd like to thank the Turkish people who helped us with translations and medicine. There were also a lot of interns and doctors from the area with us "he added.
Al Jazeera said that a 7.8-magnitude earthquake hit the southeast of Turkey and neighbouring Syria on February 6. It killed more than 45,000 people, left more than a million people homeless, and was expected to cost billions of dollars.
India was one of the first countries to help in Turkey and Syria when people needed help.
India started Operation Dost to help Turkey and Syria after quakes and aftershocks in the area caused a lot of damage.
As part of Operation, the Indian Government and Indian Army worked together to send tonnes of aid to both Syria and Turkey.
Under this, India sent help to Turkey in the form of relief supplies, a mobile hospital, and search and rescue teams with special skills.
Also, 250 soldiers were sent to the worst-hit parts of Turkey and Syria.
Turkey was also visited by three self-sufficient NDRF teams with more than 150 specially trained members, Rambo and his friends (from the dog squad), special vehicles, and other supplies.
Turkey also got more than 135 tonnes of specialised equipment and other aid supplies.
India sent Syria emergency medicines and medical equipment, like portable ECG machines, patient monitors, and other important medical supplies.
The NDRF teams helped with rescue efforts in Gaziantep, while the medical team set up a field hospital in Iskenderun.
The army field hospital in Iskenderun, Hatay, Turkey, opened with medical, surgical, and emergency wards, as well as an X-ray lab and a medical store.
When asked about sending aid to Syria when the US has put sanctions on the country, the government said that India follows the G-20 mantra of "One Earth, One Family, One Future."