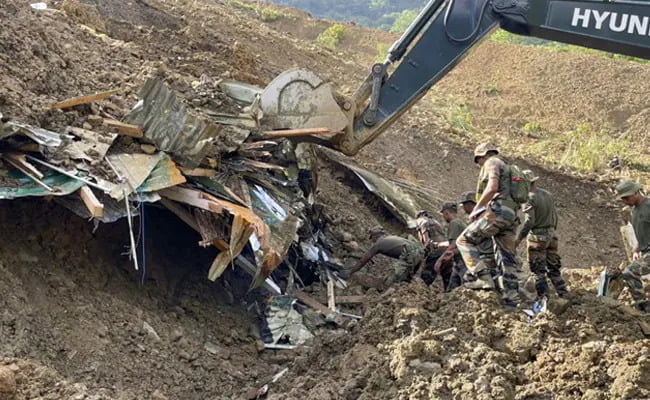 IMPHAL: Rescue workers recovered six more bodies from the debris on Sunday, pushing the total number of fatalities in Thursday's massive landslide at Noney district's Tupul to 40.
Official sources said that of the six bodies, four of the missing were 107 Territorial Army (TA) personnel, one is a labourer and the other is yet to be identified. Till Sunday evening, the total number of missing people including TA personnel, railway officials and a road construction company, villagers and labourers, stood at 22. Meanwhile, another landslide occurred in the Sibling area along National Highway 37 (Imphal-Jiribam road) in the Tamonglong district bordering Noni on Sunday morning, leaving several vehicles stranded on both sides of the affected areas. Local sources said huge stones fell due to the landslide and blocked the highway. There were no casualties this time.
A defence statement said that despite unfavourable weather conditions due to heavy rains and fresh landslides on Sunday night, a search operation is underway by the Indian Army, Assam Rifles, Territorial Army, SDRF and NDRF at the site of the incident in Manipur's Tupul. Through wall radar and search and rescue dogs are being used to intensify the search operation. Entirely 13 TA personnel and 5 civilians have been rescued, and the mortal remains of seven TA personnel have been flown to their respective home stations by an IAF aircraft and an Indian Army helicopter to Kolkata, Bagdogra and Agartala, it said.
It said the victims were given full military honours by GOC Red Shield Division and IG Assam Rifles (South) in Imphal on Sunday morning, adding that a similar honour would be accorded at the respective home stations.
The relentless efforts to find the missing military personnel and civilians will continue until the last person is found, the statement said. BJP leaders including Union Minister of State for Education Subhash Sarkar, MPs Raju Bista and Leishemba Sanajoba, MLA and Hill Area Committee (HAC) president Dingglung Gangemi and Manipur unit senior vice-president N Nimbus Singh visited the site on Sunday situation.
Meanwhile, relief material was sent to the rescue workers by Imphal West District Police and Market Community, Imphal through the Noni Superintendent of Police