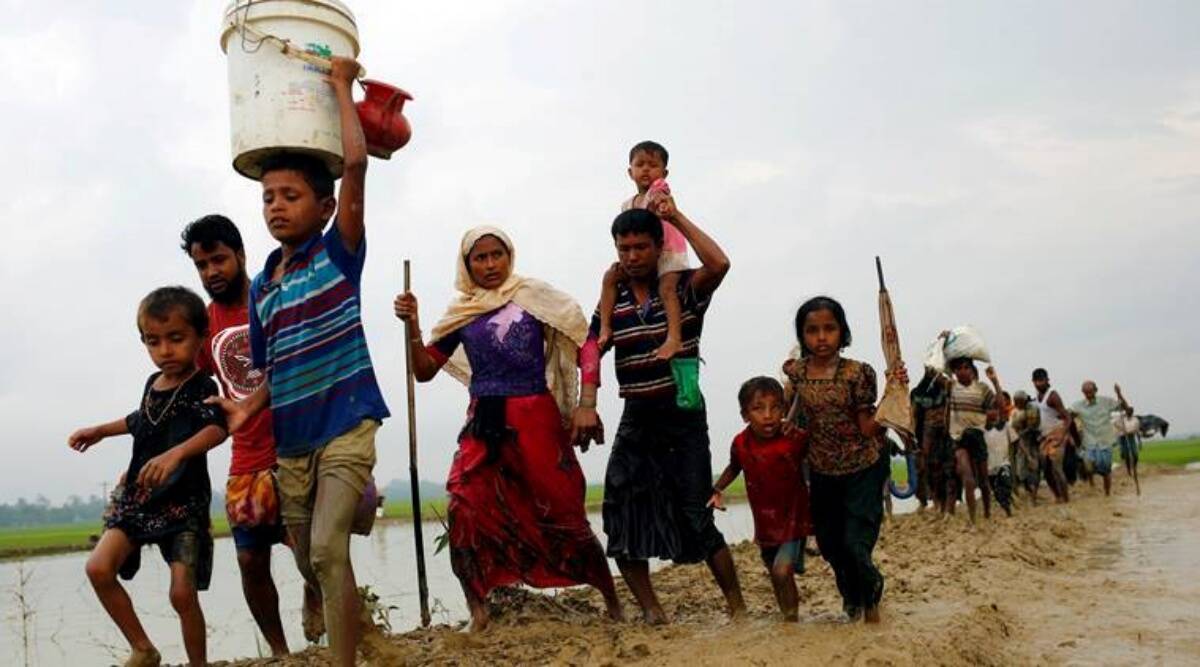 Bangladesh and Myanmar never take back Rohingya refugees who enter India through their borders, and a paper presented last week at the annual All-India Conference of DGs/IGs of Police in Delhi said that the Central government should make a policy for foreigners, especially Rohingya.
The document, "Concerted strategy to identify overstaying foreigners in India and deport them," was written by senior IPS officer David N R Marak, who is posted as the DIGP (Eastern range) for Meghalaya. It said, "Meghalaya shares a long international border with Bangladesh and faces the problem of illegal immigration of foreigners, especially Bangladeshi nationals and Rohingya refugees. In some cases, international human trafficking rackets have been busted."
"Meghalaya Police have also seen that Bangladeshi and Myanmarese nationals use the northeastern states to sneak into India illegally and that the northeastern states are also used as a route for trafficking people," the report said.
"The Rohingya problem is even more complicated because they are Myanmarese refugees who are now crossing from Bangladesh into India. When illegal Rohingya refugees are caught and legal steps are taken to send them back to Myanmar or Bangladesh, neither country will take them back. Even though all legal processes have been finished, Rohingya people are still stuck in India, and the government needs to come up with plans to help them as soon as possible," it said.
Marak also brought up questions about the Border Security Force's policy. "The BSF watches over the India-Bangladesh border, and if they see Bangladeshi citizens trying to sneak into India, they either file or send them back," it said.
"The BSF uses the term "push-back" to describe how they send people who have crossed the international border back to Bangladesh. In this case, neither the Ministry of Home Affairs nor the Ministry of External Affairs has given any clear rules… "It is very important for the Central government to come up with rules to stop these kinds of things from happening," the document said.
"The central government needs to come up with policies for foreigners' stays, deportations, and camps right away, especially for Rohingya, who are not recognised by either Myanmar or Bangladesh," Marak said.
Another IPS officer, M. Harsh Vardhan, who is DCP in Delhi's Dwarka district, said, "There is an urgent need to prioritise the enforcement process to send resources to track down and deport certain types of foreign nationals. The US model gives us a good idea of how to do this."
"In India, Foreigners Regional Registration Officers give the local police a list of foreigners who have overstayed their visas. Most of the time, the foreigner is not found at the address given on the list… Local police may not be able to put in the time and effort to find the foreigner… "We should think about making a Central agency or a unit… to deal with foreigners who stay too long," he said.
Another officer from the Delhi Police, JCP (southern range) Meenu Choudhary, said that the Bureau of Immigration has a list of 5,537 foreigners who have overstayed their visas in Delhi. However, this number may be higher. "Of these, 2,571 foreigners cannot be found. He said, "This is a big problem."