India
Mercury soars across India; Hamirpur, Prayagraj in UP hottest at 44.2 degrees Celsius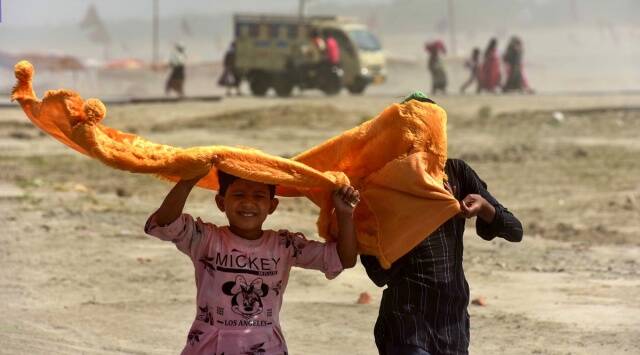 On Tuesday, most of the country was still in the middle of a heatwave. Temperatures were between 40 and 44 degrees Celsius, with Hamirpur and Prayagraj in Uttar Pradesh reaching a scorching 44.2 degrees Celsius.
The Safdarjung Observatory, which is the main weather station in Delhi, recorded a high temperature of 40.4 degrees Celsius, which is four degrees above average.
The highest temperature here has been above 40 degrees Celsius for the fourth day in a row.
There was a heat wave in the areas of Pusa and Pitampura, where the highest temperatures reached 41.6 and 41.9 degrees Celsius, respectively.
The India Meteorological Department (IMD) says that cloudy weather and light rain may help cool down the city on Wednesday.
The IMD said that a western storm over the western Himalayas will bring light rain to the northwestern plains on Tuesday.
As the temperature rises, Met officials are warning of a heatwave.
The MeT office said earlier this month that most of the country would have above-normal high temperatures from April to June, except for parts of the North-west and the peninsular regions.
During this time, most of central, eastern, and north-west India will have heat waves that are hotter than usual.
The weather service has sent out an "orange" alert, which means that there will be a terrible heatwave for the next two days in Patna, Banka, Jamui, Nawada, Aurangabad, Supaul, and several other districts in Bihar.
In the Begusarai, Nalanda, Gaya, Arwal, Bhojpur, Rohtas, Buxar, Khagaria, and Munger areas of the state, a "yellow" warning has also been given.
For weather warnings, the weather service uses four colour codes: green for "no action needed," yellow for "watch and stay updated," orange for "be ready," and red for "take action."
A top Bihar Disaster Management Department member said, "People should try not to get too hot or dehydrated."
Bankura had the highest temperature in West Bengal at 43.7 degrees Celsius, while the highest temperature in the main city, Kolkata, was only 40 degrees Celsius.
Haryana and Punjab continued to have hot weather, with the highest temperature above 40 degrees in most states.
The temperature in Hisar, Haryana, reached 41.4 degrees Celsius, which is very hot. This is what the weather department here said.
Karnal also had a hot day, with a high temperature of 40.7 degrees Celsius.
The highest temperature was 39.7 degrees Celsius in Ambala, 40.2 degrees Celsius in Narnaul, and 39.6 degrees Celsius in Bhiwani.
Bathinda, which is in Punjab, had a high of 41 degrees Celsius. At the end of the day, the temperature in Amritsar was 36.6 degrees Celsius and in Patiala, it was 41.2 degrees Celsius.
The high temperature was 39.4 degrees Celsius in Chandigarh, which is the capital of both states.
The hottest places in Uttar Pradesh were Prayagraj and Hamirpur, where the temperature reached 44.2 degrees Celsius. The weather service said that it might rain or thundershower in some places in the west of the state.
The highest temperature in Lucknow was 41.3 degrees Celsius, and the lowest temperature was 24.5 degrees Celsius.
Temperatures also went up in the desert state of Rajasthan, with Chittorgarh recording 43.2 degrees Celsius, Kota recording 42.8 degrees, Banswara recording 42.7 degrees, Phalodi recording 42.2 degrees, Dholpur recording 42 degrees, Alwar and Sawai Madhopur recording 41.7 degrees, Tonk recording 41.6 degrees, Churu and Pilani recording 41.4 degrees each, Barmer recording 41.2 degrees, and Jaipur recording 40 degrees Celsius.
On April 19 and 20, the MeT says there will be light rain and thunderstorms in Jodhpur and Bikaner and in Jaipur, Ajmer, and Bharatpur.
It also said that temperatures would drop by 2 to 3 degrees over the next two days.
People in the lower hills of Himachal, who had been suffering under the hot sun, got some comfort when light rains fell in several places.
The highest temperature in the area was in Dhaulakuan, which reached 38.7 degrees. The highest temperature in Una was 37.4 degrees.
The high temperature in Shimla, Manali, Dharamsala, and Narkanda, all famous tourist spots, was 25,4, 21, 28,2, and 19,2 degrees Celsius, respectively.
On Tuesday, the Andhra Pradesh State Disaster Management Authority (APSDMA) said that there would be a serious heat wave in one mandal and a heat wave in 117 more.
The disaster management department said in a statement that the heat wave is expected to affect seven mandals in the Alluri Sitarama Raju district, 16 in Anakapalli, four in East Godavari, two each in Eluru, Palnadu, Visakhapatnam, and Nandyala, six in Gunturu, and ten in Krishna.
It was said earlier in the day that Chintur and Nellipaka in the Alluri Sitarama Raju district are expected to have temperatures of 44.7 degrees and 44 degrees Celsius, respectively, on Tuesday.
On Tuesday, officials said that some places in the mountains of Kashmir got new snow, while the plains got a lot of rain.
Near the Line of Control (LoC), in Machil, about three inches of snow fell.
They said that overnight rains hit the plains, including the city of Srinagar, and brought the temperature down.
The weather office said that it is likely to rain off and on until Tuesday night.
On Wednesday, it is very possible that light to moderate rain or snow will fall off and on in the higher areas.
During this period of rain, there could be thunderstorms with strong gusts of wind that reach 20–30 km/h and hailstorms in some parts of Jammu and Kashmir.
Also, a 34-year-old woman died of sunstroke at the "Maharashtra Bhushan" award event in Navi Mumbai, bringing the total number of deaths from sunstroke at the event to 14. Seven people are still being treated, a city official said on Tuesday.
Related Posts