India
International
Modi has invited Biden to attend the Republic Day ceremony: US representative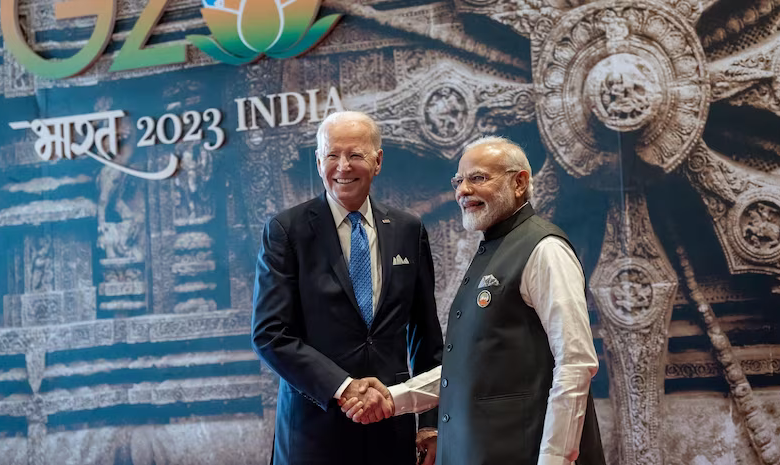 In an indicator of the two countries' growing ties, US Ambassador Eric Garcetti announced Wednesday that Prime Minister Narendra Modi has invited President Joe Biden to the Republic Day celebrations in New Delhi on January 26 next year.
Responding to a question about the Quad leaders being invited to the Republic Day celebrations, Garcetti stated that Modi offered the invitation to Biden during their bilateral meeting on the sidelines of the G20 Summit in New Delhi recently.
The Indian Express reported earlier this month that the administration was considering inviting Quad leaders to the Republic Day celebrations next year. According to reports, a final decision will be made after determining the availability of the leaders – President Biden, Australian Prime Minister Anthony Albanese, and Japanese Prime Minister Fumio Kishida.
From the government's standpoint, an invitation to be The Republic Day principal guest is highly symbolic. To determine its principal guest for Republic Day, New Delhi has been weaving a strategy with hospitality. A formal invitation is normally extended only after determining the availability of the leaders informally.
According to sources, the Indian side has been working on such lines since the three Quad leaders arrived for the G20 Summit. India will also host the Quad Summit next year.
Biden will face an election by the end of 2024, and his final State of the Union address before the country goes to the polls will be in January.
On January 26, the Australian government commemorates the creation of the first permanent European settlement on the island continent. Albanese will be preoccupied with public rituals and celebrations.
Japan's Diet (parliament) session normally begins in the last week of January, and the Prime Minister is expected to attend during the opening weeks of the Budget session. The 150-day term for next year is set to begin on January 23.
If this strategy to get the four presidents together succeeds, it will send a powerful message to China, whose aggressive actions in the Indo-Pacific region have brought the four countries together.
The Quad Alliance was formed in 2007. However, it fizzled out in 2008. It was restored at the formal level in 2017 and was advanced to Foreign Ministers in 2019 and Leaders in 2021 once Biden took office.
Guest preference
Every year, the principal guest for the Republic Day celebrations is chosen for a variety of reasons, including strategic and diplomatic considerations, corporate interests, and worldwide geopolitics. The next Republic Day will be the last before the Lok Sabha elections, which will take place only a few months later.
Related Posts