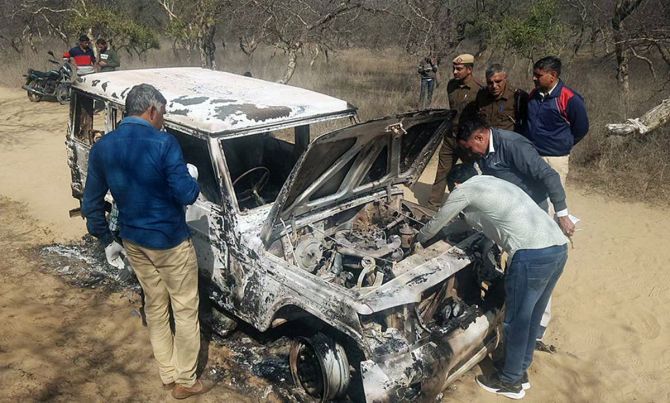 In addition to the nine individuals whose names have been released by Rajasthan Police in connection with the alleged murder of two Muslim men from Bharatpur in Haryana's Bhiwani district last week, more than a dozen others are being investigated for their possible involvement in the case, a police officer said on Thursday.
During the course of the investigation, the names of more than a dozen individuals have been uncovered via various sources. All of these are confidential sources, said Gaurav Srivastav, inspector general of police (Bharatpur region).
The IGP stated that the latest suspects' identities will be made public whenever there is adequate proof against them. "The ongoing investigation will be compromised if the names are disclosed beforehand. He stated that the probe was proceeding in a scientific and objective manner.
On February 16, the burnt bodies of two cousins, Junaid (35) and Nasir (27), were discovered inside a vehicle in the Haryana district of Bhiwani. The deceased's families allege that they were kidnapped, beaten, and murdered by members of the Bajrang Dal, a claim that the organisation denies.
According to the Rajasthan Police, an inquiry into the purported murder revealed that cow vigilantism was the cause. On February 17, a cab driver from Firojpur Zirka in the Nuh district of Haryana, 32-year-old Rinku Saini, was detained.
Mohit Yadav and Monu Manesar, prominent Bajrang Dal leaders in Haryana's Manesar area who were originally identified in the FIR, were not included on the list of eight suspects published by police on Thursday.
Monu Manesar is one of the public figures associated with cow vigilantism in Haryana. He has denied involvement in the situation. In a video published shortly after the occurrence, he condemned the murder and stated that his squad had nothing to do with it. This week, two "Hindu Mahapanchayats" were conducted in Haryana in his favour.
While Manesar and four other males – Anil, Srikant Pandit, Rinku Saini, and Lokesh Singhla – were mentioned in the FIR filed in Bharatpur, Rajasthan, on February 15, a senior officer stated on Thursday, "…we have not listed him among the nine, but he is still being treated as a suspect."
The IGP stated that Monu Manesar and Lokesh Singhla "remain under police surveillance."
Officials from the Rajasthan Police stated that all nine guys were members of "gau raksha" gangs in Haryana.
On February 15, according to investigators, the nine suspects allegedly accosted, kidnapped, and abused Junaid and Nasir before taking them to at least two police stations in Firozpur Jhirka, where they were turned away. The Haryana Police have stated that they are examining the allegations.