India
Navlakha is ordered to be house arrested within 24 hours after the Supreme Court rejects the NIA plea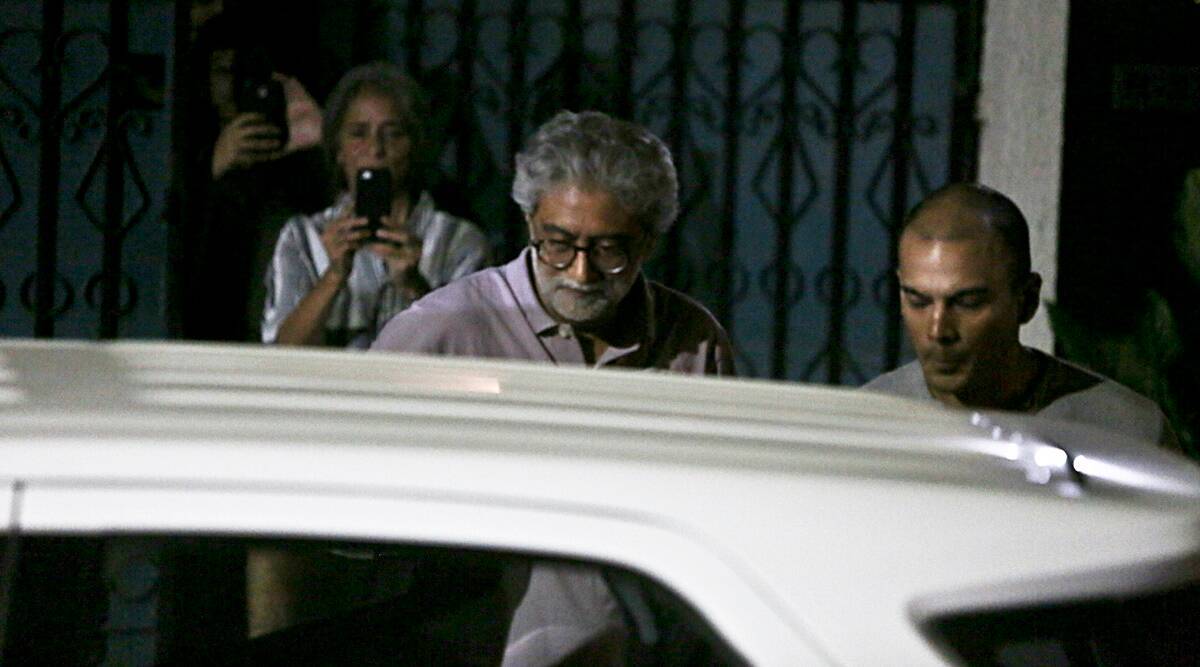 The Supreme Court ordered Gautam Navlakha's house arrest order to be effected within 24 hours of its decision Friday rejecting the National Investigation Agency's request to revoke its order on November 10.
In a joint hearing, Justice Joseph and Justice Hrishikesh Roy warned the NIA and Navlakha that "we will take a serious look at any loophole you use to defy our order".
The request for vacation of the order is not likely to be granted. The NIA's claim to be equal is dismissed," the bench ruled after hearing the NIA's claim that some have more rights than others despite Article 14 saying all are equal.
A bench added some "additional safeguards" to the conditions already outlined in the previous order to address some of the concerns raised by the NIA over Navlakha's residence.
As per the November 10 order, Navlakha had been transferred from Taloja jail in Navi Mumbai to house arrest due to health issues.
A lawyer for the NIA and an Assistant Solicitor General for the NIA sought to draw the court's attention to the Communist Party's premises in Mumbai that Navlakha had chosen for his house arrest.
According to Raju, the Lordships were not informed, we were not aware… and they were deliberately misled." The public library is not flat but a building that could pose a security threat.
The court asked Justice Joseph about the Communist party's claim that the premises belonged to it. Is the Communist Party of India recognised as a political party in this country?"
Mehta stated, "I will leave it at that.". You cannot shock Your Lordship's conscience if that does not… Would You Lordships ever have imagined or intended a situation in which someone accused of committing a serious terrorist act or belonging to a Maoist organisation could remain in the Communist Party office?"
It "certainly does not shock" Justice Joseph.
According to Mehta, "facts" are "very, very disturbing". Navlakha was "presumed" to be in poor health. Still, the fact that the medical report he relied on was prepared by his brother-in-law, a physician at the Jaslok hospital, raised doubts regarding its authenticity.
The petitioner is trying to suppress material facts that undermine the order and report of the hospital by insisting on Jaslok hospital and only agreeing to undergo a medical examination there. He did not disclose to the court the relationship between himself and a senior doctor at Jaslok hospital at the hearing.
Even though Article 14 asserts that all are equal, some are more equal than others. Jail staff treat inmates of the same age and with the same ailments. "They cannot afford to stay at home," Mehta stated.
After passing the November 11 order, the bench stated that Raju had already argued these points "very effectively". Raju persevered until the very last moment. "Almost every condition he requested has been incorporated," Justice Joseph said, adding that it is an agreement.
Raju responded, "No, that is not an agreed order." Mehta added, "I am more familiar with my learned friend than he is aware of himself." This is not something he would agree to."
Raju disputed the submission earlier that the ground floor is a library and a first floor is a residential unit. There are two entrances, not one, as they claimed. One of the grilles was hidden," he stated, adding that there was a problem with those on the first floor.
"He (Navlakha) deliberately selected a location with two exit points that is easy to access. Cameras were requested in the rooms, but the opposing party objected. A large number of people visit the library. The school offers karate classes. It isn't easy to monitor. Raju stated that the premises are unsuitable for house arrest. "There has been an attempt to take everyone for a ride," he said.
As a result, Justice Roy stated that the accused would not have been transferred to that location without consulting the NIA.
He was asked if he believed the State could not keep a man in his 70s in safe custody despite all its might.
The Senior Advocate for Navlakha, Nitya Ramakrishnan, countered the NIA's arguments, stating, "We did not know how many exits it had… It is a large hall with a kitchen and bathroom… What we said was that it was above a library, but it is a residential unit.". Previously, it was a residential unit. Our ignorance of the existence of some old books there led us to believe they were stored there. However, no one is going to sit and read there."
We were given access to the facility, so we are using it. No political purpose is being served by its use. On November 14, one CCTV camera was installed (there) by a trust that operates a library with a separate entrance. Nevertheless, when we presented a draft to the Police Commissioner, he refused to accept it and forced us to move the trial court. According to her, NIA officials misbehaved with locals on November 15, and a second CCTV camera could not be installed on the same day.
Regarding the argument that it is a Communist party office, she stated that "the Communist Party of India (M) detests the Communist Party of India (Maoists) more than Mehta or Raju.". For those who are familiar with contemporary Indian politics, this is obvious… It is a recognised political party.
According to Ramakrishnan, Navlakha disclosed that his sister, Mridula Kothari, had previously worked at the Jaslok hospital in a petition to the Bombay High Court. A connection between his sister and the hospital is well known.
By dismissing the NIA's appeal, the court permitted it to seal the kitchen door leading to the exit and to lock the grilles.
© The Deccan Era (P) Ltd