India
Netizens become sad when a baby langur weeps over the body of her dead mother.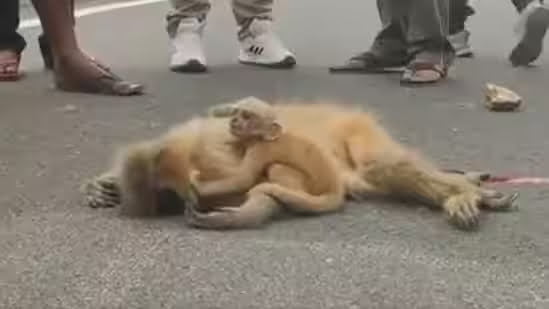 No matter if they are people or animals, the bond between a mother and her child is very sweet and special. A child thinks that his or her mother is the whole world. Losing a loved one is always hard, but for a child, losing a mother is especially hard. People on the internet are crying after seeing a video of a baby langur crying over the dead body of its mother, who was killed by a fast-moving car in Assam.
Susanta Nanda, who works for the Indian Forest Service (IFS), posted a heartbreaking video on Friday of a baby langur crying uncontrollably while holding on to its dead mother. In the 14-second video, the baby langur can be seen crying and clinging to its mother's face. It looks confused as it tries to wake up the sleeping mother langur but fails.
"This will keep coming back to me for a long time. In Assam, a Golden langur was killed on the road. The baby is still in its arms and doesn't know what's going on. I've been told that everything is being done to save the baby ", it said in the caption.
This will hunt me for a long long time💔💔
A Golden langur assassinated on the road in Assam. The baby still in its arm not knowing what has befallen him.

I am informed that all steps are being taken to save the baby. pic.twitter.com/iMOcEHquZw

— Susanta Nanda (@susantananda3) February 24, 2023
The officer also wrote that the speeding vehicle had "killed" the animal. He put down, "Please change "hunt" to "haunt." It was killed by a car going too fast ".
The video got a lot of responses from netizens. Some were sad about the terrible accident, while others were angry about it.
Someone wrote, "O God! When I see what happened and how bad the baby langur is doing, my heart breaks. One has to drive carefully and think about the safety of other people." "This is awful! Why don't we care about the other people who live on our planet? How sad! "Someone else said something. A third person said, "Even if the road is clear, no one has the right to drive too fast. Also, we should always be careful when we drive, and we shouldn't go too fast."
From time to time, stories come out about animals being hurt or killed. In a recent incident, a man tied a stray dog to the back of his motorcycle and drove around Gaya, Bihar, hurting the dog badly.