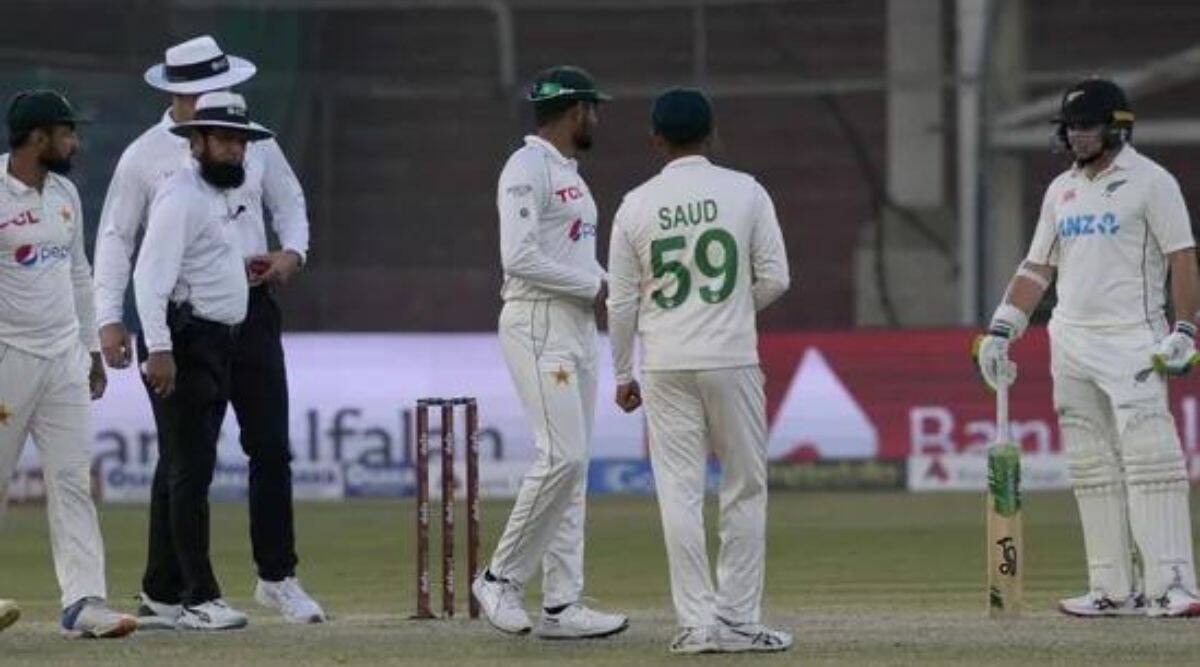 When they square up in the second test of their two-match series starting on Monday, Pakistan and New Zealand will be aiming for much-anticipated test success and hoping to put a disastrous 2022 in red-ball cricket in the rearview mirror.
After Pakistan captain Babar Azam made a risky declaration in the final hour of the first Friday test, New Zealand determined to chase down 138. However, poor visibility stopped the Black Caps at 61-1 in the eighth over, forcing a draw.
Due to weather concerns in Multan, where winter smog and fog have caused travel delays and may have disrupted play hours, the Pakistan Cricket Board was compelled to stage both test matches in Karachi.
The draw on Friday ended the four-match losing streaks for both teams, which included Pakistan's 3-0 thrashing at the hands of England and its aggressive approach.
After easily defeating New Zealand in the summer, England's relentlessly aggressive batting on flat, slowly moving fields resulted in Pakistan's first-ever home defeat by a score of 3-0 last month.
While New Zealand has experienced even more disappointment and is ranked eighth despite defeating India in the inaugural WTC final at Lord's last year, Pakistan is stuck at No. 7 on the ICC world test championship standings.
Following Pakistan's 3-0 defeat to England, Ramiz Raja was removed as chairman of the Pakistan Cricket Board due to the team's poor performance. Najam Sethi, a previous PCB chairman, was then reinstated as the head of the new cricket board management council.
Babar Azam completed 2022 as the top test match run scorer with 1,184 runs in nine matches and four hundreds. Pakistan's batsmen, with the exception of lefthanded batter Saud Shakeel, have often struggled to match their skipper's performance.
Since making his test debut against England in Rawalpindi, Shakeel has routinely scored. In four test matches, he recorded five half-centuries. In the final test, Ish Sodhi's six-wicket haul in the second innings nearly cost Pakistan the game, but he prevented it with an unbroken 55.
As Pakistan lost four tests in a row at home for the first time in its cricketing history while drawing the other three matches—twice against Australia and once against New Zealand—the middle order constantly crumbled.
Babar claims that despite the terrible performance, playing against far higher ranked teams like Australia, England, and New Zealand offered his side lots of experience.
In red-ball cricket, we didn't play as well as we had hoped, Babar stated on Sunday. "Three teams who were ranked higher than us competed in Pakistan, which gave us a tremendous learning experience."
The focus of Pakistan's home test matches was always the flat, dry surfaces. The ICC awarded the lifeless pitches at Rawalpindi's Pindi Cricket Stadium two merit points for hosting Australia in March and England in December, respectively.
However, the new PCB administration expects the pitch will be livelier and provide bowlers more opportunities for the second test on Monday. The pitch preparation has been under the watchful eye of new head selector Shahid Afridi and a veteran PCB curator for the past two days.
Luke Ronchi, the batting coach for New Zealand, has experience playing in the nation for Pakistan Super League team Islamabad United. "This (pitch) here at the moment, it does appear different from the first test," he remarked. We'll just sort of wait till tomorrow and see how it sort of pulls up because the surface is a little bit different.
Afridi had lamented the lifeless surfaces and wished for a little more grass to be left on the wicket so that spinners could enter the game later as the game went on.