India
International
NMFT meeting affirms that the UN sanctions regime should be objective and non-political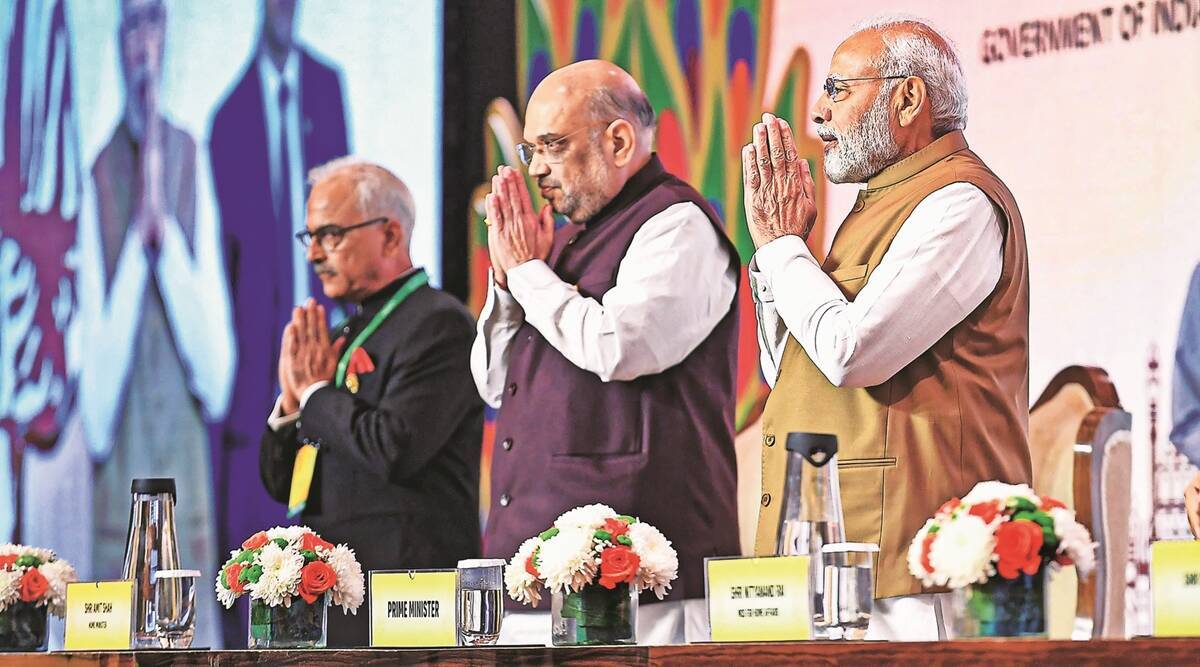 No Money For Terror (NMFT) Conference, held in New Delhi on Saturday, emphasized the need for the UN sanctions regime to function objectively and be free from political considerations and duality in standards. Furthermore, it expressed concern about terrorists' ability to find safe havens and noted the use of drones to transport weapons and explosives.
"Affirmed that terrorism and its financing, in all forms and manifestations, continues to constitute one of the most serious threats to international peace and security and that any acts of terrorism and its financing are criminal and unjustifiable regardless of their motivations, whenever and by whomsoever committed, and called for listings and de-listings under these sanction regimes to be done in an objective manner, based on evidence and free from political considerations and duality of standards," said the Chair's statement following the conclusion of the event.
It should be noted that China has blocked at least five proposals from India and the United States to include Lashkar-e-Toiba (LeT) and Jaish-e-Mohammed (JeM) operatives under the United Nations' list of terrorists. Some of these individuals are Halha, the son of Hafiz Saeed, Shahid Mahmood, Sajid Mir, Masood Azhar's brother Abdul Rauf Azhar, and Jamaat-ud-Dawa leader Abdul Rehman Makki.
The statement stands out for expanding concerns over terrorism beyond transnational groups such as the Islamic State (IS) and Al Qaeda and for highlighting the existence of safe havens, two of India's top concerns. There were no references to cross-border terrorism in the Indian subcontinent in the statements presented during the two most recent conferences – at Paris in 2018 and Melbourne in 2019.
There was no mention of any specific terror group in Saturday's statement. A zero-tolerance approach to terrorism was reaffirmed, with a commitment to collective and unified action against terrorism and its financing.
During the conference, participants discussed trends in terrorism and terror financing, the use of official and unofficial channels for financing terrorism, the use of new and emerging technologies to finance terrorism, and the need for further strengthening international cooperation to address the challenges associated with combating terrorism.
According to the conference, safe havens for terrorist entities remain a significant concern and that all States must cooperate fully in the fight against terrorism to identify safe havens and prevent terrorist entities from accessing them. The government must pursue the prosecution of anyone who supports, facilitates, provides a safe haven, participates in or attempts to participate in the financing, planning, preparation, or commissioning of terrorist acts under domestic and international law."
According to the statement, the conference reiterated concerns raised in previous conferences regarding the use of emerging technologies by terror groups to generate financial resources and distribute terrorist content. In addition, the conference highlighted the importance of considering and assessing terror financing risks associated with specific financial products and channels.
It indicated that this included hawala, cash, MVTS, banking remittances, cards, virtual assets, the use of DarkNet, bartering, trade-based transfers, commercial entities, non-profit organizations, DNFBPs (Designated Non-Financial Businesses and Professions), new financial instruments, and unmanned aerial systems for moving material, explosives, narcotics, weapons, or ammunition. To combat these threats, states should establish preventive measures, legislation, and innovative technological solutions."
Also, the conference emphasised the importance of examining and assessing the risks related to the financing of radicalization, an essential attribute of terrorism, and affirming the need to take measures in accordance with domestic and international law in order to counter such radicalization.
It also distinguished itself from the previous two conferences by including "biological, chemical, and nuclear technologies" among "emerging technologies" that should be addressed and by emphasizing the need to prevent new technology from being used for recruitment and incitement of terrorist acts.
As with previous conferences, the third NMFT conference encouraged partnerships between the private sector, technology firms, and civil society to combat terror financing.
"The conference encouraged financial intelligence units and intelligence services to continue to develop effective partnerships with the private sector, including financial institutions, the financial technology industry and internet and social media companies, As regards the evolution of trends, sources and methods of financing terrorism, the report emphasizes the need for a whole-government and whole-society approach to counterterrorism and its financing, whereby all relevant stakeholders, including the Executive, the Legislature, the Judiciary, civil society and the private sector, can cooperate together.".
© The Deccan Era (P) Ltd
Related Posts