India
Odisha railway accident: Ashwini Vaishnaw breaks down, says responsibility is not over. View the video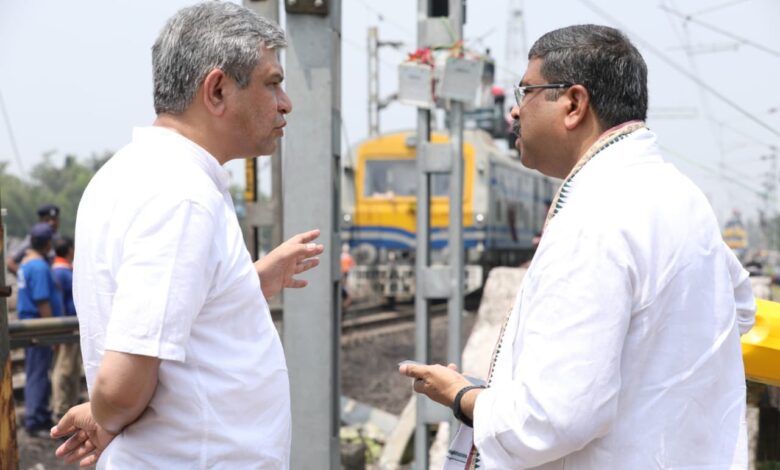 Following the horrific triple train accident in Balasore, Odisha, which killed 275 people and injured over 1,000, Union Railways Minister Ashwini Vaishnaw became emotional as he addressed the resumption of services following the restoration of the damaged lines. The minister promised to look beyond the incident's immediate aftermath, concentrating on reconnecting missing people with worried family members.
"Our goal is to make sure that missing persons' family members can find them as soon as possible…our responsibility is not over yet," Vaishnaw stated.
Vaishnaw was also seen praying on the sidelines when train services were restored in the accident site's down-line track. Since the mishap, the restoration took 51 hours.
#WATCH | Balasore,Odisha:…"Our goal is to make sure missing persons' family members can find them as soon as possible…our responsibility is not over yet": Union Railway Minister Ashwini Vaishnaw gets emotional as he speaks about the #OdishaTrainAccident pic.twitter.com/bKNnLmdTlC

— ANI (@ANI) June 4, 2023
Technical snag behind Odisha train tragedy
The fatal event on Friday involving three trains – the Bengaluru-Howrah Yashwantpur Superfast Express, the Shalimar-Chennai Central Coromandel Express, and a cargo train – has been blamed on a technical failure in the signalling system. In a news conference, Vaishnaw admitted that the point machine and electronic interlocking system were to blame for the event.
The breakdown of the electronic interlocking system, a sophisticated signal system responsible for preventing train crashes by managing train movement on the tracks, was determined to be the root cause of this tragic tragedy.
The tragedy sparked a political backlash, with opposition parties challenging the administration over the lack of safety precautions like "Kavach."
The railway minister denied that the "Kavach" anti-collision system caused the disaster. He denied West Bengal Chief Minister Mamata Banerjee's claim that the catastrophe could have been avoided if the Kavach gadget had been used.
Railways request a CBI investigation
On Sunday, the Railways Ministry requested that the Central Bureau of Investigation investigate the incident. "With all that has happened and all of the information that the administration has, the Railways Board has recommended that the investigation be handed over to the CBI," Railways Minister stated.