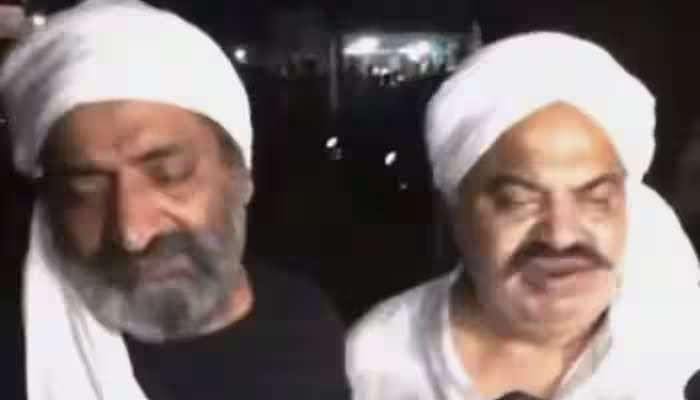 On Saturday night in Prayagraj, Uttar Pradesh, convicted gangster-turned-politician Atiq Ahmed and his sibling Ashraf Ahmed were shot to death as they were being transported for a medical examination.
Television footage showed Atiq Ahmed speaking with reporters when at least two individuals armed with pistols opened fire. Three individuals surrendered to police shortly thereafter. This occurs just days after his son, 19-year-old Asad Ahmed, was slain by the Uttar Pradesh Special Task Force in an encounter. Asad Ahmed was placed to rest on Saturday morning.
According to a senior official speaking to The Indian Express, the interrogation of Atiq and Ashraf was nearly complete, and both were transported to the hospital under police protection for a checkup before being returned to judicial custody.
The official added that the two were escorted by officers after exiting the police vehicle on the hospital campus. The two were a few yards away from the hospital's entrance when the media assembled to ask them questions. Atiq had just begun answering a query when a hand carrying a pistol appeared behind him, pushed aside his white turban with the gun's nozzle, and fired at his left temple from point-blank range. Simultaneously, a second bullet entered Ashraf's neck from the left side, and both siblings fell to the ground. In the video, Atiq is seen grasping Maan Singh, a police officer, securely as he falls to the ground. The police officer was also wounded as the shooters continued to fire continuously.
Later, Prayagraj Police Commissioner Ramit Sharma stated that the assailants were disguised as journalists. Sharma added that the perpetrators are being interrogated and have yet to be identified.
Seconds after exhausting their magazines, the two gunmen raised their hands and surrendered to the nearby police officers. Another young man carrying a knapsack surrendered as well. Immediately following the incident, the Chief Minister convened the Director General of Police and the Special Director General of Law and Order.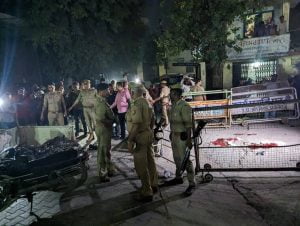 A few days ago, Atiq Ahmed was transported from an Ahmedabad penitentiary to Uttar Pradesh. He and his family had repeatedly petitioned the courts for protection, claiming they faced threats and their lives were in peril. Atiq had also petitioned the Supreme Court for his custody protection in the Umesh Pal murder case.
Last month, Atiq and two others were given life sentences, while Ashraf was acquitted in this case. As part of its anti-mafia campaign, the government of Yogi Adityanath had over the past six years arrested a number of Atiq's gang members and claimed to have confiscated or demolished properties worth approximately Rs 800 crore belonging to him and his associates.
Following the incident, opposition leaders attacked the Uttar Pradesh government, with former UP chief minister and Samajwadi Party chief Akhilesh Yadav declaring, "Crime has attained its peak in UP, and the criminals' morale is high. When an individual can be slain by firing openly within a police security cordon, the public's safety is questionable. Due to this, a climate of fear is being created among the general public, and it appears that some individuals are deliberately fostering this climate."
Moments after the murder, senior Congress leader Jairam Ramesh tweeted, "HM does not stand for Home Minister; it actually stands for Headline Manipulator."
जिस समाज में हत्यारे हीरो होते हैं, उस समाज में कोर्ट और इंसाफ़ के सिस्टम का क्या काम?

— Asaduddin Owaisi (@asadowaisi) April 15, 2023
Asaduddin Owaisi, the leader of AIMIM and a member of parliament, tweeted: "Atiq and his sibling were in police custody and handcuffed. Jai Shri Ram chants were heard. Their murder demonstrates the failure of Yogi's legal system. Those who celebrate encounter raj share responsibility for this homicide. What is the function of the court and justice system in a society where perpetrators are viewed as heroes?
Similarly, BSP legislator Kunwar Danish Ali criticised the Yogi Adityanath-led UP government. "The murder of Ateeq Ahmed and his sibling Ashraf in cold blood is the pinnacle of anarchy in UP! This cannot occur without approval from the highest authority. In any other democracy, the state government would have been removed for committing such a grievous offence against the rule of law, he wrote on Twitter.
Jayant Chaudhary, leader of the Rashtriya Lok Dal, tweeted, "Is this possible in a democracy?" followed by the hashtag "jungle raaj." In UP, the SP and RLD have formed an alliance.
पाप-पुण्य का हिसाब इसी जन्म में होता है…

— Swatantra Dev Singh (@swatantrabjp) April 15, 2023
Nonetheless, BJP leaders took a distinct stance. Minister of Uttar Pradesh Swatantra Dev Singh tweeted in Hindi, "Sin and virtue are accounted for in this birth…"
In a similar vein, Union Minister of State for Housing and Urban Affairs and UP MP Mohanlalganj stated, "Whatever one does, he receives the same result, so continue to perform good deeds."
#WATCH | "When crime reaches its peak…it is the decision of nature…": UP state minister & BJP leader Suresh Kumar Khanna on #AtiqAhmed & his brother Ashraf Ahmed shot dead in Prayagraj pic.twitter.com/sZBQqNkhS5

— ANI (@ANI) April 15, 2023
In response to the shooting, another Uttar Pradesh minister, Suresh Kumar Khanna, stated, "When crime reaches its zenith… nature decides…"