India
Pawan Khera seems relieved after his detention at the airport.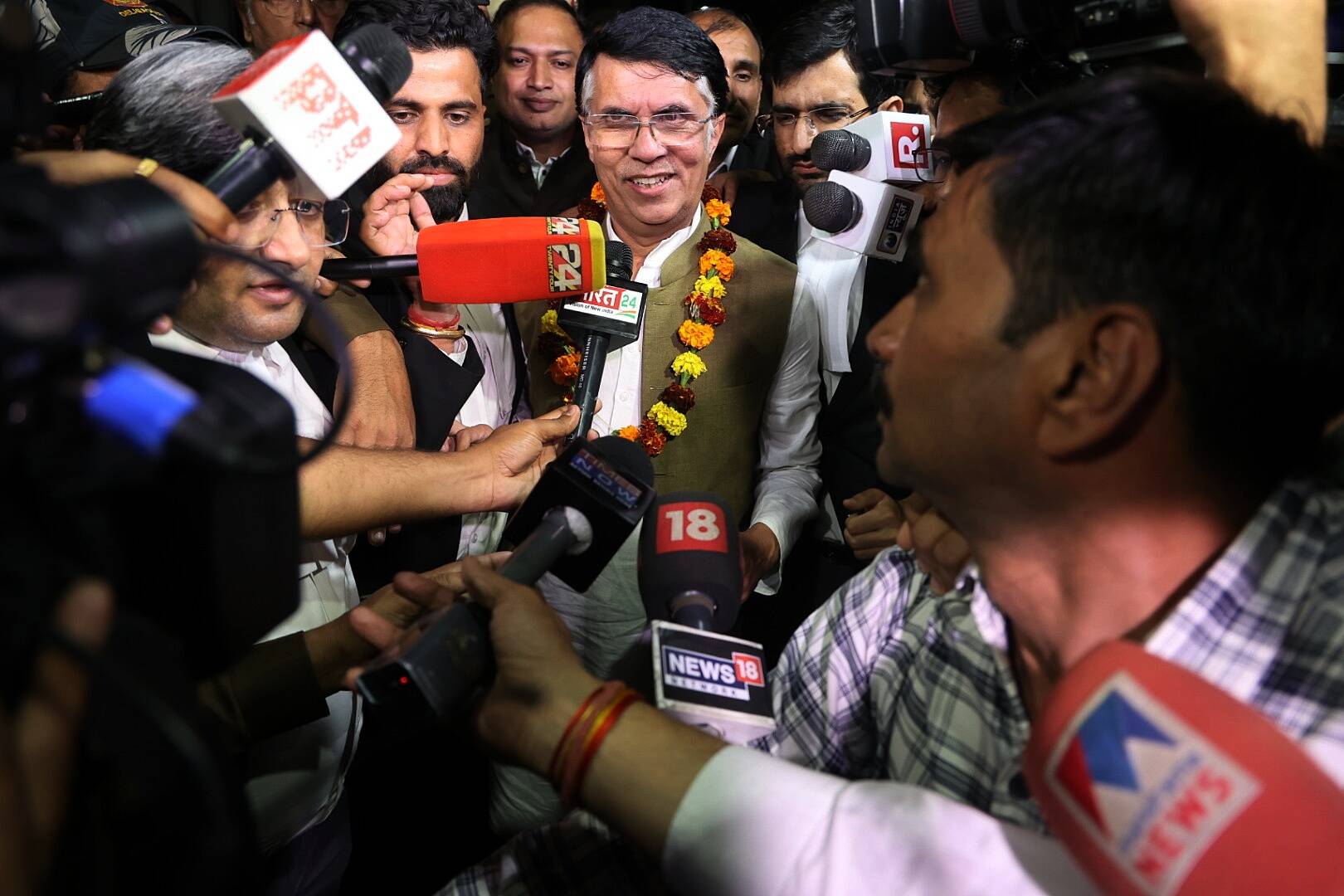 New Delhi: Congress politician Pawan Khera was detained on the tarmac at the Delhi airport on Thursday, before the Supreme Court granted him temporary protection and a lower court allowed him out on bail in the evening, concluding a day of high drama that sparked a political scandal.
Khera, the chairperson of the Congress' media and publicity department, informed the Supreme Court that he will make an unconditional apologies for his contentious statements against Prime Minister Narendra Modi last week.
"We have shielded you (Khera) from arrest, but there must be some sort of dialogue," remarked a three-judge bench led by Chief Justice of India (CJI) DY Chandrachud. The Supreme Court upheld its 2020 decision in TV anchor Arnab Goswami's case, in which the court combined various FIRs against him and granted him bail.
"In order to protect the petitioner (Khera) until he applies for regular bail before the jurisdictional courts in relation to all the FIRs, we direct that the petitioner be released on interim bail by the court of competent magistrate in Delhi until the next date of listing," added the top court bench, which also included justices MR Shah and PS Narasimha.
Later that day, Khera was granted interim bail by a local court in Dwarka on a bail bond of 30,000 and a surety of the same amount.
"Without presenting a copy of FIR and notice, I was deboarded from the aircraft and arrested by Assam Police in an illegal manner. "I have total faith in the legal system, which today defended my freedom of expression," Khera stated after being released in the evening.
Last week, while raising allegations of fraud against the Adani Group and tycoon Gautam Adani, Khera had said that when a joint parliamentary committee could be set up by former prime ministers PV Narasimha Rao and Atal Bihari Vajpayee, what was the problem of "Narendra Gautamdas, sorry…Narendra Damodardas Modi". Even though the leader said it was a slip of the tongue, the remarks provoked a torrent of criticism from the BJP. He even went on to remark that the "work is like Gautam Das but name is Damodardas".
The spectacle began on Thursday morning at Delhi airport, when Khera and other Congress leaders boarded an IndiGo flight bound for Raipur for a party plenary session.
The boarding for the 11.40am Delhi-Raipur flight was nearly complete when Khera was ordered to deplane, claiming that his luggage had been incorrectly labelled. When Khera stepped off the plane, a Delhi Police team waiting outside told him he couldn't fly out of the city, causing other Congress leaders to exit the plane and launch a protest on the tarmac.
"I deplore this action by BJP…they are trying to eliminate freedom of speech. "Democracy is under attack," declared Congress President Mallikarjun Kharge.
Several passengers waited in the plane as Congress officials chanted anti-Modi chants before being asked to descend and returned to the terminal.
"As I got off the plane, I was informed I couldn't travel. "Then I was told that a DCP [deputy commissioner of police] will meet with me," Khera explained. Even as paramilitary personnel crowded the airport, the Delhi Police team handed over a paper from their Assam colleagues requesting their assistance in apprehending the commander.
According to Assam Police, a BJP leader filed a case against Khera at the Halflong police station on Thursday under several sections of the Indian Penal Code, including 120B (criminal conspiracy), 153A (spreading religious enmity), 500 (defamation), 504 (intentional insult with intent to provoke breach of peace), and 505 (1a) (making statement with intent to cause fear or alarm in public). According to Mayank Kumar, superintendent of police in Assam's Dima Hasao district, Assam Police deployed a team to Delhi based on the complaint. Two further FIRs were filed in Uttar Pradesh's Lucknow and Varanasi for the same occurrence.
In the midst of the uproar, IndiGo stated that a passenger had been deplaned by police and that it was acting on the instructions of the relevant authorities. Even as Congress leader and senior counsel Abhishek Singhvi sought the Supreme Court, the Assam Police apprehended Khera and applied for transit remand to transport him to the northeastern state for further proceedings.
"Arrest can be defined as the instant he is brought into custody by police. Of course, the legalities are finished at the police station. The court may have granted him bail, but our inquiry will continue because there is no legal stumbling block," said Mayank Kumar, superintendent of police in Assam's Dima Hasao district.
Suman Nalwa, a spokeswoman for the Delhi Police, stated that they got a request from the Assam Police to assist in Khera's arrest.
"Required local support was provided, and accused Pawan Khera was apprehended from Terminal 1 of IGI Airport and thereafter arrested by the investigating officer (IO) concerned of Assam Police," Nalwa stated.
Singhvi brought the matter before the CJI within an hour of Khera's arrest, and he was allowed to defend the case at 3 p.m.
Saving Khera from arrest, the bench said that the reprieve will continue till February 28 while it will take up his appeal for clubbing all FIRs coming out of the same occurrence.
The bench also requested responses from Assam and Uttar Pradesh, stating that Khera will have to seek regular bail from the competent court once all of the cases are combined and transferred to one location.
"Dr Singhvi adds that the petitioner (Khera) would make an unequivocal apology because it was not his aim to harm," the court said in its judgement, adding that Khera also acknowledges that his use of language was incorrect and that he would not stand by it.
Assam Police's Additional Solicitor General (ASG) Aishwarya Bhati appeared and opposed any respite for Khera. She said the Congress leader should be called to appear in court and follow the criminal procedure code, supporting the filing of criminal charges against Khera for willfully insulting the Prime Minister of the world's largest democracy and inciting discontent.
Singhvi, a Congress leader and Rajya Sabha MP, called Khera's statement sad and stated that he does not advocate crossing lines in public debate.
"But, it cannot lead to an arrest on these charges, which appear to be implausible… In my opinion, he made a poor choice of words. But he also admitted to making a mistake and expressing genuine confusion. "But, no amount of political discourse or free expression can result in the invocation of articles 153A and 295A," the senior lawyer stated.
At this point, ASG Bhati refuted Singhvi's claims, claiming that the criminal charges were appropriate because Khera deliberately humiliated the PM. "This was not said by chance. Consider this person's demeanour and the manner in which he uttered it. It is a disrespectful comment used in order to foment discontent with the Prime Minister. After all, he is the legitimately elected Prime Minister of the country," argued Bhati, who also showed the bench a video of the February 17 news conference on her laptop.
The bench, however, followed its 2020 decision in TV anchor Goswami's case, in which the court pooled various FIRs against him in one spot, and said it will hear Khera's plea on the issue of FIR clubbing. The bench stated that Khera will be safeguarded from arrest till all FIRs are transferred to one location.
The Bharatiya Janata Party (BJP) has slammed the Congress.
"Everything is done is done legally. "Congress leaders should not believe that they are beyond the law," BJP spokesperson Gaurav Bhatia told reporters.