India
People of RSS and BJP need to say 'Hey Ram, Jai Siyaram': Rahul Gandhi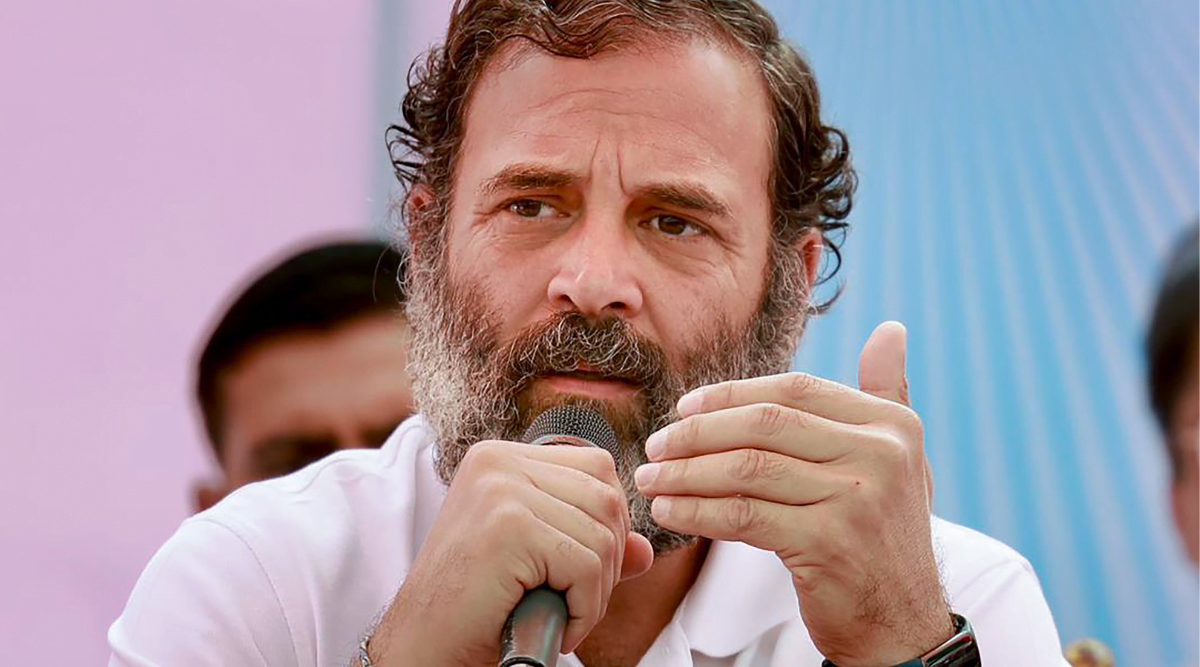 On Monday, Rahul Gandhi accused the BJP and RSS of ignoring the invocations 'Hey Ram' and 'Jai Siyaram', which acknowledge Lord Ram and Goddess Sita.
Gandhi was speaking at a corner meeting at Nahardi in the Jhalawar district about the Bharat Jodo Yatra. Later, he stopped at the Khel Sankul for the night.
Let's live by the ideals of Lord Ram, BJP and RSS. You'll have to say 'Hey Ram' and 'Jai Siyaram'," he said. He said earlier the 'Jai Siyaram' slogan was used across the country.
The question isn't whether Ram could exist without Sita. It's impossible for Ram to exist without Sita, and Sita cannot exist without Ram," he said. Why did the BJP and RSS take Maa Sita out of their slogans? Why don't they say Jai Siyaram? "I don't mind if you say Jai Shri Ram." Just do it. However, RSS people have to say Jai Siyaram and can't insult mother Sita."
Over the slogan 'Hey Ram', the Congress leader also targeted the BJP and RSS.
Gandhiji used to say another slogan. That's one of the most beautiful slogans… Hey Ram! There's nothing deeper than this slogan. Let me tell you what Hey Ram means. After Mahatma Gandhi was shot, he said these words. Hey Ram, Hey Ram, Hey Ram," he said.
'Today, I'm going to explain the depth of that slogan and Gandhiji's thinking. Hey Ram means Lord Ram.
Lord Ram respected everyone and didn't hate anyone.
"Lord Ram had a thought; he had a feeling in his heart; he had a way of living. Everyone used to respect him. He didn't hate anyone. All of his friends and family were loved by him and he hugged them all. That feeling is referred to as Hey Ram. Saying Hey Ram means we'll live our lives by the ideals Lord Ram had. "This is what Hey Ram means," he said.
RSS has forgotten this, he said.
"They don't say Jai Siyaram, Sita is gone, and they don't chant Hey Ram because they don't believe in Ram's ideals," Gandhi said.
Then they wouldn't have "spread hatred", he said.
I want RSS people to understand Lord Ram, understand his ideals, and understand how he lives. There was only love, brotherhood, and respect in his talk. I didn't talk about hatred; I didn't talk about violence." Gandhi told the crowd to chant 'Jai Siyaram' and 'Hey Ram' whenever they meet RSS or BJP members.
Besides demonetisation, Gandhi also attacked GST and the Centre government.
Demonetisation and faulty GST aren't laws. Poor people, small businesses, and micro businesses get hurt by them. He said they snatch money from small shopkeepers and small and medium businessmen to give to billionaires.
The stage was filled with leaders like Ashok Gehlot and Govind Singh Dotasra from the Congress.
According to Gandhi, the true ascetics (tapasvi) are farmers and workers, but the BJP government attacks them.
All avenues of employment are being closed one after another under the Narendra Modi-led government at the Center and wherever there is a BJP government. People in the BJP are turning this fear into hatred because of this. We started this journey for that reason," he said.
He said that inflation is killing our mothers and sisters the most since the price of LPG cylinders, petrol, and diesel has soared.