India
PM Modi delivers the motto 'Respond, Recognize, Respect, Reform' at the Voice of the Global South event.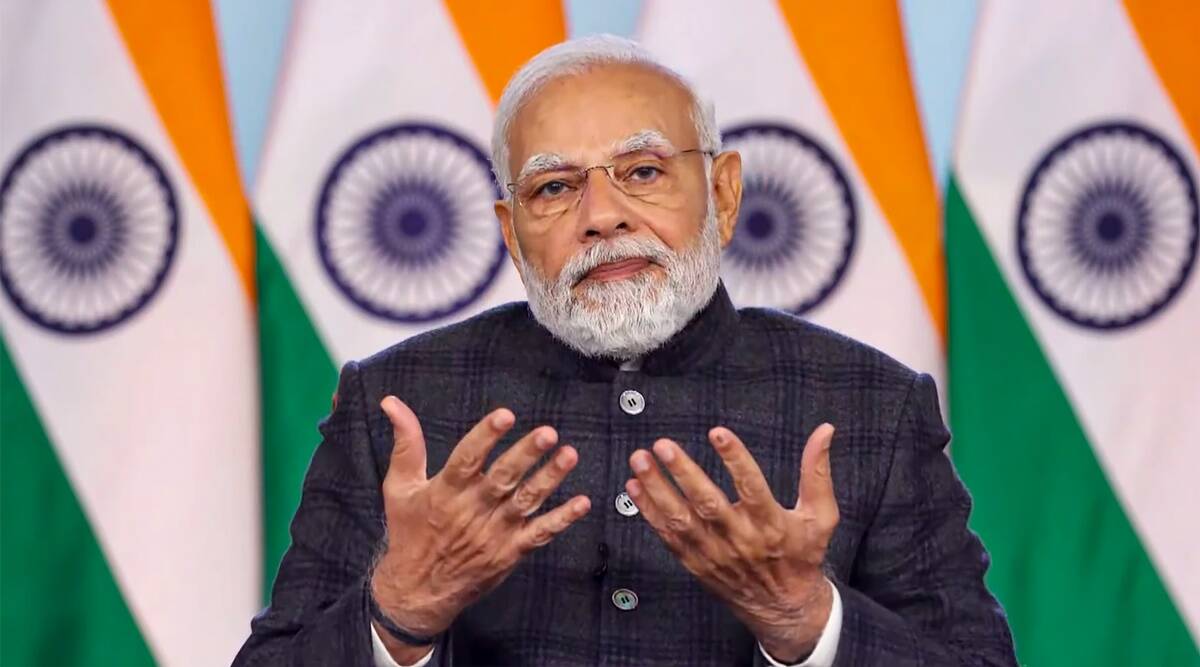 In his opening remarks at the Voice of Global South summit, Prime Minister Narendra Modi said Thursday the "world is in a state of crisis" and urged the leaders of developing countries "your voice is India's voice" and "your priorities are India's priorities".
PM Modi stated, "We, the Global South, have the greatest stakes in the future," during the opening session of the two-day special virtual summit, the Voice of Global South summit, which began on Thursday. The majority of global difficulties were not produced by the Global South. But they have a greater impact on us".
"India has always shared its developmental experience with our Global South brothers. As India takes over the G20 presidency this year, it is obvious that our goal will be to "amplify the Voice of the Global South," he added.
PM Modi also shared his mantra for dealing with the global south's concerns. "To re-energize the globe, we must advocate for a worldwide agenda of Respond, Recognize, Respect, and Reform," he stated.
PM Modi stated that countries must respond to the Global South's goals, recognise the idea of shared but differentiated responsibilities, respect international law and territorial sovereignty, and reform international institutions such as the United Nations.
He also mentioned food, fuel, and fertiliser shortages, attributing them to war, strife, political stress, and the coronavirus pandemic.
Under the theme "Unity of Voice, Unity of Purpose," the "Voice of Global South Summit" aims to bring together countries from the Global South to discuss their perspectives and goals on a shared platform. This Summit has been sent invitations to more than 120 countries.
The term "Global South" refers to the world's developing and underdeveloped countries.
Officials stated that India will try to ensure that the valuable inputs provided by partner countries during the Voice of the Global South Summit discussions are recognised globally. They noted that India's current G20 Presidency gives a unique and powerful opportunity for nations that are not currently involved in the G20 process to voice their ideas and expectations from the G20.
This is consistent with Prime Minister Modi's remark that India's G20 presidency will be structured in cooperation with not only partner countries, but also fellow travellers in the Global South, whose voices are often ignored, according to authorities.
The Summit intends to hold ten sessions, four on January 12 and six on January 13. Leaders and ministers from 10 to 20 countries are anticipated to attend each session.
PM Modi is hosting the inaugural and concluding sessions at the Head of State/Government level. The subject of the Inaugural Leaders' session is "Voice of Global South – for Human-Centric Development" and that of the Concluding Leaders' session is "Unity of Voice-Unity of Purpose".
In addition, there would be eight ministerial sessions, with the following themes:
Finance Ministers' Session on "Financing People-Centric Development"
Environment Ministers' Session on "Balancing Growth with Environment-Friendly Lifestyles (LiFE)"
Foreign Ministers' Session on "Priorities of the Global South – Ensuring a Conducive Environment"
Energy Ministers' Session on "Energy Security and Development- Roadmap to Prosperity"
Health Ministers' Session on "Cooperation to Build Resilient Healthcare Systems"
Education Ministers' Session on "Human Resource Development and Capacity Building"
Commerce and Trade Ministers' Session on "Developing Synergies in the Global South – Trade, Technology, Tourism and Resources"
Foreign Ministers' Session on "G-20: Suggestions for India's Presidency"