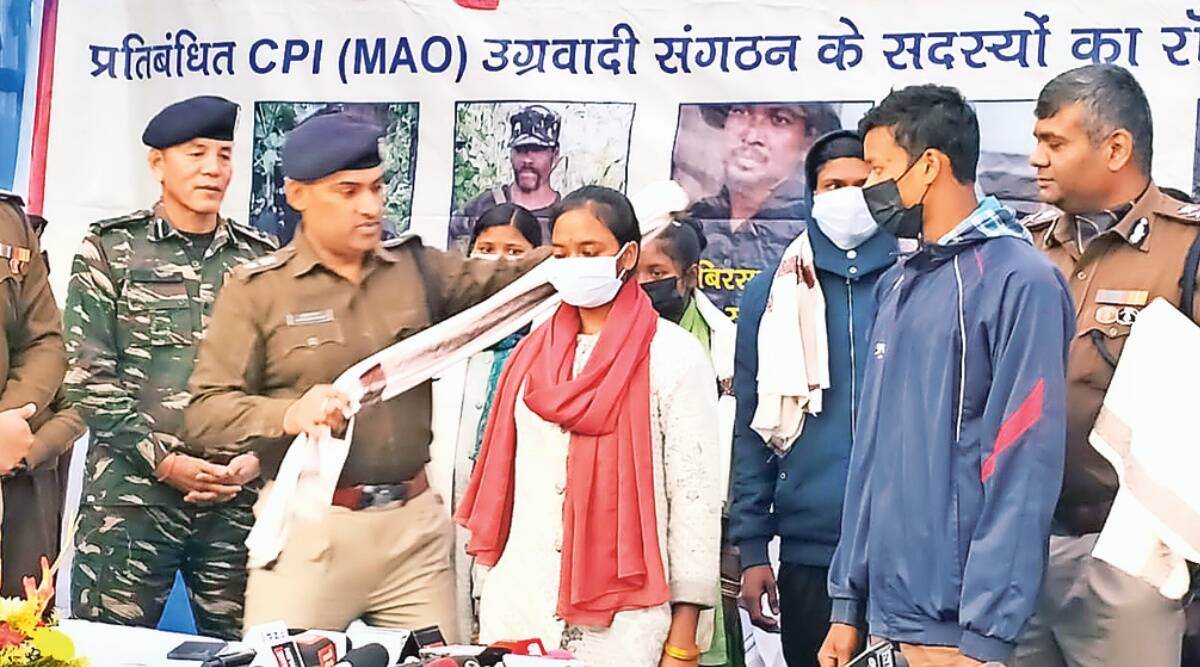 Eight members of the outlawed CPI (Maoist), including three women facing numerous cases, surrendered to security forces in Ranchi on Wednesday, police said, adding that all those who joined the mainstream are between the ages of 18 and 22.
Police identified them as Jairam Bodra (21) with 11 pending cases, Sarita alias Mungli (20) with six pending cases, Somvari Kumari (21) with two pending cases, Martam Angaria (21) with five pending cases, Tungir Purty (18) facing one case, Patar Koda (18) with two pending cases, and Kusnu Sirka (22) and Sanju Purty (19) with two pending cases.
The police reported that the suspects were charged with murder, rioting, and attempted murder, in addition to cases recorded under the Unlawful Activities Prevention Act.
IG (Operations) Amol Homkar stated, "The administration of Jharkhand has committed to rid the state of Naxalites… The effect of the surrender and rehabilitation policy is beneficial. Due to the CPI(Maoistinternal )'s oppression, climate of terror, and intensified police raids, the Naxals are surrendering. On Wednesday, eight CPI(Maoist) members, including three women, who worked directly under Central Committee member Misir Besra turned themselves up."
According to him, individuals who surrendered during the day will receive rehabilitation services as part of a government initiative to reintegrate Maoists into normal society. They will receive vocational training in accordance with this policy.
Homkar claimed that the Jharkhand Police detained 36 CPI (Maoist) and other splinter group members in 2022. "Last year, 12 members of CPI(Maoist) and offshoot organisations surrendered, 11 were killed in encounters, and 36 were detained," he said, adding that during several raids and encounters, 625kg of explosives, 186 guns, 997 IEDs, and Rs 1 crore in cash were seized.
According to the police, many security camps have been established throughout Jharkhand. According to police data, 44 security camps are operational: 11 in the Tri-Junction region, 11 in the Saranda-Kolhan region, nine in the Budhapahad region, six in the Parasnath region, four along the Chatra-Gaya border, one along the Teenkonya-Patmada Bengal border, and two in the Podahat forests.