India
Protesting wrestlers met with Amit Shah late Saturday night, requesting an early chargesheet: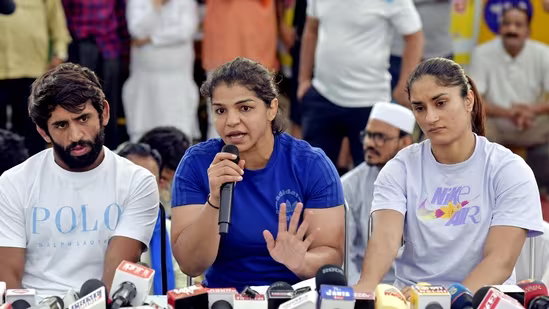 According to reports, wrestlers requesting action against Wrestling Federation of India chief Brij Bhushan Sharan Singh met with Union home minister Amit Shah on Saturday night. The demonstrators lobbied for an early chargesheet against Brij Bhushan, another BJP MP, at Amit Shah's residence until midnight. Vinesh Phogat returned to railway duties after being removed from Jantar Mantar, where the country's top wrestlers had been protesting the alleged sexual misbehaviour of Brij Bhushan, Sakshi Malik, and Bajrang Punia.
In the first high-level engagement into the ongoing crisis, Union Home Minister Amit Shah listened to the wrestlers until late. The wrestlers met with Sports Minister Anurag Thakur, who promised a thorough investigation into their complaints.
The late-night discussion with Amit Shah comes just days after the wrestlers attempted to dip their medals in the Ganga in Haridwar but were stopped by farmers activist Rakesh Tikait, who has given the government an ultimatum to arrest Brij Bhushan Sharan Singh by June 9.
Amit Shah
Meets team of wrestlers

Wrestling for solutions

My prediction :

No arrest
Wishy washy charge sheet will be filed
Brij Bhushan will be granted bail

Then they will say matter is sub-judice !

— Kapil Sibal (@KapilSibal) June 5, 2023
Accusations of grabbing, tugging t-shirts up, and requesting sexual favours
After the wrestlers began their protest at Jantar Mantar in April, two FIRs were lodged against Bri Bhushan Sharan Singh. The FIRs' specifics have revealed severe claims against Brij Bhushan, which will be probed. The wrestlers claimed that Brij Bhushan used to forcefully hug them, pull them closer himself when taking shots, and so on. He used to pull the t-shirts of the female wrestlers up to check their respiration.
No arrest, in my opinion: Sibal, Kapil
Kapil Sibal responded to the wrestlers' meeting with Amit Shah, predicting that no arrests would be made and that the government would declare the case closed after a "wishy-washy chargesheet."