India
Rahul at the Vajpayee memorial: the Congress says politics with a big heart; the BJP says theatre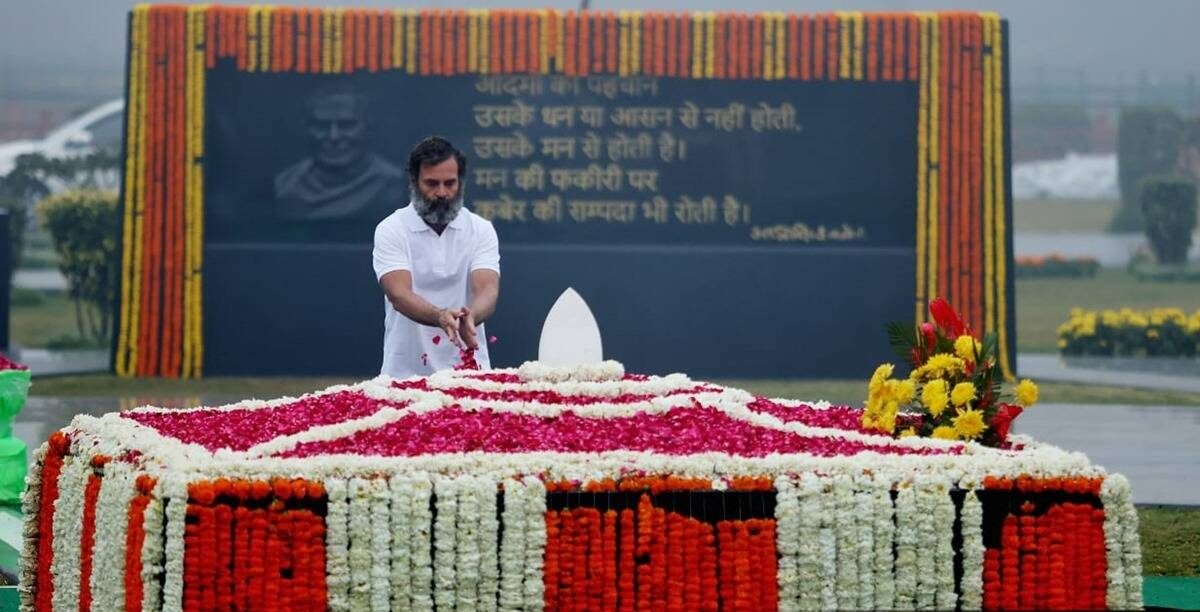 On Monday, Congress leader Rahul Gandhi visited the memorials of Mahatma Gandhi, Congress Dalit stalwart Jagjivan Ram, and six former prime ministers, including Charan Singh and Atal Bihari Vajpayee, in what his party characterised as a demonstration of his "big heart" in politics.
In remarks interpreted as an attempt to corner both Prime Minister Narendra Modi and his party, the BJP, the Congress also used Vajpayee's remarks made during the Gujarat riots of 2002, when Modi was the state's chief minister.
During a press conference, Congress spokesman Supriya Shrinate noted that Rahul Gandhi visited the memorial of a person who taught raj dharma to the Gujarat chief minister of 2002, who is now the country's prime minister. "I believe that upon seeing Rahul ji at the tomb, the Prime Minister would remember these teachings," Today, Rahul ji exemplified the importance of a huge heart in politics.
Rahul's visit to Vajpayee's memorial occurred a day after a Congress functionary's tweet claiming Vajpayee allied with the British during the Independence movement sparked a controversy, with the BJP labelling Rahul a "hypocrite" and his praises to the former prime minister a "drama."
Shehzad Poonawalla, a spokesperson for the BJP, urged that Pandhi be fired if the Congress "really respects" Vajpayee. Another spokesperson for the BJP, Gaurav Bhatia, accused Rahul of acting. "On the one side, Rahul Gandhi pays honour to Atal Sadaiv, while on the other, party officials use derogatory language," he stated.
Shrinate, in response to inquiries about the significance of Rahul's visit to Vajpayee's monument, stated that the Congress does not believe in a "BJP-free Bharat" even as the opposition party distanced itself from the since-deleted tweet.
"A democracy is comprised of numerous ideologies," she explained, "but the poisonous form of any ideology, in the name of which a marginalised population is assaulted, is unacceptable." I do not believe the Vajpayee administration employed this practise. He defended the Constitution."
Jairam Ramesh, the communications general secretary of the Congress, tweeted that Rahul's decision to visit the memorials was in keeping with the "spirit of the Bharat Jodo Yatra."
In keeping with the spirit of the Bharat Jodo Yatra, Rahul Gandhi paid floral tribute to the Samadhis of Gandhiji, Jawaharlal Nehru, Lal Bahadur Shastri, Indira Gandhi, Charan Singh, Rajiv Gandhi, Atal Bihari Vajpayee, and Jagjivan Ram on Monday morning, according to a tweet by Ramesh.
Saturday, Rahul led the Yatra from Kanyakumari across nine states to Delhi, a distance of 2,800 kilometres. After stopping the march at Red Fort, he was originally scheduled to offer flower tributes, but the event was postponed until Sunday and then Monday.
The Bharat Jodo Yatra will resume on January 3 after a nine-day break beginning on December 24. It will pass through Haryana, Uttar Pradesh, Punjab, and Jammu & Kashmir for another 700 kilometres or so.