India
Rahul Gandhi to the Central Government: Hiding behind the Army is "cowardice"; tell us what occurred at the border.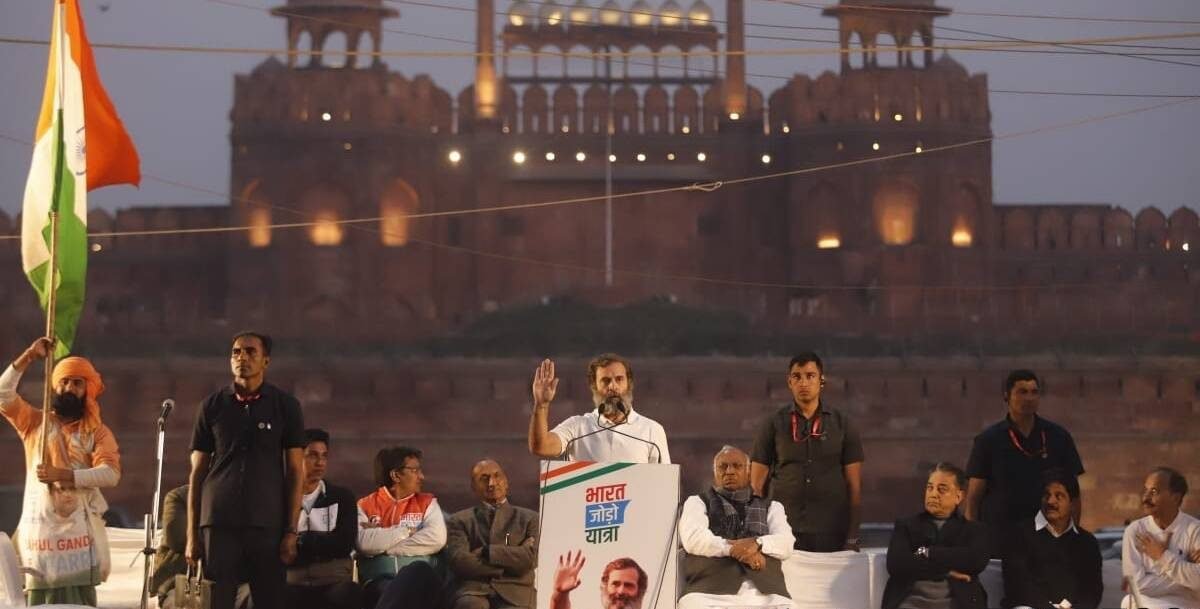 Saturday, Congress leader Rahul Gandhi demanded that the government own up to its failures and not hide behind the Army, accusing it of mishandling India's foreign policy and the China situation. He suggested that Beijing was ready to do "something someplace", asserted that it was not a matter of "if" but "when", and urged preparations and measures.
Gandhi stated, in reference to the assassinations of his grandmother and father, that he was descended from a family of martyrs and that he understood the suffering and emotions of the families of martyrs.
"No one in the highest tier of the BJP's leadership comprehends this. It's neither good nor evil. However, such is the reality. In their family, neither their grandmother nor their father were martyrs. So I am aware… when the Army is utilised for political purposes and our soldiers and their families must endure the consequences… I am really direct… I do not desire to… For me, this is sacred. I am aware of the difficulties our military confront… He answered, "I adore them."
V P Malik writes in Lessons from Tawang: The Five Changes India Must Make in Its China Policy.
Concurrently, he asserted that the government was not working strategically. "Our government bungled the China problem… What is our foreign policy's purpose?… China and Pakistan should never be brought together. That was the core of our reasoning. We accomplished this until UPA II with great success. Pakistan and China came together today. This issue is not simple. It is quite deep. This item is hazardous. "This occurred because our government bungled our foreign policy and lacked a comprehensive understanding of the foreign policy's overall structure," he explained.
"They've joined forces… and a risk exists. And they will participate in some activity. The initial step was taken in Doklam, followed by the second step in Ladakh. I feel there was planning involved. If nothing occurs, that's fine. I believe they are however preparing. I'm telling the government that it's not a matter of if, but of when. Now you must prepare," Gandhi stated during a press conference at the Congress's headquarters.
While preparing to tackle the Chinese threat, he urged the government to consider the advice of the military.
"Listen to the forces—Army, Air Force, and Navy—and any other formations we have. You must respect and listen to them, which means you must immediately cease their political usage. Second, the safeguards we must take, both military and non-military. Thirdly, do not conceal the border situation. Because China is being sent a message. China has grabbed two thousand square kilometres of our land. According to the prime minister, no one has invaded our territory. What will I interpret this to mean if I visit your home and you tell me you haven't arrived? Therefore, they will receive this message," he added.
"Therefore, we must state unequivocally that you've trespassed… Declare it openly and demand that they go… This government is in complete disarray. This uncertainty must cease," he continued.
Referring to the BJP's criticism, he stated, "When I speak of the government, they assume I am referring to the Army. No, I'm not discussing the military. I am referring to government. The government and the Army are distinct entities. The government has made poor choices, therefore it cannot hide behind the military. This is cowardice. The government should admit fault. That we did it…a mistake was made, and we will correct it. We will support them. Not only will we assist the administration, but so will the entire Opposition. But tell us what transpired," he prompted.