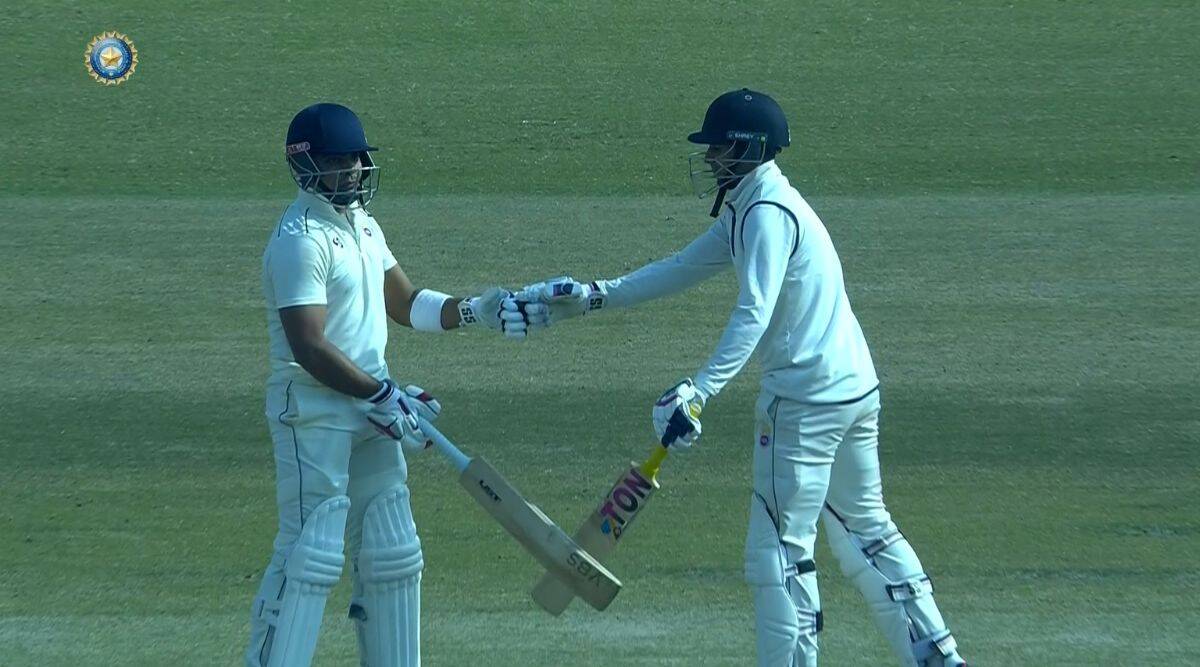 This victory was achieved against the odds by Delhi. Mumbai arrived at the capital as the favourite. With Prithvi Shaw, Sarfaraz Khan, Ajinkya Rahane, and Arman Jaffer, their batting unit was superior to the home team's. Tushar Deshpande and Shams Mulani's bowling unit has more experience than Delhi's third string. Even worse, skipper Yash Dhull became ill prior to the game.
But vice-captain Himmat Singh, who had been dropped a few games earlier, stepped in and led a squad that had undergone a turbulent season and was eliminated from quarterfinal contention to an eight-wicket victory over Mumbai. It was Delhi's first victory over Mumbai since the Ranji Trophy final in 1979–1980.
"Thoda Delhi waale khush ho jaaye (Let Delhi folks enjoy a bit)," says Rahane, laughing. But on a more serious note, he continues, "We knew it was going to be sluggish since the wicket is dry. It did not surprise us. Sometimes it is necessary to quickly adapt to the environment. Delhi completely outplayed us. You can't give excuses. It all depends on how you prepare and challenge yourself."
Delhi successfully chase down the target in the fourth innings and complete a clinical 8️⃣-wicket win over Mumbai 👏👏#RanjiTrophy | #DELvMUM | @mastercardindia pic.twitter.com/NCyK8kn9zU

— BCCI Domestic (@BCCIdomestic) January 20, 2023
Sealed with a six
On the last day, after resuming at 168/9, Mumbai's Tanush Kotian (50 not out) achieved a half-century before off-spinner Hrithik Shokeen claimed the final wicket, with Mumbai's second innings totaling 170. Delhi reached its target of 95 runs in 15.3 overs, with Vaibhav Sharma contributing 36 runs and Hrithik Shokeen remaining unbeaten on the same score after combining for 69 runs for the second wicket. After Sharma was dismissed in the sixteenth over, former captain Nitish Rana entered the crease and hit a six off the first ball he faced to seal Delhi's victory. The loss has jeopardised Mumbai's ability to advance to the quarterfinals, as they will now need to win convincingly against Maharashtra.
Despite the loss, skipper Rahane stated that he is enjoying his first complete season in quite some time. "I'm really enjoying it, and I'm thrilled with how the team is performing. Leading the city of Mumbai is an honour, and I thoroughly appreciate this challenge. My objective is to perform well for Mumbai and continue scoring runs and winning matches."
Multihued challenge
Rahane stated, "It is a challenge to play on different surfaces throughout the Ranji Trophy. You must adjust to it. In Mumbai, there are red-soil wickets, which are distinct. In general, wickets in Delhi are slower and lower. Different regions of the nation have distinct types of wickets.
He remarked that the key is to adapt rapidly. "Because we have played cricket in so many regions of the country, we must adjust to diverse situations. It is all about adaptability, your attitude and concentration, what you want to do and how passionately you want to do it for the team, he said.
Rahane acknowledged that Divij Mehra's opening spell on Day 3 was the decisive moment of the match. "Divij bowled quite effectively in the opening session. He maintained his position and did not give us any loose balls. "We had to craft in; my strategy was to stay on the wicket as long as possible without considering the outcome," he explained.
ICYMI!

Divij Mehra scalped 2️⃣ wickets in consecutive deliveries for Delhi to dismiss Armaan Jaffer & Sarfaraz Khan 👌🏻👌🏻#RanjiTrophy | #DELvMUM | @mastercardindia

Watch 🎥https://t.co/22zuolu1oJ pic.twitter.com/AYut9X2rK4

— BCCI Domestic (@BCCIdomestic) January 19, 2023
"During a Ranji Trophy session, a side can lose five or six wickets. As stated previously, it is crucial to quickly adjust to the environment. It can happen to any team, but how you recover is crucial."
Prithvi Shaw, Musheer Khan, Armaan Jaffer, first innings centurion Sarfaraz Khan, and Mohit Avasthi were among Mehra's victims as he prepared the way for Delhi's first victory of the season. The top order of Mumbai struggled against Mehra's seam bowling, but Rahane considers it a "learning curve" for the inexperienced batsmen. "As a top-order batsman, you must respect the conditions; if the ball is moving, seaming, or staying low, you must adapt to the pitch and your stroke selection is crucial. Everyone knows their unique game plans, so it is a tremendous learning experience for everyone, not only individually, but for the team as a whole," he stated.
"I am a great believer that team success is more important than individual success. As a group, we are doing quite well. And every day we learn something small. And there is much more to learn from this game," he added.
Brief Scores: Mumbai 293 and 170 in 60.5 overs (Ajinkya Rahane 51 and Tanush Kotian 50 not out; Divij Mehra 5/30) lost by eight wickets to Delhi 369 and 97 for 2 in 15.3 overs (Vaibhav Sharma 36 and Hrithik Shokeen 36; Mohit Avasthi 1/24)