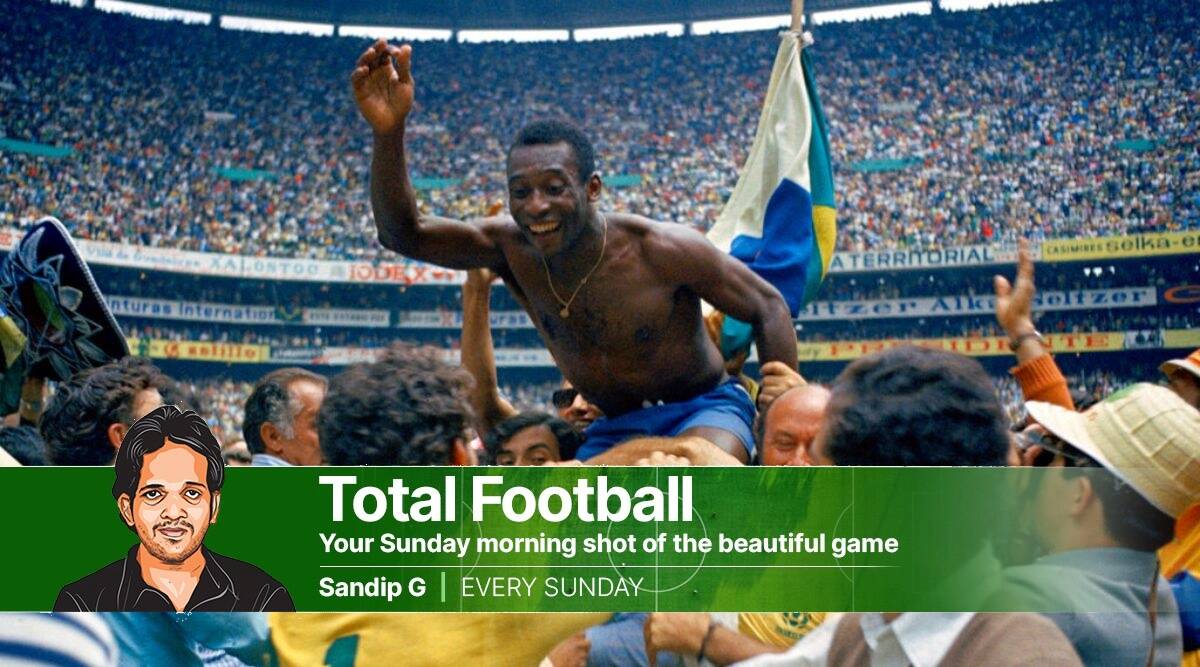 A random occurrence of "Pele's magic (or skills, or goals, or simply Pele)" A YouTube search would yield tens of thousands of videos, so many that you would be overwhelmed with options.
There are numerous types, ranging from "Pele's miraculous skills" and "goals that stunned the world" to "10 things you don't know about Pele" and "a comparison of Pele, Messi, and Maradona" that is carefully researched but ultimately useless.
There is video of him dribbling, heading, flicking, chest-controlling, and more! There is an educational documentary on Netflix that does not shy away from depicting the shades of grey that peppered a relatively scandal-free life, an easily readable autobiography, and numerous biographies. Since his death on Wednesday evening, Pele-nostalgia has seized the world.
But perhaps nothing would be as satisfying as watching him for the entirety of an entire game. To see beyond the highlight clips of goals and dribbles, to pick something that has escaped the chroniclers' sight, to uncover another layer of grandeur, or just to validate that everything that has been told, retold, read, and heard is, in fact, accurate.
You may be familiar with the plot and finale, the storylines that unfolded on the field and what transpired behind the scenes, but as with masterpieces, Pele's whole games are worth rewatching, and with each viewing a new layer of his greatness is revealed, a myth debunked.
It's like seeing a famous film in which fragments of footage scattered throughout leaving the experience tragically unfinished. You cannot pick and choose pages to enjoy the reading of an epic. You may get the general idea, but not the thrill.
The Internet contains few. The 1970 final between Brazil and Italy is one of them. You already know the outcome; Brazil defeated Italy, 4-1, rather than thrashing them as the scoreline would imply. You are familiar with the goals: Pele's clumsy header to put his team in the lead, Gerson's delightful strike, Jairzinho's thighed goal, and the fabulously choreographed ballerina of Brazilian football's joie de vivre that was the fourth goal, which was credited to Carlos Alberto but involved the touch, verve, and imagination of half the Brazilian team.
You are familiar with the narrative, how the coach believed Pele was blind and past his prime, how the Brazilian team was a disaster waiting to happen, and their jubilation in Mexico.
If you did not watch the entire game, you would have missed Pele's anger at halftime. Pele lost his legendary composure when the referee blew the halftime whistle and swung his arms in anger. He was 10-12 yards away from the goalkeeper, unmarked, and in space, but the whistle blew just as he was about to unleash the shot.
Pele did roll the ball into the back of the net, but the goal was not allowed to stand, and Pele protested. Three blue-shirted individuals converge on him. Pierluigi Cera, a grotesque central defender, nearly had Pele by the collar. Pele grumbled, glared, and shook his head vigorously. "Pele was furious during that match. Before the game, he was not his typically humorous self. His colleague Gerson subsequently remarked, "He seemed serious and angry."
For this generation of football fans, it would be like witnessing Lionel Messi's uncommon rage against the Netherlands in the quarterfinals of the World Cup in Qatar.
In Qatar, Pele's motions resembled Messi's in many aspects. Then, with a burst of inventiveness, he creates an inevitable moment.
When Rivelino lofted a high cross into the penalty area, he scored the opening goal by simply ambling down the right inside-right channel. Pele, with almost any run-up, leaps over Tarcisio Burgnich's difficult tackling and rips the header.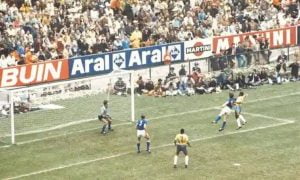 In flight, he resembles Messi's famed adversary Cristiano Ronaldo, who is a paragon of athletic excellence. Once he realises he is above Burgnich, whom Pele has burnt multiple times throughout the game, he plants the header. A header so strong that goalkeeper Enrico Albertosi was unable to react in time.
Pele blended the physical power and athleticism of Ronaldo with the brains and insight of Messi. Thus, the next generation of football enthusiasts could connect.
Similar to Ronaldo, he worked out extensively. One year into his service, Santos writes in his memoirs that he worked so hard on his physique that his thighs were larger than his waist. Karate was beneficial in teaching him how to tumble and jump. He practised judo, which "much increased his balance and agility." And this enabled him to dribble past opponents without falling.
He utilised a device with a hanging ball to hone his heading talents. Thus, he was both a natural and trained genius. In this regard, he was the epitome of silk and steel, as powerful and stylish as any football player could possibly be. He is the pianist one moment and a bullfighter the next.
In the 25th minute, Rivelino's chipped free kick was a thing of beauty. Before feeding Rivelino, to the left of the five-man wall, with a brilliant chipped pass, he rushed at full speed as though he intended to pile-drive the ball.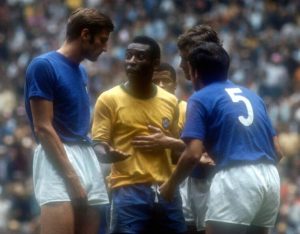 The Italians were caught off guard, but Rivelino delivered a powerful touch. Then, similar to Argentina's second goal conceded in the final against France, when the ball was stolen from Messi's foot, Burgnich stole the ball from Pele and conceived Italy's equaliser, though Clodoaldo would be portrayed as the villain for his avoidable back-flick to the goalkeeper, which Roberto Boninsegna intercepted.
Other instances. Pele resembled Ronaldo from the previous World Cup in that he fell to the ground after minimal contact, was moody and petulant at times, protested for free-kicks that were denied, and hoofed the ball into the stands, where the crowd refused to toss it back onto the field.
In the 68th minute, when Angelo Domenghini tapped him on the chest, one of his falls was so dramatic that the referee moved the medical crew away. Two minutes later, he had a second confrontation with Domenghini.
Then he assists the goals that gave Brazil the championship. For the third goal, he again outleaps Burgnich and places a header into Jairzinho's path. All strength, skill, and will. His move in the fourth position was instinctual. When he received the ball from Jairzinho in the inside right channel, he had no shooting opportunities.
Then, from the corner of his vision, he spotted Carlos Alberto racing down the right flank and sent a perfectly weighted pass in that direction. He struck the ball past the goalkeeper, sparking wild celebrations. The film abruptly concludes with Pele surrounded by a swarm of human arms.
The complete replay is more educational and enlightening than any highlight reel or documentary. It portrays Pele in all his glory and theatricality, his ingenuity and weaknesses, his rage and desire, demonstrating that he was more than just a goal-scoring machine. He also experienced feelings; he was not a saint. He was exactly as angry as he was when he smiled that ethereal smile.
He blended Messi and Ronaldo, a natural and developed brilliance, and the eternal of football was also human. And it makes him much more lovable.
Although it is only one of Pele's 1363 matches, it captures the guy and the legend that he was. And it is worthwhile to devote one hour and 38 minutes in Pele's final World Cup, just as another generation will be captivated by Messi in the 2022 World Cup final.