Reviews
Review of the HP Victus 16 (2022): A gaming laptop you can afford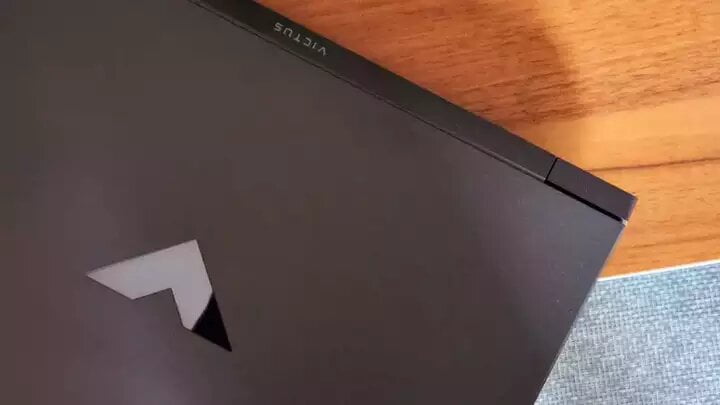 HP introduced a new gaming laptop lineup – Victus – below Omen last year. Compared to Omen, Victus features a less eye-catching design, but competent internals and an affordable price point.
It boasts updated internals, which is offered in Intel and AMD flavors, with NVIDIA handling graphics-intensive tasks. Ours is equipped with AMD's Ryzen 7 6800H processor and Nvidia's RTX 3050 Ti graphics card. I would like to share our thoughts on HP's Victus 16, which we tested for a few weeks during the course of our review.
BUILD AND DESIGN
Although the interior has been updated, the exterior remains the same. This year's edition of the Victus 16 has the same chassis as last year's model, so there are no external changes you would notice, and it is available in one color – Mica Silver, which is basically dark gray with a matte finish. As an added bonus, there is a second colourway, which has hints of blue, but it is reserved for the Intel variant only. Near the hinge, you will see a large 'V' embossed with 'Victus' on top of the case.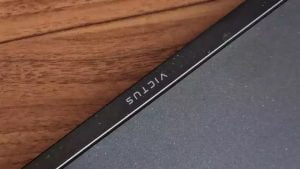 When you look at the laptop for the first time, you may not be able to tell if it is 16, 15, or 17 inches, but once you hold it in your hand, you will become clear that it is a 15-inch laptop. Considering the fact that the Victus 16 weighs 2.48 kilos, and even more if you want to consider it a portable device, the Victus 16 is quite a heavy machine. As a result, it is best to remember that this is not a device that one can easily carry with them wherever they go.
Affordable prices come with a less-than-premium build. The Victus 16 may not be able to hold true for all products, but it is for the one I am reviewing today. The plastic is not of premium quality, and the edges are far too sharp, so it does not feel premium. The hinge mechanism of this tablet has a poor design, and we feel it's one of the flimsiest we've ever seen, especially if you type with heavy hands since it wiggles a lot when you type.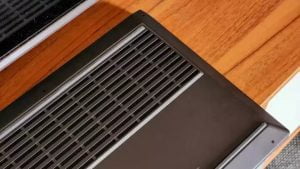 Meanwhile, the keyboard deck feels sturdy, but you can feel a little bit of flex when you apply enough pressure on it. There will be a grille above the keyboard that is used to take in air, not speakers. This grille is for air intake, not speakers. The bottom of the cabinet is also equipped with a large vent for the outtake of air.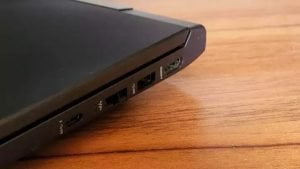 In terms of the number of ports, I believe that there will be more than enough to suit everyone's needs. This device is a perfect size for most ports — there's an Ethernet port, HDMI 2.1, USB 3.2 Gen 1 Type-A, and Type-C port (with DisplayPort 1.4, 3.5mm audio combo jack, and a full-size SD card reader. It comes with a round barrel charging port, an Ethernet port, HDMI 2.1, and a USB 3.2 Gen 1 Type-A port. On the left edge of the device are a pair of USB 3.2 Gen 1 Type-A ports.
AUDIO AND DISPLAY
On the Victus, there is a 16.1-inch display with an FHD+ resolution at a refresh rate of 144Hz on an FHD+ resolution. There is enough vibrant color and even brightness in it to make it bright enough to read, but do not expect it to do wonders for you. As a result, if you intend on doing any creative tasks like editing photos or videos, please avoid using this device since it only covers 45 percent of the NTSC colour gamut, so it will not be of any use for those tasks. In spite of this, the display is fine for casual users. The quality of the product is as good as what other companies have to offer within this price bracket.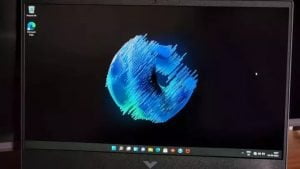 The top of the laptop has a 720P webcam that is okayish for a laptop, but not so if you are going to be doing live streaming.
The audio quality coming from the top-firing speakers is just as good as that coming from some speakers that are bottom-firing. As a result, if you want to get the most out of the experience, you should use external headphones or speakers.
TRACKPAD AND KEYBOARD
You will find a full-size keyboard, along with a Numpad on the right side and a row of functions at the top of the keyboard. It took us some time to adjust to the keyboard, but we were pleased with the key travel and response. Backlighting is not adjustable on this keyboard, so it shines light into your face when it's dark, making it uncomfortable.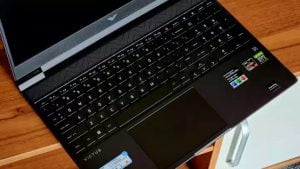 It offers good haptic feedback and a large trackpad. While the trackpad is useful for casual browsing, it won't replace a mouse.
PERFORMANCE
Located under its chassis, the Victus 16 houses team red's latest Ryzen 7 6800H processor, an eight-core and 16-thread CPU clocked up to 4.7GHz. A Radeon 680M GPU is integrated and a dedicated Nvidia RTX 3050 Ti with 4GB of GDDR6 memory is dedicated to graphics.
With the unit we had with us, there was 8GB of DDR5 RAM; 16GB and 32GB RAM models are also available. Even though it is a gaming machine, the Victus 16 comes pre-installed with 512GB of PCIe Gen 4 NVMe SSD, which isn't much. However, it is nice that an affordable machine has second-generation storage when even the most expensive ones don't.
Based on Cinebench R23's single-core and multi-core tests, the Ryzen 7 6800H scored 9824 points. When we had a few Chrome tabs open with a few background apps running, the laptop performed well. The 16GB RAM model, or if you choose the 8GB model, you can add extra RAM to get the most out of this machine, is our recommendation.
In terms of gaming or other graphics-intensive tasks, Nvidia's RTX 3050 Ti does not disappoint. With the GPU, you can play 1080P games smoothly at medium to low graphics settings with average frame rates of 60-70 frames per second.During extended gaming sessions, you won't have to worry much about heating since the Victus stays cool even under pressure.
BATTERY
The 70WHr battery that is present in this year's version of the Victus is the same as the one found in last year's version as well. Despite that, thanks to the better efficiency of the CPU, I am able to work on the laptop for around five to six hours per day, which includes browsing Google Chrome, writing, and watching an episode or two of television. At the same time, the laptop lasted more than an hour and a half on a single charge while playing Apex Legends.
VERDICT
With the same chassis and better internals as last year's Victus 16, HP's new laptop is essentially the same as last year's. The design isn't eye-catching, but the hinge could be improved. In spite of that, the hardware is perfect for anyone looking for a slightly heavy but portable gaming machine on a budget. If you are purchasing a new college or work laptop for gaming, this could be an option to consider.