India
RSS Chief Mohan Bhagwat at Nagpur Dussehra event: Give women the freedom to work, give them equal rights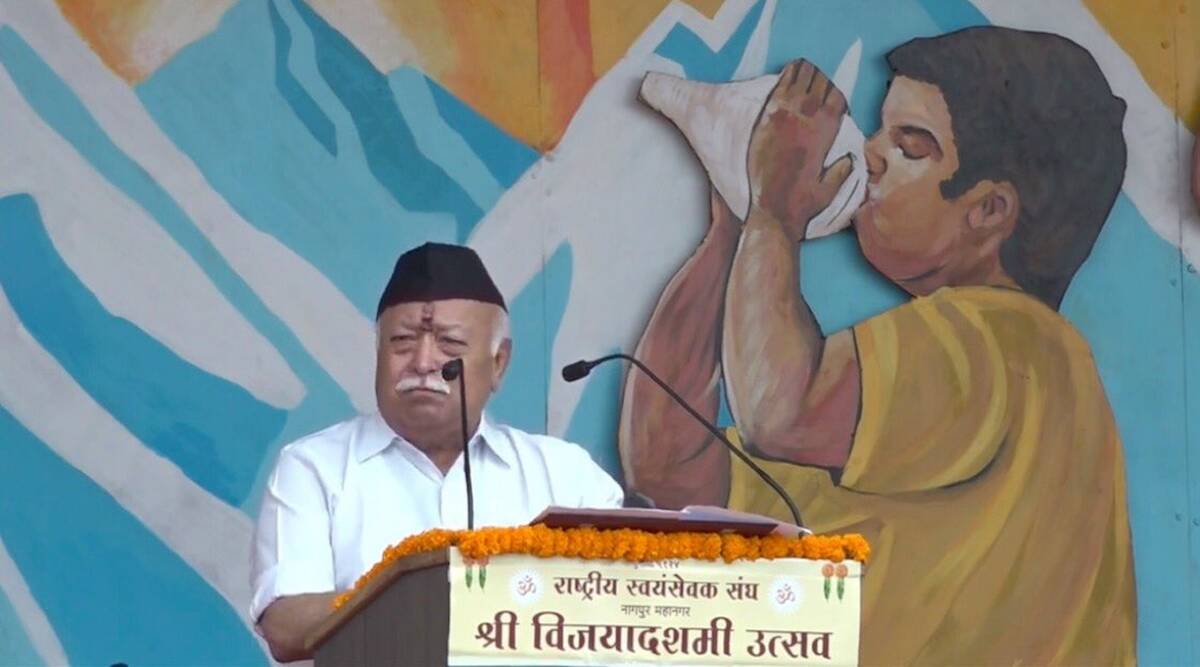 At the RSS's annual Dussehra event in Nagpur, Maharashtra, on Wednesday, Rashtriya Swayamsevak Sangh chief Mohan Bhagwat said women should be given the freedom to work and equal rights in all spheres of life.
Consequently, we will have to begin with the changes within our own families and take them to society through the organization. Bhagwat stated in his speech that the efforts to advance the country would not be successful unless women's equal participation were guaranteed.
The RSS had invited mountaineer Santosh Yadav to attend the event as the chief guest.
Since Doctor Saab (Dr K B Hedgewar) was around, women who have been achievers, intelligentsia, and sources of inspiration have been a staple of RSS functions. At that time, Anusiyabai Kale was there. Rajkumari Amrit Kaur, the Indian Women's Conference chief, also came to our shivir (camp). Also, in December 1934, the chief guest was a woman, and it's been going on ever since," Bhagwat said. The RSS had a woman as chief guest at an Akola event after the Emergency. When I was there, I was a pracharak. Kumudtai Rangnekar from Aurangabad had been the chief guest at that Vijayadashami event," he added.
Bhagwat stated that society is comprised of both women and men. Bhagwat said that "we don't debate who is superior". "Because we all know that without one, society can't exist, and nothing is made. They complement each other; this can be described as Indian philosophical thought," he said.
"So the nation-building work is performed by different groups of organizational units for both genders however, in all social activities (taken in by the Sangh) both women and men are working together…During the period of Doctor Saab, in pursuit of the aim of building character. In all work, both genders work together and in harmony," Bhagwat said.
Bhagwat said that if society is to be organized, females and the "maternal power" cannot be left out. "We must strengthen women's power. We refer to them as mothers, and we think of them as Jagat Janani (creators of all things). While we imagine these things, I'm not sure what slipped into our heads that made us limit their scope of influence. When the invasion of foreigners came, these restrictions were given the status of lawful. The invaders vanished, but we remained with the restrictions. We haven't ever freed these people," he pointed out.
"That we believe that they are Gods and creators is a good thing. Because of that, it is imperative that we lock them in the room of prayer, which isn't ideal," Bhagwat said. "We lock them in the prayer room, declare them second-class and then shut them out of the home. To get rid of this practice, it is necessary to empower them by providing them with an equal chance to participate in private and the public sphere, and a degree of autonomy when it comes to making decisions," he added.
#WATCH | Population imbalance leads to changes in geographical boundaries… Population control & religion-based population balance is an imp subject that can no longer be ignored…So a holistic population policy should be brought & should be equally applicable to all: RSS chief pic.twitter.com/hYU6itnO47

— ANI (@ANI) October 5, 2022
The RSS head said that in 2017, the RSS's female employees studied "maternal power" across the country. The participants were women from all walks of life, and finance minister Nirmala Sitharaman launched the survey, Bhagwat said. "The results of the survey were that everything you can do for a man is something that women can also do. However, everything women can do, males can't do. Therefore, women need to be given the freedom to work and equal rights in all fields. Therefore, starting by making changes within our family, we need to bring it into the wider world via organizations. If women's equal participation in society is not guaranteed, efforts aimed at the country's advancement won't be productive," Bhagwat added.
The RSS chief also emphasized the necessity of a "comprehensive population control policy" which applies to everyone "equally", noting that it is essential for the nation's interest to monitor "population imbalance".
"There should be a comprehensive population control policy, which should apply to all equally, and once it is put in motion, no one should get any concessions," Bhagwat stated.
In describing why a similar policy is required, Bhagwat said, "A couple of years ago, our number of children born was 2.1. We have done better than what the public expected, and now we are now at 2. However, going further could be harmful. Children learn to be social within the family, and for that, you'll need to have a number within the family. There are people in your age, but you also need people older than you as well as those who are younger. If the population decreases, societies become a thing of the past, and languages go extinct."
He explained the necessity of making this New Education Policy (NEP) successful: "We keep lamenting that our mother tongues suffer. Then we have a New Education Policy that promotes mothers' education in their mother languages. What are we doing is going to institutions that offer instruction in our native languages? There's a misconception that one needs English education to have an excellent job. This is not the case. If we look at the top individuals in the country, more than 80 per cent of them attended institutions that provided education in their native language until they completed their matriculation. This is despite the fact that the NEP If we don't allow our students to attend schools that educate in our native languages, is this policy going to be successful?"
"As long as parents continue informing their kids that the goals of their lives are to be educated regardless of whether they enjoy it otherwise or to earn an income, We will not be able to have responsible and educated citizens living in our nation. They'll end up becoming machines for making money," Bhagwat added.
He also encouraged the public to be concerned about their overall health and wellness and to maintain cleanliness instead of waiting for authorities to improve health facilities once they get sick.