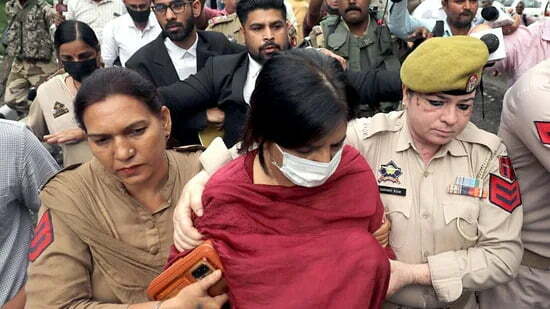 This is the first time that Rubaiya Saeed has been asked to appear in the case. She was freed after releasing five terrorists in return.
Rubaiya Sayeed, daughter of former Jammu and Kashmir Chief Minister Mufti Mohammad Sayeed, appeared before a TADA court in Jammu on Friday in connection with the 1989 abduction case and identified JKLF chief Yasin Malik and three others as those who He was taken, prisoner, officials said.
The court has now fixed August 23 as the next date of hearing in the much-hyped case.
Rubaiya, who is settled in Chennai, appeared personally after the TADA court had issued summoned seeking her physical appearance in the case.
"She recorded her statement before the court and whatever she had to say, she said. She stood by her statement given to the CBI earlier," Advocate Sethi said, adding that she identified her abductors (including Yasin Malik) based on photographs.
He said Rubaiya would appear in person on the next date of hearing.
Malik, who is currently serving a life sentence in Delhi's Tihar Jail in a terror funding case, has submitted an application to the central government seeking personal appearance in two cases – including the Rubaiya Saeed kidnapping and Squadron Leader Ravi Khanna Four IAF officers killing.
The TADA court had issued summons to Rubaiya to appear in court on May 27.
Sethi said the defence counsel wanted to re-examine his defence as Rubaiya was able to identify the accused based on photographs.
Special Public Prosecutor Advocate Monica Kohli in TADA Court said, "The identification of Yasin Malik and three other accused by Rubaiya Saeed in her kidnapping case is a great achievement and a great achievement for us. Whatever statement she gave before the CBI, she stood by her statement. He has identified everyone and it is a big win for us today."
"She was shown the pictures today and she recognized them. This is a step forward in the direction of prosecuting Yasin Malik and other accused in the case," she said.
Rubaiya, who is the sister of the PDP chief and former chief minister Mehbooba Mufti, had reached Jammu on Thursday evening.
Rubaiya has been listed as a prosecution witness by the CBI, which took over the investigation in the early 1990s.
Rubaiya Sayeed's kidnapping case
Rubaiya was kidnapped by the Jammu Kashmir Liberation Front (JKLF) on 8 December 1989. Mufti Mohammad Sayeed, India's first Muslim Home Minister, was in office from December 1989 to November 1990 in the VP Singh government. Rubaiya was finally released on 13 December the same year.
The militants had demanded the rescue of the five arrested terrorists in return for the release of Rubaiya and the government accepted their demand.
On January 11, 2021, more than 30 years after the kidnapping case, the TADA court ordered that charges be framed against Malik and nine others.
A special judge of the TADA court had then ordered that charges should be framed against Malik, Ali Mohammad Mir, Mohammad Zaman Mir, Iqbal Ahmed Gandroo, Javed Ahmed Mir, Mohammad Rafiq Pehlu alias Nana Ji alias Salim, Manzoor Ahmed Sofi, Wajahat Bashir, Mehraj- Ud-Din Sheikh and Shaukat Ahmed Bakshi.
According to the CBI case, Malik was the one who allegedly played a key role in the entire kidnapping plot, and was executed by him and his associates.
The TADA court had then found that sufficient grounds existed for drawing prima facie presumption that Malik, Mir, Gandroo, Sofi, Sheikh and Pehlu had committed offences under sections 364/368/120-B of the RPC, 3/4 TADA Act and 27 IA Act.
"Similarly, other accused Mohammad Zaman Mir, Javed Ahmed Mir aka Nalka, Wajahat Bashir, Shaukat Ahmed Bakshi have committed offences under section 120-B along with section 368 RPC and section 3/4 of TADA Act," the court had seen.
"Therefore, there is a need to frame separate charges against each of the accused persons," the court had said.