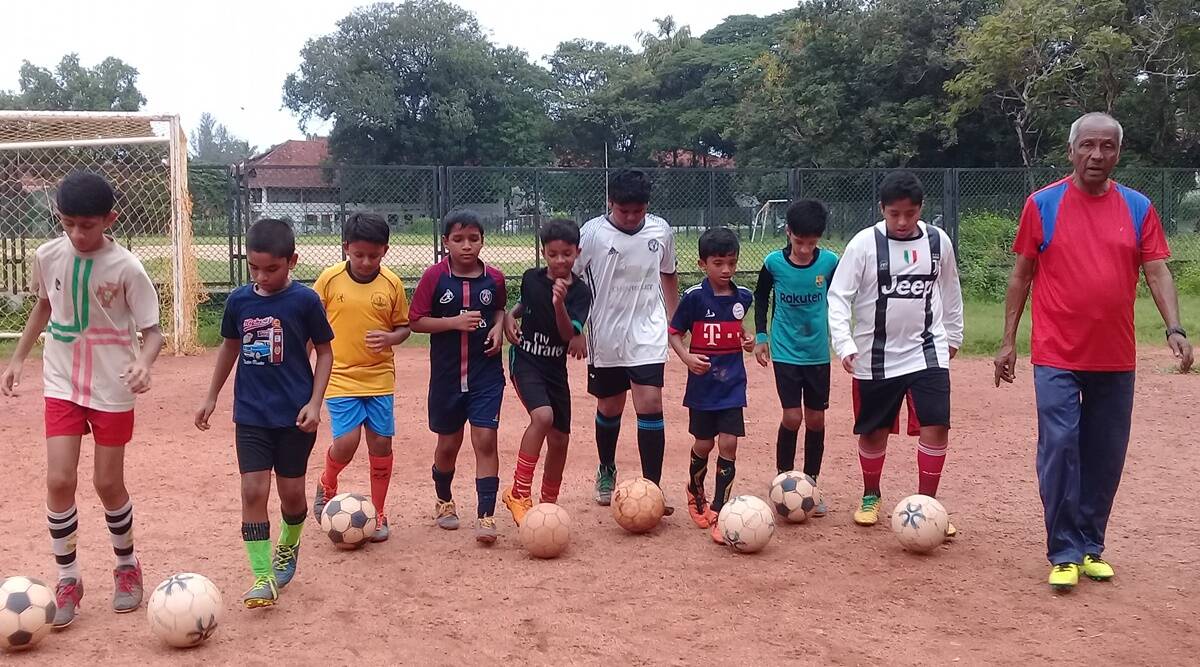 Normally, football coach Rufus D'Souza goes to bed at 8.30pm every night, but on Sunday he will make an exception. He will stay up late watching the FIFA World Cup final between Argentina and France, which he has been training since 1970 at Parade Ground in Kochi.
When it comes to the World Cup, I usually watch the highlights." D'Souza says. "But since it only happens once every four years, I make an exception." He will root for Argentina for Lionel Messi, not because the team is better. "This is his last World Cup, and Argentina has never won the cup while he was playing. He will be able to retire in a satisfactory manner," explains D'Souza.
There are many former junior Indian team captains, former Indian national team players, and the late Hamilton Bobby and Kerala Football Association secretary Anil Kumar who are students of the "football uncle", as D'Souza is affectionately known.
He was presented with a signed jersey of Iker Casillas, captain of the Spanish team that won the 2010 World Cup, by Madridista, the Real Madrid fans' club in Spain, last year at a ceremony in Kochi. As a result, I felt honored. My students' love and respect are my greatest blessings and the most valuable to me," says D'Souza.
A former member of the Tamil Nadu hockey and football teams, the octogenarian has represented Tamil Nadu in both sports. Captain of the Travancore-Cochin hockey team in 1954 and captain of the Kerala hockey team in 1972, he played hockey for Travancore-Cochin from 1954 to 1972. During his career, he has played for a number of other clubs before joining the State Bank of India in 1962. While he did not play football at the national level, D'Souza participated in the Asian Games football camp in 1962. My absence from the national team is not something I regret. I was not the best player on the team. There were players who deserved to be on the team who were better than me.
His commitment to the game takes him to Parade Ground at 5.30am every morning, where he trains 40-50 young players free of charge. It is also here that he began his training in football at the age of seven. It was one of the best grounds in India in the 1950s. In recent years, it has been converted into a playground with Australian grass that has been maintained by the British. Before the monsoon, the English used to play rugby matches, but once the rains began, everyone was prohibited from playing or working on the field. Until 1960, when I left for Madras, this was the case. In 1957, when the All-India School National Hockey Tournament was being held at Maharaja's Ground, Ernakulam, he recalls Olympic gold medallist R S Gentle visiting the ground. "He was the world's best penalty corner specialist and was visiting Ernakulam on behalf of the Bombay hockey team. It was he who scored the winning goal against Pakistan at the 1956 Summer Olympics in Melbourne. It was a pleasure to have him at Parade Ground for a match between Gymkhana Club and Cochin Select as a guest. It was explained to me when I entered the grounds that this was an Olympic park. After taking the stick, he asked the goalkeeper to move from his post and said that he would take a shot in which the ball would deflect after hitting the side planks. It was amazing," says D'Souza.
In spite of India's talented football players, D'Souza believes that the country is severely lacking in training facilities. We had a lot of tournaments and clubs in India in the past… We also need to hire Indian coaches. The teams we play with must be of high quality. There is a great deal of improvement in the performance of the Indian women's national football team compared to the men's team," he emphasizes.
When it comes to his students, discipline is of utmost importance. The use of foul language is prohibited, as well as being late for practice, according to D'Souza. However, a certain amount of bending of the rules is permitted due to the World Cup. He explains that since they stay up late to watch the matches, he has allowed them to take off on certain days.
Having closely examined all matches, D'Souza is disappointed. During the last 80 years, I have watched over 20 football World Cups, originally on tape, and now on television. Earlier, 70 minutes out of 90 minutes were dedicated to playing forward. The ball is now only played forward for 20 minutes out of 90 minutes. He argues that the game is not of a high standard.
In the corner of his home in Fort Kochi, there is a small plastic bag containing his first football-a pink cloth ball made by his mother when he was three years old. "It's my first attempt at kicking a ball," the coach explains.