International
Russia-Ukraine crisis live updates | Iran set to deliver armed drones to Russia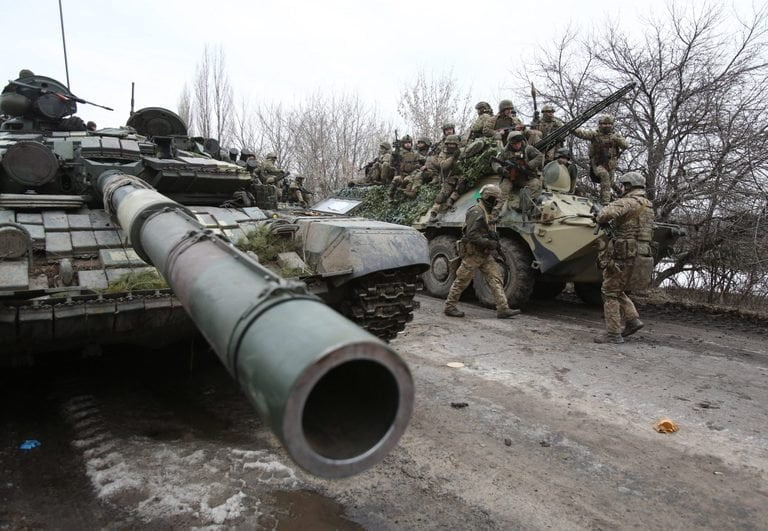 The White House said on Monday it believes Russia is turning to Iran to provide it with "hundreds" of unmanned aerial vehicles, including weapons-capable drones, for use in the ongoing war in Ukraine.
US National Security Adviser Jake Sullivan said it was unclear whether Iran had already provided any unmanned systems to Russia, but said the US has "information" that indicates Iran as of this month. Preparing to train the Russian army as soon as possible.
"Our information indicates that the Iranian government is preparing to provide several hundred UAVs to Russia, including weapons-capable UAVs," he told reporters on Monday.
Sullivan said this was evidence of Russia's heavy bombing of Ukraine, which in recent weeks prompted consolidated gains in the country's east, "coming at the cost of the continuation of its weapons."
The conflict in Europe, the largest since World War II, has killed thousands, ruined cities and towns, and caused more than 5.5 million Ukrainians to flee their country.
EU finance ministers on Monday approved one billion euros in financial aid to Ukraine, the first installment of the nine billion euros (dollars) budget promised for Kyiv agreed by European leaders in May.
"This will give Ukraine the funds needed to meet urgent needs and ensure the operation of critical infrastructure," said Czech Republic Finance Minister Zbnek Stanjura, the EU's rotating president.- AFP
Russian forces encircling Ukraine's Sieversk – separatist official cited by TASS
Russian and Russian-backed separatist forces are besieging the city of Siversk in Ukraine's Donetsk region, Russian state news agency TASS quoted the self-proclaimed Luhansk People's Republic's ambassador to Moscow, Rodion Miroshnik, on Tuesday.
Svirsk, another isolated area claimed by the Donetsk People's Republic that Moscow is trying to oust from Kyiv's control, lies on the front line of battle for Ukraine's eastern Donbas region after Ukrainian troops stormed the city of Svyarodonetsk last month. was abandoned. – Reuters
Seven dead in Ukrainian strike on Russian-held town: TASS
At least seven people were killed in an attack by Ukrainian armed forces on Monday in the Russian-held town of Nova Kakhovka in Ukraine's southern Kherson region, Russian state news agency TASS said on Tuesday.
TASS quoted Vladimir Leontyev, the head of the Kakhovka district military-civilian administration set up by Russia in the Kherson region, as "certainly seven people have died and about 60 are injured."
"Many people are still under the rubble. The injured are being taken to hospital, but many people are locked up in their apartments and homes," Leontyev said.
According to TASS, apart from the damaged buildings, the attack also led to explosions in fertilizer godowns in the area. – Reuters
Russia says the Ukraine strike in Nova Kakhovka led to casualties
Russian officials said Monday evening attacks by Ukrainian armed forces hit the town of Nova Kakhovka in the Kherson region, while Ukrainian officials said their forces destroyed an ammunition depot there.
Dozens of people were injured in a strike by Ukrainian troops, Russian state news agency TASS reported this morning, citing Vladimir Leontyev, the head of the Kakhovka District Military-Civil Administration in the Kherson region.
"Unfortunately, there have been casualties, a large number of injured, dozens of people were left homeless," the report quoted MR as saying. Leontyev says. – Reuters
Putin expands fast-track Russian citizenship to all Ukrainians
Russian President Vladimir Putin on Monday expanded a fast-track process for all Ukrainians to obtain Russian citizenship, in another attempt to consolidate Moscow's influence over war-torn Ukraine.
Until recently, only residents of Ukraine's separatist eastern Donetsk and Luhansk regions, as well as the southern Zaporizhzhya and Kherson regions, large parts of which are now under Russian control, were eligible to apply for the simplified passport process.
Ukraine's Foreign Minister Dimitro Kluyba said Mr. Putin's signing of the passport decree, which also applies to stateless residents in Ukraine, was an example of his "predatory hunger". – AP
White House: Iran preparing to supply Russia with drones
The United States believes that Iran is preparing to provide Russia with several hundred drones, some of which are capable of weapons, US National Security Adviser Jake Sullivan told reporters on Monday.
Sullivan also said that the United States has information that shows Iran is preparing to train the Russian military to use these drones. – Reuters
U. N. to monitor Ukraine war for violations against children
The United Nations announced on Monday that it would begin monitoring conflicts including the war in Ukraine and Ethiopia, Mozambique, and other forms of sexual violence against children in Ethiopia, Mozambique, and Africa's central Sahel region.
Secretary-General Antonio Guterres said in his annual report to the Security Council on Children and Armed Conflict that those four new conflicts were added to 21 conflicts that the United Nations is already monitoring for child rights violations. He said subsequent conflicts saw "a significant number of serious breaches" in 2021. – AP
The UN chief said that the safety of children has been severely affected by escalating conflicts, armed groups, landmines, and improvised explosive devices, explosive weapons in populated areas, acute humanitarian crises, and violations of humanitarian and human rights law.
Virginia Gamba, the United Nations Special Envoy for Children and Armed Conflict, said at a news conference that "extremely violent armed groups, military coups and instability, and violent electoral processes in fragile states have left 19,100 children vulnerable to serious violations during the 19th century." We kept an eye on 21 country and regional situations."
The UN said it verified about 24,000 "serious violations" against children in 2021, including more than 1,300 committed earlier.
Last year, the highest number of violations were 2,515 killings and 5,555 children being injured, followed by the recruitment and use of 6,310 youth in conflicts, the report said.
Last year, the number of child abductions increased by more than 20% and cases of sexual violence against children continued to rise by more than 20%.
The highest numbers of "serious violations" verified by the United Nations were in Afghanistan, Congo, Israel, the Palestinian Territories, Somalia, Syria, and Yemen.
Mr. Guterres said in the report that Ukraine was being linked to the surveillance effort "due to the high intensity of this conflict" and in the wake of violations against civilians, including children. He asked Mr. Gamba to engage immediately with all parties to protect children and prevent violations against them.
He said Mozambique was being linked because of the "seriousness and number of reported violations", including the recruitment and use of children, murder and maiming, rape and other forms of sexual violence, attacks on schools, and kidnappings.
The UN chief said Ethiopia was being linked given the "severity of conflict in 2021" between government forces and police, the Tigre People's Liberation Front and militias, and other parties including regional forces. He cited violence against children, murder, rape, sexual assault, kidnapping, and attacks on schools.
The report includes some new armed groups on the UN sanctions blacklist, including dissident Colombian groups, the Revolutionary Armed Forces of the Colombian People's Army for recruiting and using children, and the Burkina Faso terrorist group Jama Nusrat ul-Islam. Wa al-Musmin has been indicted for serious offenses.
Ukraine to begin football season in August despite the war
Ukraine will start its new football season despite the ongoing Russian invasion, the country's sports minister said on Monday.
"Ukrainian football championship will start on 23 August," Vadim Gutsat said on Facebook. "We have agreed to work on the process of organizing and organizing competitions under martial law," he said.
Ukraine's football clubs decided to end the previous season early in April after being suspended following an invasion of Russia. When the season was interrupted, Shakhtar Donetsk led Dynamo Kyiv in the Ukraine Championship by two points, but the league decided not to award the title.
The minister said that the matches of the new season will take place on the territory of Ukraine, but without spectators and with mandatory observance of all safety rules. – AFP
"During air raids, matches will be stopped and football players, coaches, and staff must quickly move to a shelter," Mr. Gutsat said.
Much of Ukraine's football infrastructure, such as stadiums and training grounds, has been damaged by the Russian attacks after Moscow sent troops to Ukraine on 24 February and many foreign players left Ukrainian teams.
Earlier on Monday, Shekhar announced that his Italian coach Roberto di Zerbi had left the club by mutual consent.
Related Posts