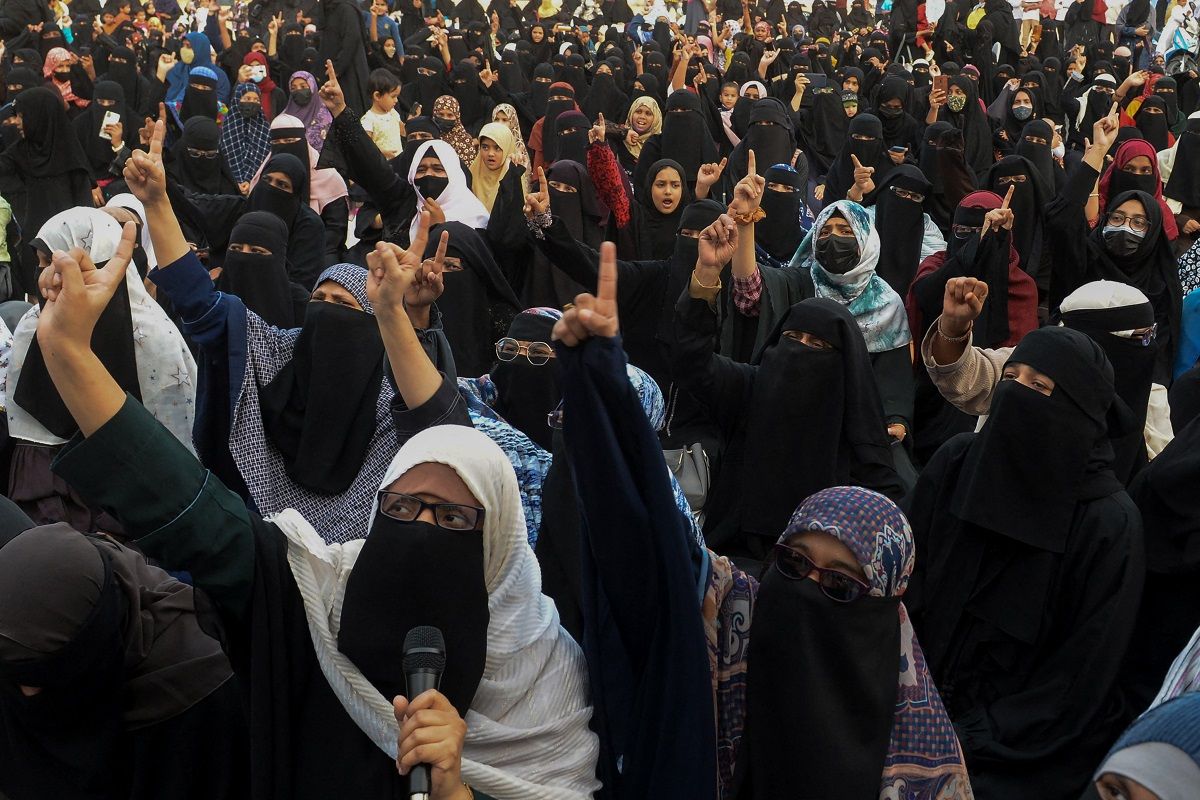 The Supreme Court said it will list petitions filed by Muslim girl students challenging the Karnataka HC order upholding the state government's ban on wearing hijab for a hearing next week.
The Supreme Court on Wednesday said it will list for next week the petitions filed by Muslim girl students challenging the Karnataka HC order upholding the state government's ban on wearing hijab in educational institutions.
Advocate Prashant Bhushan complained to CJI N V Ramana that though the court had agreed to hear appeals against the HC order in March, the petitions were not listed so far. The CJI said the petitions against the hijab ban will be listed for hearing next week before an appropriate bench.
The divisive controversy, which broke out in the southern BJP-ruled state and spread marginally to neighbouring states ahead of assembly elections in five states, has left its mark on the pattern of appeals filed in the Supreme Court. If Niba Naaz, who was not even a petitioner before the HC, was the first to win the race to file an appeal against the HC's decision, the Hindu Sena had moved a court in the SC to prevent any attempt by any appellant to take the former. was warned. Unilateral stay on HC's decision.
On March 24, Aishat Shifa, who was the main petitioner before the HC, challenging the state's ban on hijab in educational institutions, sought interim relief citing impending examinations and said that if the wearing of hijab is not allowed, not allowed then Muslim girls will give priority to religion. education and will lose one academic year. But, CJI N V Ramana-Bench was not impressed by the religiously emotive argument and said, "Exams have nothing to do with this issue (hijab). Don't sensationalize (the issue)."
Shifa said the hijab ban was against their fundamental rights, which guarantee the choice of dress, voluntary adherence to religious beliefs and customs, and the right to privacy. Branding the BJP government in Karnataka as 'majority' and accusing it of trampling on the fundamental rights of Muslim girls to wear the hijab, It urged the Supreme Court to "restore the fundamental rights which the HC has failed to protect against a majority government trampling them with punishment for its implicit political views."
Naaz had said that her right to wear the hijab is protected under the right of conscience under Article 25 of the Constitution. Since the right to conscience is an individual right, the 'examination of essential religious practices should not have been enforced by the HC, he said, adding that Sikhs are allowed to wear turbans in educational institutions and carry 'kirpans' in aircraft. Because it is their religious practice.
Describing the right to wear the hijab as part of the right to privacy, she said, "Appearance and choice of clothing are also aspects of the right to privacy. The freedom of certain groups of subjects to determine their appearance and dress (such as having long hair and wearing a turban) is protected not as a part of the right to privacy but as a part of their religious belief. Such freedom is not necessarily based on religious beliefs covered under Article 25."