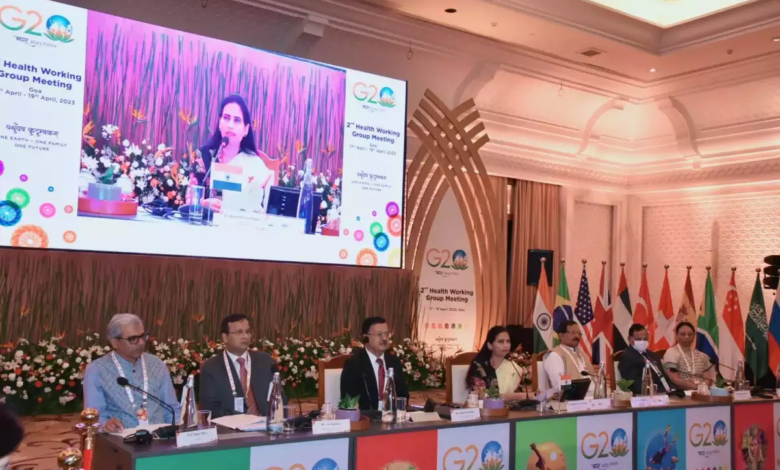 The minister also emphasised the necessity of global collaboration and partnerships while speaking at the third Health Working Group meeting under the G20 India Presidency in Hyderabad. She stated that the Covid-19 pandemic demonstrated that relationships were most fruitful when formed during peacetime rather than during a pandemic.
"We must focus on building resilient health systems with primary health as the foundation," she stated. "The partnership we share as G20 members is critical for building trust, sharing knowledge, creating networks, and collaborating to achieve meaningful impact and results."
"The threat of pandemics is far from over," Pawar warned. The requirement is for One Health-based surveillance systems to be integrated and strengthened."
She also emphasised the importance of having access to safe, effective, and high-quality medical countermeasures.
"The G20 Presidency of India is working to build consensus for an end-to-end global Medical Countermeasure (MCM) ecosystem, using a network of networks approach and leveraging existing global and regional initiatives," she said. "The G20 countries' leaders must establish an interim platform that will be guided by and feed into the Intergovernmental Negotiating Body (INB) process."
Recognising the confluence of G7 and G20 priorities, such as the formation of an MCM delivery partnership during Japan's G7 presidency, which corresponds with the G20's plan for an end-to-end MCM ecosystem, Pawar urged the global community to strengthen ongoing efforts in that direction.
"Pandemics may not wait for the Pandemic Treaty to be finalised, so the time to act is now," she warned.
Pawar also mentioned India's proposal for a worldwide initiative on Digital Health, a WHO-managed network to bring together ongoing activities in the use of technology in global health.
"This initiative has the potential to bridge the digital divide between nations and ensure that the fruits of technology are available to every citizen of the world," she added.
The conference was also attended by Union Tourism Minister G Kishan Reddy and Union Minister of State for Health SP Singh Baghel, as well as other top officials from other departments.
"The recent Covid-19 pandemic taught us that it is only through a sustainable health system that a sustainable economy can be built," Baghel remarked. "Effective pandemic prevention, preparedness, and response can only be facilitated through continuous interventions in the health sector at the regional, national, and global levels."
Rajesh Bhushan, Union Health Secretary, emphasised India's attempts to achieve universal health coverage, as well as the need to unify the continuing parallel conversations in global health architecture in Health Emergency Preparedness, Prevention, and Response; Medical Countermeasures; and Digital Health.
"It is critical to integrate all existing global health initiatives, global and regional health processes like G7, G20, and UNGA by jointly harnessing our strengths for a fit-for-purpose global health architecture," Bhushan stated. "India's G20 Presidency theme, One Earth, One Family, One Future, alludes to the broader concept of Universal Health Coverage." It is necessary to break down existing silos and eliminate fragmentation."