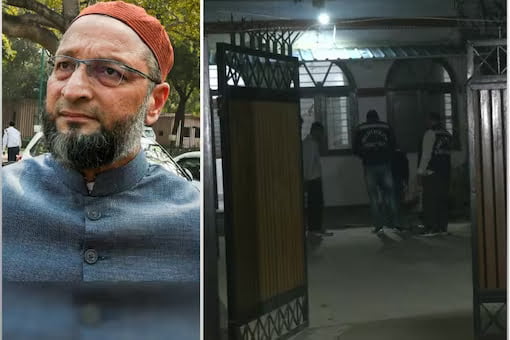 Unknown people threw stones at the home of All India Majlis-e-Ittehadul Muslimeen (AIMIM) leader Asaduddin Owaisi in the national capital on Sunday evening, breaking some windows. Around 5:30 pm, something bad happened at Owaisi's home in the Ashoka Road area of New Delhi. The member of the Lok Sabha from Hyderabad said that it was the fourth time that this had happened since 2014.
After he got back from Jaipur, Owaisi said that his housekeeper told him about the attack.
"I got to my house at 11:30 pm. When I got back, I saw that the window glass was broken and there were rocks lying around. My housekeeper told me that a group of troublemakers threw rocks at the house around 5:30 pm, "In his complaint to the Police Station on Parliament Street, Owaisi said.
"This is the fourth time that something like this has happened. There are enough CCTV cameras in the area around my house, and anyone who broke the law should be caught right away. It's hard to believe that these kinds of vandalism can happen in a high-security area "the letter went on to say.
"Action must be taken right away, and the people responsible should be caught as soon as possible," he said.
Owaisi also shared a video clip of the broken windows on social media.
"It's worrying that this happened in a place that is supposed to have high security. I told the police about it, and they've come to my house," the AIMIM leader said in a tweet.
Owaisi was in Rajasthan for two days, where he started the party's campaign for the upcoming assembly elections. He also met with the families of Junaid (age 35) and Nasir (age 25), whose burned bodies were found in a car in Haryana. The two men from Rajasthan's Bharatpur district were said to have been taken by "cow vigilantes."