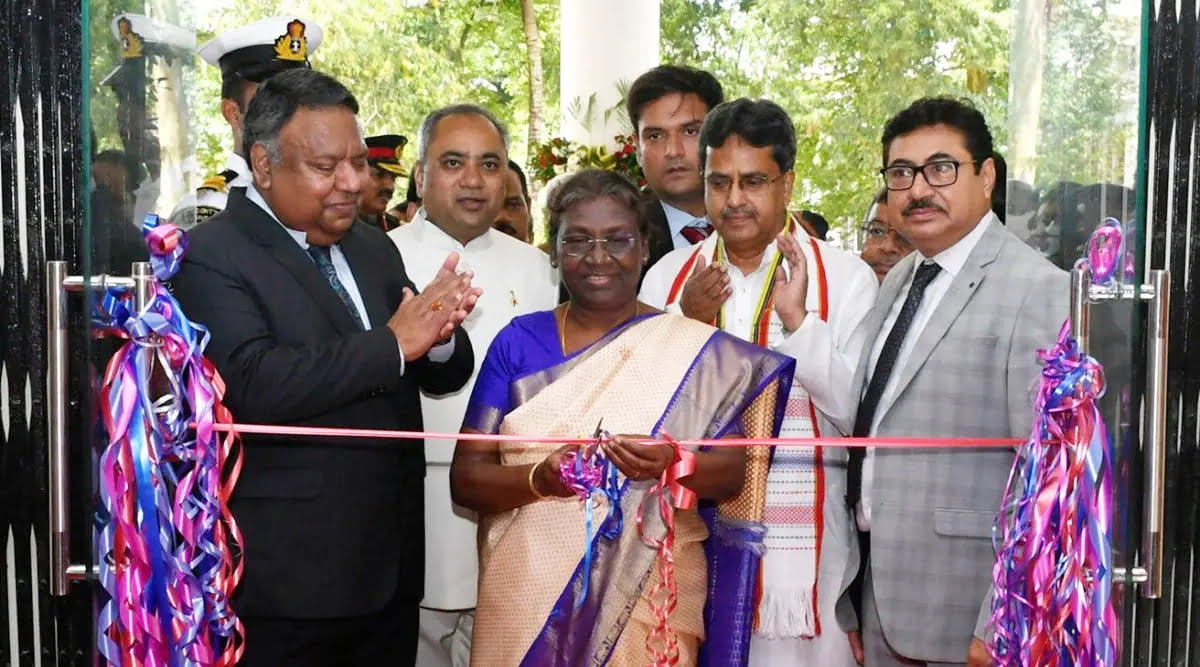 The President of Tripura inaugurated the newly-built Tripura State Judicial Academy and unveiled a model of the National Law University's Tripura campus in Agartala on Wednesday.
Chief Minister Dr. Manik Saha received President Murmu after he landed at the Maharaja Bir Bikram Airport here as scheduled at 11:15 am on his two-day Tripura visit.
Later, she visited the Central Tea Processing Factory at Durgabari Tea Estate, 20 km from Agartala, and interacted with the workers.
"Sab padhke aage badho" (everyone study and progress) was President Murmu's appeal to the tea garden workers at the interaction event.
MLAs said they would stand with tea garden workers in need and be happy if the Chief Minister and other legislators did.
President Droupadi Murmu inaugurated Tripura Judicial Academy and laid the foundation stone of the National Law University, Tripura. pic.twitter.com/vtZTaY2ARk

— President of India (@rashtrapatibhvn) October 12, 2022
In addition, the President engaged in a photo session with tea garden workers' children.
Later in the day, President Murmu opened a new MLA hostel here and announced a bunch of projects from Rabindra Shatabarshiki Bhawan, including some roads, schools, and hostels.
In his speech at Rabindra Shatabarshiki Bhawan, President Murmu said Tripura would be the 25th state-funded law university in the country and that it would serve as a premier legal education center.
It's amazing how much the state government's done for education. Engineering, medical, art, and music-related courses are offered in institutions around the country and abroad. It's been imparting legal education for 30 years at National Law University. As a premier legal institute in the country, I hope this university in Tripura will do its job."
In her speech, she emphasized primary education and said society would progress when girls got involved. According to the first citizen, the northeastern state has immense development potential.
A museum and cultural center dedicated to erstwhile king Birendra Kishore Manikya was also unveiled by President Murmu at Pushpavanta Palace, where he indicated that this center would play a vital role in the promotion of music. The Pushpavanta Palace used to be the Governor's House until the new Governor's House was built four years ago.
Civic reception for the President is scheduled for later this evening at the Agartala Town Hall, where the Chief Minister, Mayor Dipak Majumder, and other officials will be present.
Thursday morning, President Murmu will inaugurate two passenger trains at Badharghat Railway Station, including an extension of the Guwahati-Kolkata Express to Agartala and an extension of the Agartala-Jiribam-Agartala Janshatabdi Express to Thangsang of Manipur.
Her itinerary also includes a visit to the Tripurasundari Temple at Udaipur in the Gomati district after the railway inauguration event. After returning to Agartala, she will leave for Assam at 11:30 a.m.
In response to the President's visit to Tripura, the ruling Bharatiya Janata Party (BJP) expressed its appreciation.
A BJP MLA Krishnadhan Nath told reporters after President Murmu visited the tea garden: "I am immensely proud that a President is visiting my constituency for the first time ever. The researcher has spoken to Munda and Santhal tea garden workers in their native tongue and inquired about their access to residential units, ration supplies, and other facilities."
Moreover, the legislator reported that the President had asked the families of tea garden workers to prevent child marriages and to encourage their children to pursue education and advancement.
Meanwhile, the Opposition CPI (M) has announced it will boycott the visit of the President.
A series of events, including a civic reception, were organized for October 12 in honor of President Droupadi Murmu's visit to Tripura. Participants at the event included the CPIM state secretary, MLAs and former MPs. CPIM state secretariat welcomes the Presidential visit, but has declined to attend," CPI (M) state secretary Jitendra Chaudhury announced last evening in a press release.
Based on the statement, Left Party workers have been assaulted in Tripura during the last four and a half years of BJP rule.
Throughout Tripura, personal freedom and civic rights are constantly violated. We are unable to offer flowers and respects to our departed comrades due to the dire situation," Chaudhury stated.
It is hoped that President Murmu will take note of the reality in Tripura and take action to revitalize citizens' rights in the state, he stated.
In an earlier statement made last evening, West Tripura Superintendent of Police Shankar Debnath said that some restrictions would be put in place for the necessary security arrangements during the visit of the President.
Related Posts